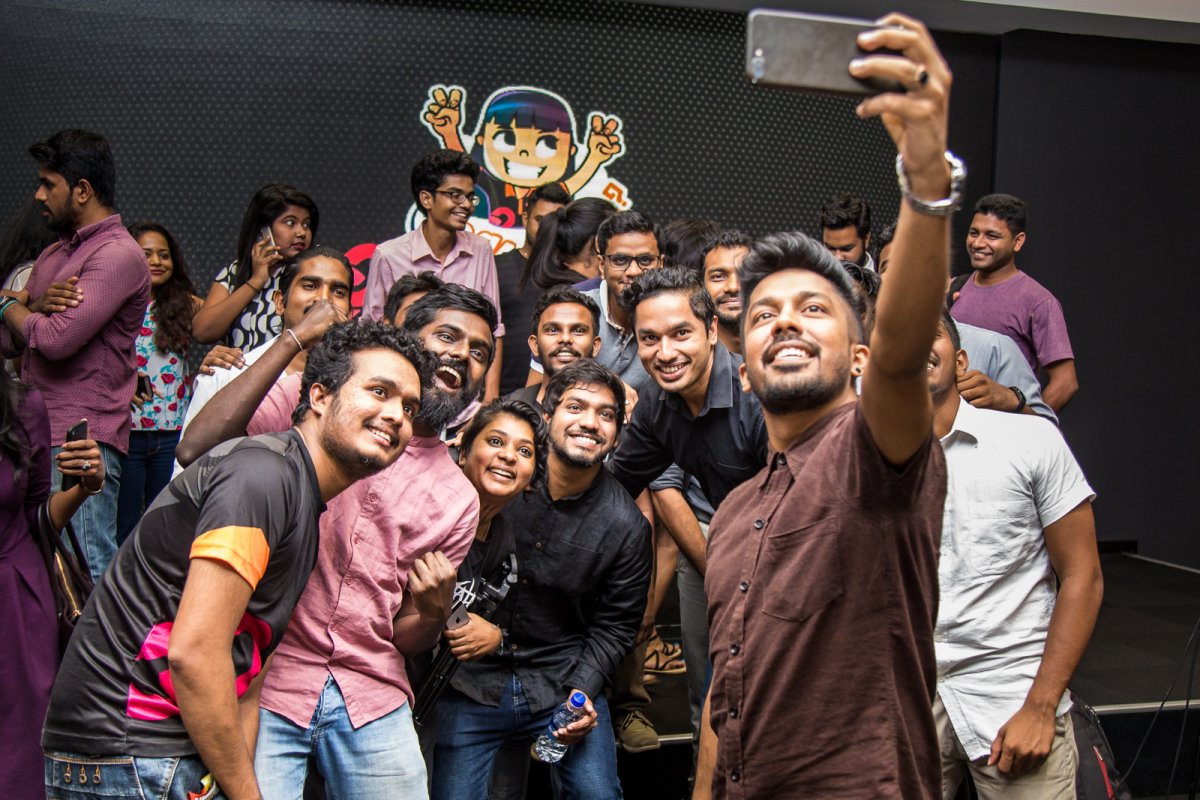 #ngage is an open forum where tech and social media enthusiasts are given a chance to share their expertise or simply narrate their story.
#ngage 9.0 was held at the Dialog Axiata Auditorium. This edition of #ngage focused more on content in the social media and digital space. As usual, it was a open forum where tech, social media, and digital media enthusiasts flocked to network, discuss ideas, and share knowledge.
W NOW's journey & how to do video content marketing right
Gehan Blok – Head of W NOW
With a noteworthy sense of humor and a casual approach, Gehan Blok captivated the audience while sharing his knowledge on "how to do video content marketing'' right. Through an analysis of how viewers behave on digital media platforms, he spoke about how W NOW captures the audience with its focus on content.
W NOW is a social media news platform that targets the millennial audience, having grown rapidly in terms of views and shares. "We report and let you decide, all we try to do is shape opinions in the small way we can," said Gehan when talking about the impact they try to create using the content that they share.
''We have content that you won't find on traditional media and our videos can be understood even without sound due to the text,'' he further added.
Gehan emphasised the need to create different content relevant to the audience of a specific language, he says that the response is significantly higher when doing so.
When talking about the science behind creating engaging videos he says that the "the first 5 seconds of the video is where we captivate the audience'' implying that they make the first 5 seconds as interesting as possible in order to keep the audience focused by triggering their curiosity.
He also talked about the importance of Instagram saying that there is a 40% conversion rate in viewers watching the video on Instagram Stories and a 50% conversion rate for videos posted on Instagram Feeds.
Gehan also talked about monetisation by adding that ''sponsored'' content is how W NOW has been able to generate revenue.
With his experience in working for traditional media, Gehan believes that the digital space is the most important platform at the moment."This is where the future is, this is where media should be."
Memes and Gender: Meet bakamoono.lk
Sharanya Sekaram – Gender Activist and English Editor at bakamoono.lk
Sharanya shared the journey of bakamoono.lk and the impact it has on its followers. The objective of the website was to increase awareness on gender based violence, sexual harassment, and other gender related issues.
She also highlighted the lack of information available online in terms of HIV in Sri Lanka; questions such as, "Can I have children?" or other questions surrounding the stigma around HIV were left unanswered. So bakamoono.lk was launched to address the taboo related issues through videos.
However, when they noticed a hesitancy to share the videos, bakamoono.lk decided to move on to making memes and taking a less serious approach to creating engaging content.
"People started sharing the memes and it went viral," she says. The content on the memes were localised to the Sri Lankan audience and addressed issues surrounding our society.
After the memes took a hit, bakamoono.lk decided to come up with the #aiyo series where they anonymously shared what people said about issues that are taboo, in order to bring them to light.
"There are things we can talk about through memes and directly address the audience. People like to share memes,'' she said.
Kuweni – Sri Lankan Music
Ridma Weerawardena – A young rising Star amongst the Youth
Ridma is a rising star in the Sri Lankan music industry. He highlighted the importance of creating original content in Sri Lankan music videos.
He also stressed that he will not be willing to be associated with unethical content.
The event ended with a performance by Ridma singing his latest hits.
#ngage 9.0 ended with the audience networking over snacks with the presenters and other social media influencers attending the event.
Cover Image Courtesy: Nazly Ahmed