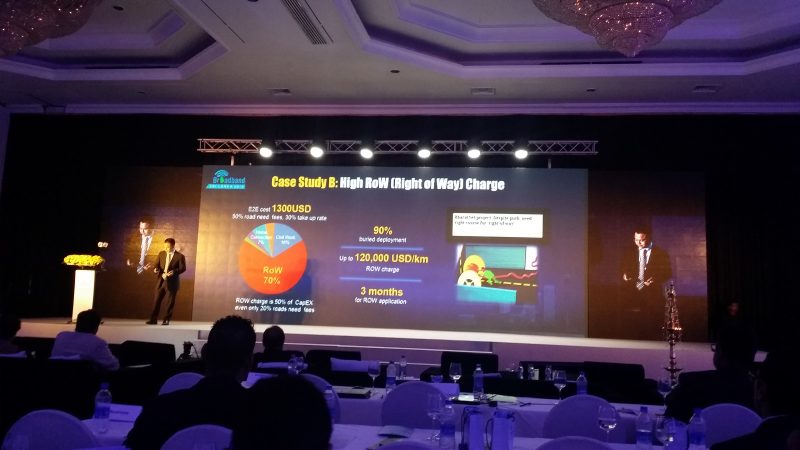 Sri Lanka's internet is not too bad, actually. We have decent speeds at largely competitive prices compared to the rest of the region, plenty of 4G enabled carriers, and rapidly increasing smartphone penetration. It could be better, of course. SLT holds a monopoly on fixed line broadband (wired/ADSL) connections which are a favourite with gamers who don't want the packet loss that can come with a wireless connection. Dialog is doing a good job with its 4G connections, but coverage can get spotty if you are not in Colombo. And practically all connections are data-capped, which is a pain in this data-hungry age.
Connectivity is extremely important to a country's economy, especially one like Sri Lanka's. There is a marked increase in internet startups and online shopping platforms in the country, and if they are to compete with the rest of the world, they need a level playing field.
The Government seems to understand this, to some extent. On August 8, the first national broadband forum, "A Better Connected Sri Lanka", was co-hosted by the Ministry of Telecommunication and Digital Infrastructure and the Telecommunications Regulatory Commission and co-organised by Huawei. Judging by the event, however, it was probably all organised (and paid for) by Huawei, who was a large presence at the event, with tech displays of their own in the exhibition in the hall.
The show started with Kandyan dancing and lighting an oil lamp. It was also 15 minutes late, which was noticed on Twitter.
Wasantha Deshapriya, the Secretary of the Ministry of Telecommunication and Digital Infrastructure, started off proceedings, welcoming everyone and talking about how the Ministry was focusing on migrating government services online and creating an e-governance infrastructure. Harin Fernando, Minister of Telecommunication and Digital Infrastructure, then took the stage and spoke about the national vision for broadband and stressed the need for a digitally connected Sri Lanka.
"The telecommunication industry of the country has showcased tremendous improvement over the recent years. As a new era of rapid worldwide development dawns for the global broadband industry, we strongly believe that this is indeed the ripe time to accelerate broadband development in Sri Lanka," he said.
The minister spoke about the Ministry's plans, like the Lanka Government Network connecting government organisations in the country with a 100 Mbps bandwidth, an education initiative that would give every child their own tab with all their lesson plans on it, a tab for every midwife to access patient details, increasing smartphone connections, and covering the entire island with 4G LTE through the Google Loon project. He said Sri Lanka has the potential to have some of the fastest broadband speeds in the world, and projected 100,000 fibre optic cable connections by the end of this year.
A Q&A Session
The media then got a chance to have a question and answer session with Minister Harin Fernando and Ministry Secretary Wasantha Deshapriya. If you've never been in a media conference before, it can get a bit… vigorous. Not quite Ramsay Bolton-ish, but close. Give us a chance to ask questions and you'd have to pry us off at the end. However, the minister handled it all pretty well. He was open (as open as he could be I suppose), and knowledgeable on the subjects he was grilled on, which is refreshing.  
For now, the biggest challenge for the internet industry in Sri Lanka, according to the ministers, is broadband penetration. Fixed line broadband penetration and mobile 4G penetration is low, and this was something they needed to overcome. Secretary Deshapriya said that the Government should also provide more ways to access Government facilities online, which would make things more effective. Due to the non-digitisation of revenue generating organisations like Customs and the Inland Revenue, there is a revenue leakage of about USD 2 million a day. The Government is working on models to digitise everything, but he said it was a process and would take time. By January next year, they plan to have most of the work done.
Some questioned whether the Government was ready for digitisation, but the Minister said that they had to start somewhere. If the process never starts, the Government will never be ready. It's important to look to the future, he stressed. They are working on a concept where citizens can apply for a passport using a smartphone and biometrics alone, without having to go to the passport office. The Minister also said that Sri Lanka started late in its digitisation, which is not exactly a bad thing. It means that all the technology needed is already available and tested, and is much easier to integrate.
The Minister also reminded the gathering that the way the current and future generations communicate and consume content is wholly different from how things used to be done ﹘ which was why they were focusing on getting fibre optic connections across the island. At present there are 12,500 distribution points across the island, and each point is capable of handling 8 connections, so they are ready to have 100,000 fibre optic connections around the island this year. They were also looking at using the Google Loon project to spread 4G network coverage across the country. The advantage of using Loon is that they would not have to build towers, significantly reducing the cost of covering the entire island with 4G connectivity. The Google Loon pilot is scheduled to begin in two weeks.
There was also a need, the Minister said, for a company that would compete with SLT in terms of internet service.  At present, SLT has a monopoly and is getting too comfortable with itself. It is good to have an open market, which would only drive quality up for consumers.
Huawei's Interest In Sri Lanka
Everywhere you look in Sri Lanka, you are going to see some sign of Huawei. The Chinese technology giant has been playing a pretty big part in Sri Lanka's ICT sector. A large portion of the ICT hardware used and provided by our telcos are manufactured by Huawei. According to their CEO, 70% of the Sri Lankan population is served by Huawei. It is a bit of a vague statistic, but just take a look at your router and any other networking equipment you use; if it was provided by Telco, it's most likely made by Huawei.
They are the third largest smartphone manufacturer in the world, and are number two in Sri Lanka with 23% of the market share. They sold about 300,000 phones in Sri Lanka last year, with the best sellers being in the USD 200 range. They also employ about 400 people here (86% of which are Sri Lankan) and have programmes that send 10 students for 10 days to China for training.
So yes, Huawei is pretty entrenched in Sri Lanka. When we asked the CEO, Mr. Wang Shunli, if it was easier to do business here because of Sri Lanka's good relations (ahem) with China and the many civil infrastructure projects that happen here, he said that it doesn't impact the ICT industry. He told us that Huawei competes aggressively in quality and price, which is how they gain their advantage. It is perfectly plausible. Huawei has some of the most competitive prices in the market and the quality of their products has improved exponentially.  
Not Always Getting It
The problem with ICT in Sri Lanka is that not everyone gets it. Some ask why anyone would need a 100Mbps connection or fibre optics when 4G does such a good job. It's almost like asking why you would need broadband when dialup worked just fine. That's the general issue with countries like Sri Lanka who are growing so rapidly. On one hand, it's so much easier for countries like us (and most of Asia) to enter the digital age because all the tech is already available and tested. It takes us much less time to get digital than a country that had to start from square one and develop the tech from the ground up. But it also means that the speed at which we grow can create a lot of confusion, with some parts of the country adopting the new tech much faster than others.

It is good, however, to see some parts of the Government actually trying to push us into the future. Some of the plans might be ambitious, while some may fail as time and politics go on, but as long as there is a steady push to improve our ICT, there is immense potential for Sri Lanka to be one of the top digitally connected countries in the region.