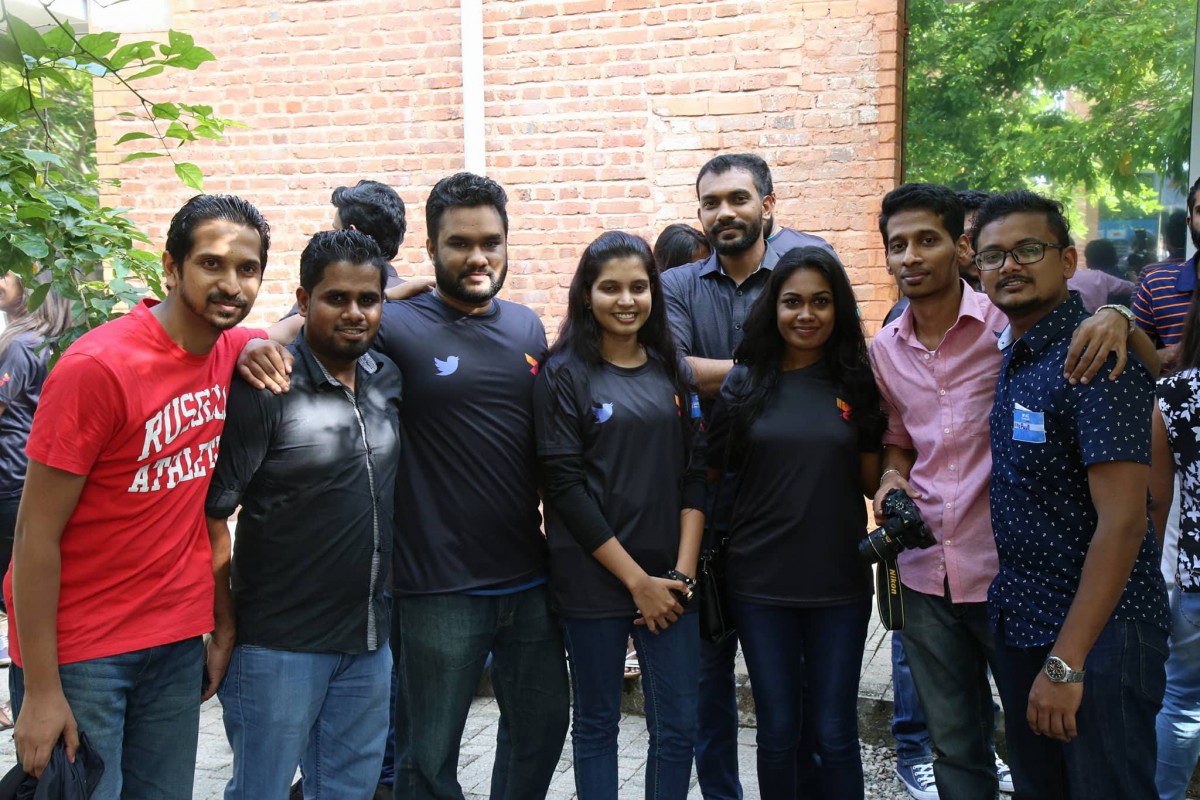 TweetUpSL celebrated its 8th year this 2017.
The yearly event is a physical gathering where all the textroverts, extroverts, and hashtagaholics meet, eat, and tweet. Seven years ago, the idea of TweetupSL was conceived over coffee and company. When Udara, Moshanthi, Lasantha, and Shazly met at Coco Veranda on 1st of Aug 2010, they collectively decided to bring together the Sri Lankan twitter community and create an open event for every tweep to engage with like-minded individuals offline.
In 2011, TweetupSL 2 was held at Dialog Future World with the attendance of more than 300 Tweeps. This was the beginning of an event that continued to garner more and more attention from the growing Sri Lankan Twittersphere.
This December 16, TweetUp SL promised a fun-filled evening with a variety of features for everyone. Over the past few years, we saw new Tweeps joining the arena as storytellers, thinkers, and news breakers, microblogging on a range of areas on technology, news, sports, marketing, and journalism. For the 7th consecutive year, these Tweeps came together to continue TweetUpSL's traditions. This year's organising committee consisted of Thambaru Wijesekara – President, Akhila Sudharaka – Secretary, Pabasara Palletanne – Treasurer, Sashen Pasindu – Executive member, Graphic designer and Ranuka Dilahara – Executive member.
The early birds started queuing up at Trace Expert City before the gates were opened for registration at 12:00. FriMi – TweetUpSL's official Digital Banking partner, gave away tempting ticket offers for attendees. An hour later the event began with a welcoming speech delivered by witter celebrity @Kawdaboy and TV personality @ShenalG. One minute silence was observed in respect of Sarath Sathiamoorthy, a founding father whose entrepreneurship and support made the SriLankan Twitter community what it is today.
The LED wall projected a series of flashback moments of Twitter events taking the Tweeps through a walk down the memory lane. The comperes interacted with attendees to break the ice and silence of the crowd. Following bursts of laughter and banter, the TweetUpSL cake was cut and shared among the attendees. Tweeps in pairs, flaunted their best moves on stage in a game called 'paper dance', keeping the audience thoroughly entertained.
A Twitter hashtag is one of the most effective ways to create hype and conversation about any event on Twitter. While the event was in full-swing, the #TweetUpSL7 hashtag was plugged in and attendees got the timeline buzzing.
The performances did not disappoint either. Ridma Weerawardana and his guitarist were phenomenal on stage, and everyone's favourite YouTube celebrity, Kalu Malli, grabbed the limelight with his sensational 90s SriLankan mash up with Channuka Devnindu.
As a goodwill gesture, the IIT Rotaract invited Tweeps to make a difference through a donation that would purchase a stationary pack for a child.
Event organisers and sponsors did a sterling job in rallying up the attendees, and stimulating engagement and camaraderie to sustain the buzz throughout the evening. Dialog shares a close association with the local twitter community. For the 5th time, as the platinum sponsor, Dialog was a part of TweetUpSL7, providing real-time coverage of the event. LetMeKnow managed to capture the best moments of Twitter camaraderie and the excitement of TweetUpSL. Future Minds LK and YonderMusic joined TweetUpSL as the Silver Sponsors.
Based on popularity votes TweetUpSL celebrated and awarded the funniest and the most controversial individuals, news breakers, sportaholics, foodies, and many more influential tweeps across the social media spectrum. Local brands and businesses such as Paan Paan, Lace & Pearl, Kraftsy, and Yoho Beds contributed as gift partners. Tic Tacs and Nestle's Maggi noodle bowls gave everyone a quick pick-me-up to keep the momentum of the event going after the refreshment break.
All in all, TweetUpSL7 ended as another memorable spectacle, enlivened by energetic souls and individuals who made new acquaintances beyond 140 characters. Sri Lankan Twitter demographics are constantly changing. Hopefully, the periphery of our local Twittersphere will keep expanding through informal and impromptu meetups and the continuing legacy of TweetUpSL for many years to come.