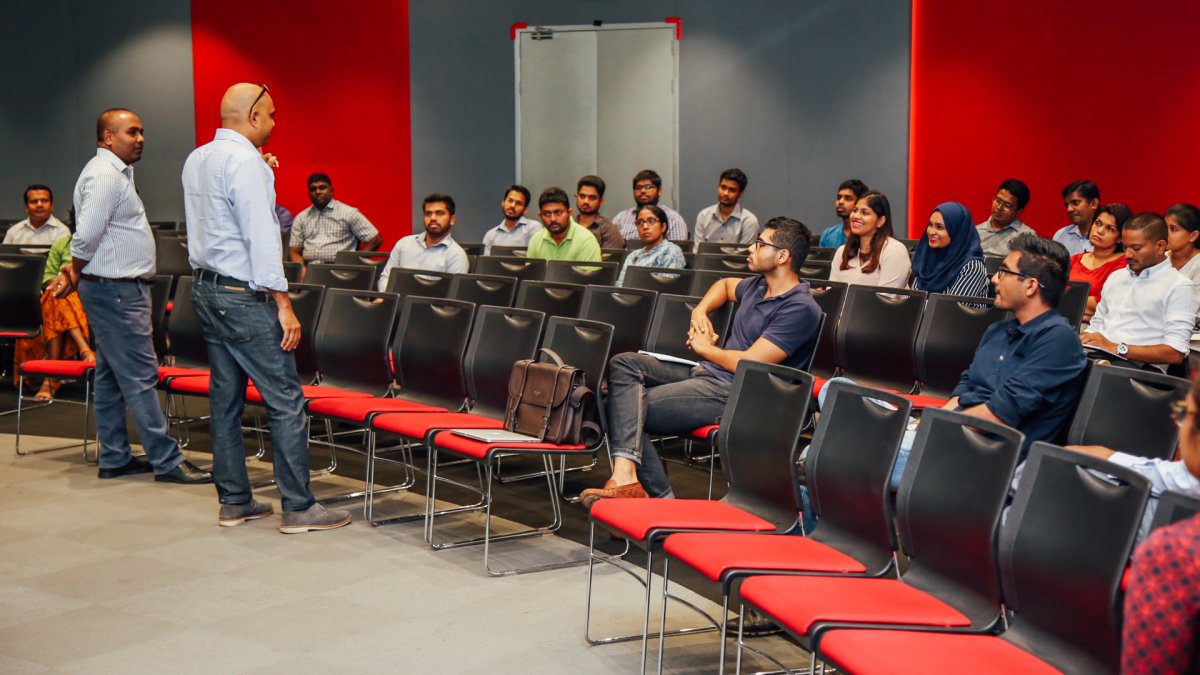 Venture Engine is an annual entrepreneurship programme that was created to provide a stable and viable platform for entrepreneurs to launch and expand their businesses. This year's programme began with an open call for applications that ended on August 14. Of the applications submitted, the best were called in for a 2-minute pitch to a panel of judges. The best pitches enter the next stage of the programme where they go through workshops and mentoring sessions geared to get them prepared for their next, more detailed pitching rounds.
Of the 35 companies presenting their business plans in a two-minute pitch, 23 were selected for the programme. The very first workshop was held at the Dialog Auditorium and focused on the Venture Engine pitch deck guidelines and general information about pitching to angel investors and venture capitalists. The morning session of the workshop was conducted by Prajeeth Balasubramaniam, founder and director of the Lankan Angel Network & Director/General Partner at BOV Capital. The afternoon session was conducted by Shashvat Rai, the Investment Manager of Aavishkaar India. Shashvat spoke on the lines of a Venture Capitalist in general, and on case studies of the impact of their social entrepreneurship investments. The workshop was mainly for the 23 teams that made it through, but all applicants were invited so they could gain access to knowledge that would help them with pitching at a later date.
Roar spoke to Prajeeth about the concept behind the programme.
Venture Engine has always been about empowering entrepreneurs, Prajeeth told us. It's not just about funding, he says, but also about mentorship. There are workshops that help bring the teams to a better understanding of what is necessary to run a successful business. These workshops focus on legal, finance, management, and how to give presentations, which are all important skills for an entrepreneur. Prajeeth explains that the workshops were created because over the years, they found out that these were the areas that entrepreneurs found difficult to understand. They needed to have better understandings of shareholder agreements, how to access markets, and how to manage finances. So the programme, he says, educates them on how important it is to have these skills in a business.
Roar also spoke to some of the teams that made it through to the workshop sessions.
Store Craft registered their company in 2012, with the intention of creating their own online store. But they took about a year to start generating revenue because it required a significant amount of time and investment to create a website and set up a payment gateway. They found that the cost for setting up e-commerce was so high for new companies, so they came up with an idea of providing an easy way to set up e-commerce infrastructure for other SMEs. Store Craft was at Venture Engine to boost their MVP and scale it further. The founders saw a lot of value in the workshops, because, as they stated, new companies have technical knowledge, but the workshops give them the business knowledge that they usually don't possess.
Aniwa.lk is a Sinhala online media publisher. What they want to do is provide alternative media that is not gossip or related to politics. They focus on providing positive, light and useful content, which they say is something new to the online Sinhala space. Aniwa.lk told us that they'd gone from zero page views to two million in a year, and from zero monthly active users to 750,000. Right now, they are honing the type of content they put out, but are also looking at going into the video space, because they see it as the future of online media. They've come to Venture Engine to raise the next round of funding to grow their user base, video operations, and sales operations. So far, the workshop has helped them learn how to develop a pitch deck, making it more interesting and less cluttered.
Ultima Octa develops IOT devices, embedded solutions, web portals, mobile apps and software. They applied to Venture Engine to seek funds for a device they built for the blind that helps them communicate with people. The device, however, needed funds to be able to cater to the international market. The workshop, they say, has opened their eyes in the way they look for capital to build a business. The training will help them understand the legal and financial aspects of running companies and planning markets. Whether they win or not, they said, these value additions from the workshop will go a long way.
Igniter Space told us that the dream of every parent is to make their kids explorative and creative. But kids, they said, are technology consumers and existing education systems do not make children creative. Educators are looking for alternative methods of education to ignite creativity and that is where a 'makerspace' comes in. A makerspace is an open environment where kids come together and work with each other and be creative and make things. Igniter Space is the pioneer makerspace in Sri Lanka. As this concept becomes popular, many institutes are looking to setup their own makerspaces, but they do not have the necessary expertise to do this themselves. Igniter Bee is a service they created which will set up the infrastructure, the kits, and the learning material they need to create more makerspaces. They launched in Sri Lanka a while ago and already have some clients on board, but came to Venture Engine to get feedback on their product. They want to scale their makerspaces and connect to VC's to expand globally. A big part of attending the workshops was becoming part of the community, they said.
The teams will now prepare their business plans and pitches for the next filtering sessions which will be on September 6. In this session, the investors will go through the business plans in detail.
The Venture Engine finale will take place alongside the Asian Business Angel Forum (ABAF) in October. The ABAF is an investor conference that brings together angel investors, high net-worth individuals, venture capitalists, and other stakeholders together on a single platform.
Venture Engine was founded by BOV Capital and the Indian Angel Network. Venture Engine and strategic partner Lankan Angel Network were instrumental in bringing ABAF down to Sri Lanka for the first time this year. KPMG has joined as Knowledge Partner, Aavishkaar as Platinum Sponsor, Orion City as Silver Sponsor, Dialog Television as Official Telecommunication Partner, Daily FT, Daily Mirror, Lankadeepa, and The Sunday Times as Exclusive Print Media Sponsor. Roar Media is the Digital Media Parter for the events.
Featured image credit: Nazly Ahmed