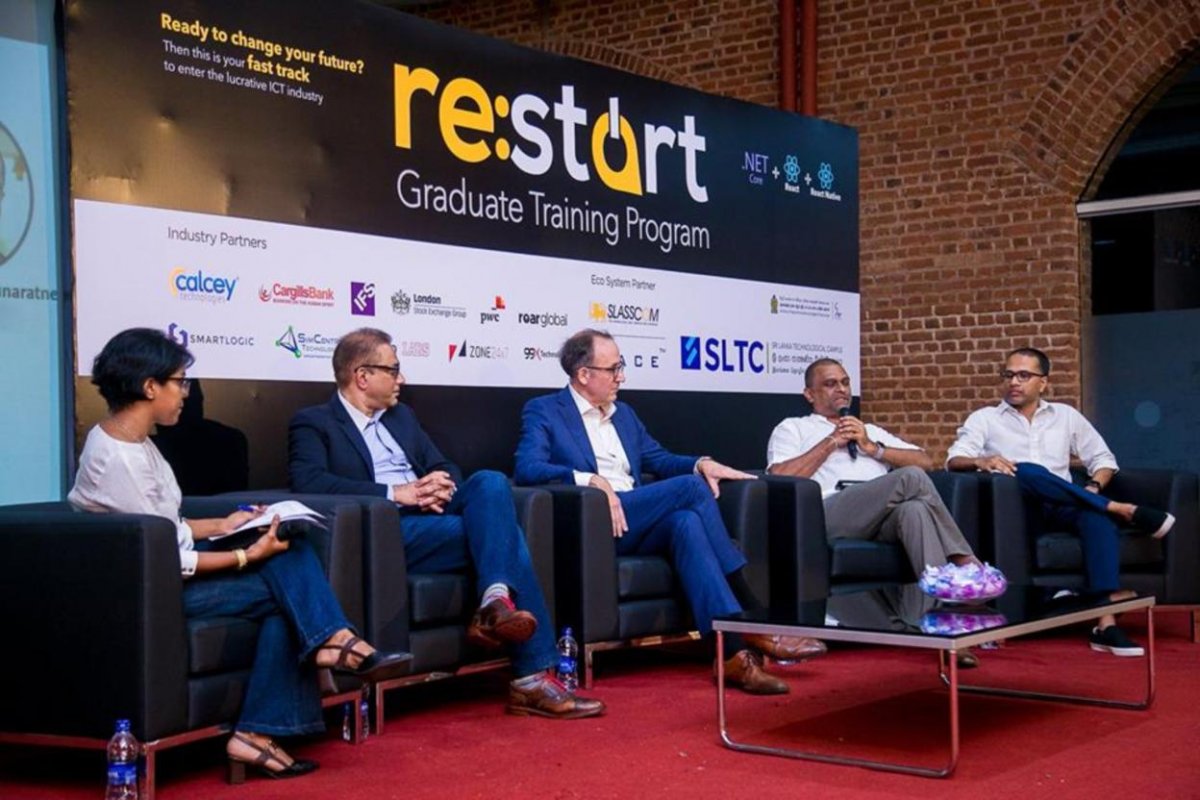 Every year, close to 210,000 school students sit for the G.C.E. Advanced Level exams in Sri Lanka with the hope of securing entrance to public universities where one can obtain an undergraduate degree for free. Of this, only around 30,000 gain admission for a state-funded basic degree, according to data from the Department of Census and Statistics.
Needless to say, this is not an ideal situation for a developing country to be in. Sri Lanka's fast-growing industries, such as IT, are in need of more professionals than the country is currently producing, especially given the local IT industry's goal of becoming a USD 5 billion export revenue earner by 2020.
On the other hand, Colombo is frequently plagued by demonstrations conducted by unemployed graduates, which causes gridlock and irks commuters to no end.
Change needs to begin somewhere, obviously. And that is why TRACE and SLTC (Sri Lanka Technological Campus) has taken the initiative to launch the re:Start graduate training programme.
What is re:Start?
re:Start is a structured, six-month-long coding boot camp (of the style you find in Silicon Valley) which aims to help talented graduates re-train themselves within a short period of time, so that they can enter the lucrative IT industry and take advantage of the relatively better job prospects.
What can participants expect to learn?
re:Start employs a syllabus which has been developed in consultation with the IT industry, and hence sidesteps the pitfalls of having an outdated academic programme, a problem which seems to affect the state university system.
Students will be exposed to programming, databases, web application development, mobile application development, and industry standards. However, TRACE and SLTC recognise that simply being a coder is not enough. Rather, one must also be a good communicator and a great team player. In order to help students graduate as more well-rounded professionals, participants of the re:Start programme will also be coached on elements such as soft skills, communication, teamwork, and leadership.
This ensures that graduates are industry-ready and that can deploy their skills effectively at the workplace.
Once done with the academic programme, the students are guaranteed a placement with any one of the programme's industry participants, of which currently there are twelve. These partners include Calcey Technologies, Cargills Bank, Fidenz Technologies, IFS, London Stock Exchange Group, PwC, Smart Logic, SimCentric Technologies, SyscoLabs, Zone 24×7, 99x Technology, and Roar Global.

Additionally, the students will also be given the chance to be mentored by industry professionals.
As a non-profit whose aim is to work towards the betterment of Sri Lanka's IT sector, Trace has chosen to keep the programme affordable and private donors have also come forward to fund scholarships for deserving students. Paying students also have the option of availing themselves of an interest-free, collateral-free loan from NDB bank, which they can pay back once they're employed. SLTC, a government accredited educational institute which is also a subsidiary of Sri Lanka Telecom will be in charge of delivering the academic modules of the program.
Prospective students can apply right away by visiting www.sltc.ac.lk/bootcamp and registering via the form on the site. Shortlisted applicants will then have to go through an interview process. If successful, students will be given a week-long induction programme at a partner organisation, following which academic programmes will commence.
Once the students complete their academic programmes, they will be able to commence their internship with an industry partner of the programme. Depending on how they perform on the job, this internship can lead to an offer of a full time job.
And that is the re:START promise.