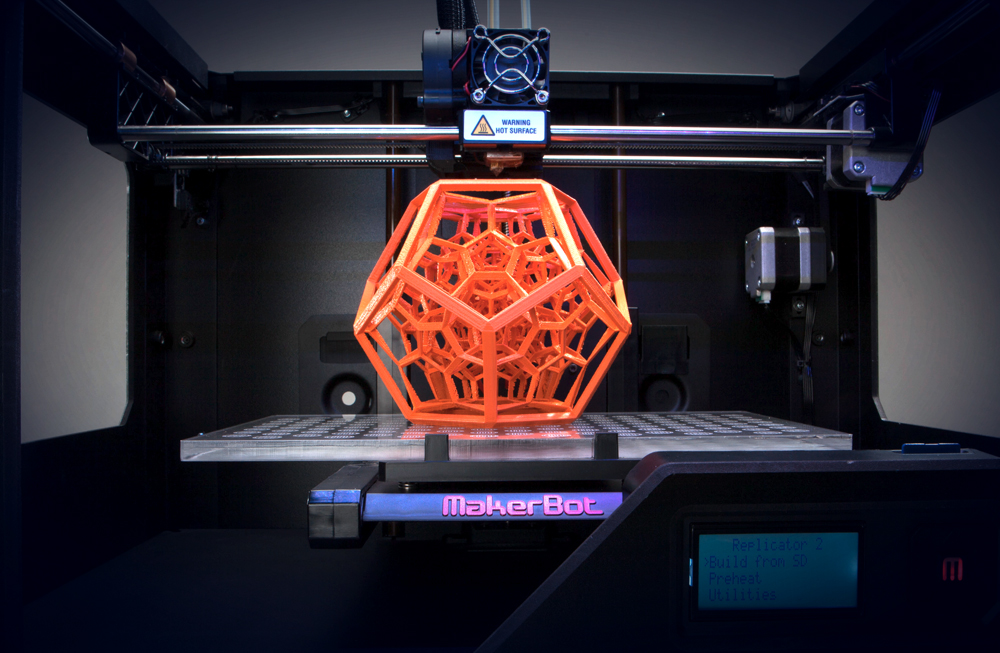 3D printing is one of the coolest technologies created this century. If only Gutenberg could see us now. Watching a three-dimensional object taking shape in front of you is an amazing thing. It's almost like seeing a Star Trek replicator working in real life, just slower. You can even have it make you food. It's all very sci fi.
The end of the 2000s and the early half of the 2010s was when 3D printers started becoming commercially available. In fact, 2012 was the year when 3D printing really started catching on in the imagination of the masses. The B9Creator and the Form 1 printers were both launched via Kickstarter in 2012, and enjoyed relative success. By 2013, Makerbot was acquired by Stratasys in a $604 million deal. Hailed as part of the third industrial revolution, 3D printing opens up a whole new world of possibilities for consumers and any number of different hardware industries.
So What Exactly Is 3D Printing?
3D printing is technically called additive manufacturing (AM) due to the process of successive layers of material being added under computer control to create a three-dimensional object. Objects can be of any shape and are based on a digital 3D model created on a computer using a variety of 3D software programmes ‒ 3D CAD for example, or Blender and Tinkercad. Models can also be created using a 3D scanner, which is a futuristic-looking device that analyses an object to collect data on its shape, then constructs a digital model of it.
The most common and easily recognisable entry level printers available now are the extrusion type models. The printers work by taking a plastic filament, melting it through a heated extrusion head, which then deposits it a layer at a time onto a build platform according to the 3D data supplied to the printer. It's like icing squeezed out of a piping bag, but cooler. Each layer of material hardens and bonds to the previous layer. There are several materials that the various printing methods can use. The most common material is plastic. Nylon is usually used in a powder form, and ABS is another popular plastic in use. Metal composites can now also be used for industrial grade 3D printing. Gold and silver have been added to the range of metals as well. Probably the newest group of materials used are ceramics, though they require firing and glazing post printing.
3D printing has a tremendous number of applications, especially in industry. Prototyping with a 3D printer is so much faster and cheaper than how it used to be. With new materials being added, there are also applications for fashion, 3D printed jewelry, architecture, aerospace, and automotive industries. But the most exciting application is in the medical sector, with 3D printing being used to make dental crowns, hip and knee implants, and even prosthetic limbs.
Sri Lanka has a budding 3D printing industry of its own as well. It's not the biggest, but there are a few studios with a variety of printers churning out products for the local industry.
3D Tech
3D Tech is a small design studio that is a subsidiary of Modicon Engineering. They build prototypes for basically any product that you want. All you need to do is give them a sketch of the product, and they create the 3D model for you and print it. Their printer does models under a cubic foot, though they do have a machine that handles models slightly larger ‒ up to 14 inches. They use a standard ABS food grade plastic for their printing.
When we spoke to them about the stuff they print, they told us they get a variety of requests, from product prototyping to propellers of toy aeroplanes, to even working on some projects in the medical industry. 3D Tech also handles prototypes and modeling for engineering, architecture, and even fashion.
3D Concept Studio
3D Concept Studio is one of the better-known 3D studios in Sri Lanka. They brought down their first printer in 2013, operating out of a bedroom till they got their own space. They grew till they had six and then nine machines over the next few years. Their smaller extrusion type machines work mainly with plastics, though they do have other machines with the capabilities of handling other types of material.
They've been working on some pretty interesting projects, like a 3D printed plastic prosthetic arm that they had created for a little girl.
They also do a lot of laser cutting and gift items, if you are dying for a laser cut LED lamp to gift someone you don't quite dislike. 3D Concept Studio is probably doing a bunch of other interesting stuff too, but they have been notoriously reticent with information (at least with us) recently, so we'll have to settle for the LED lamps.
Sigma X Designs
Sigma X Designs is another small design studio that handles prototyping and smaller 3D printing. They use plastics, ABS in particular, but a few other kinds as well. They have two machines which could print objects over a cubic foot in volume, but they generally handle sizes of half a cubic foot. They don't do complete 3D modeling, but will do touch ups for the designs they get.
Their website is a bit lacking in details, but they are pretty responsive to calls. They handle prototyping, architectural models, and have a post processing team of painters, who help make the objects more attractive.
RCS2 Technologies
RCS2 is technically not a 3D printing studio. They do, however, manufacture their own 3D printers, which is cooler. They supply their printers locally, to studios like the 3D Concept Studio, and have signed an MOU with the University of Colombo to develop a multi-headed 3D printer.
Their 3D printer offerings include the Thrimána, which is Sinhalese for "three dimension", and include:
Thrimána Plus – A dual-extruder printer with a build volume of  400 x 300 x 300 mm
Thrimána Mini – a compact, entry-level desktop printer specifically designed for education, and with a build volume of 150 x 150 x 150 mm capable of printing with a PLA, ABS, wood-polymer, nylon, flexible PLA, and PVA
Thrimána DIY – an entry-level build-your-own-printer kit
They also have the Easy Threed series of smaller, entry level printers.
3D printing has only started gaining popularity over the last few years, so it's no surprise that there isn't all that big a market in Sri Lanka yet. There are, however, such a wide range of applications that imagining 3D printing as part of the third industrial revolution is no stretch. 3D printing is becoming part of the space industry, has applications in fashion, engineering, the automotive industry, and most fascinatingly, medicine. 3D bioprinting, for example, is an utterly futuristic process of creating tissue-like structures with cells placed layer by layer in a way that maintains viability. As fast as it is growing in the rest of the world, we're quite sure it will grow in Sri Lanka as well, especially seeing as we manufacture our own machines now.
Featured image courtesy: 3dprint.com