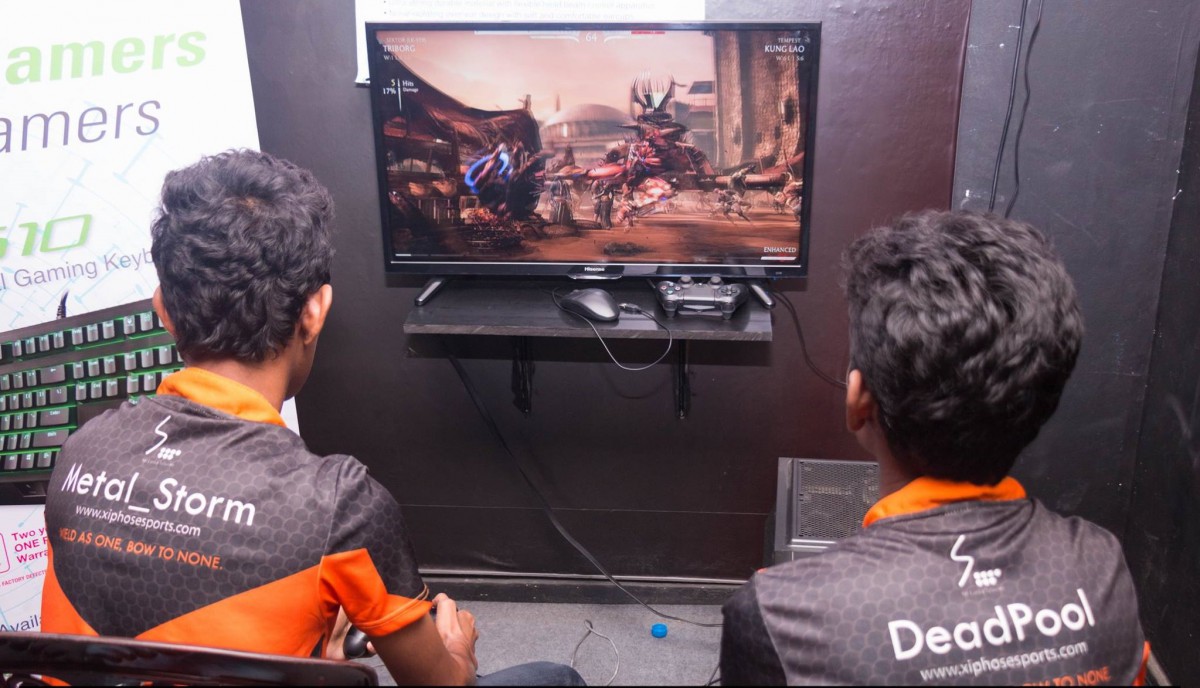 Computers weren't a widespread phenomena in Sri Lanka till relatively recently—computer gaming was an even later development. But with computers becoming affordable, ubiquitous and, above all, necessary in everyday life, computer gaming, too, has steadily grown. In fact, its popularity has exploded in recent years. While trying to count the number of gamers is as futile as trying to count the number of readers, there exists a community of people who identify as "gamers", united by their common interests. This is not just a "Colombo thing", either. If you look at events held specifically for gaming, you can see participants from Galle, Kandy, and other parts of the island. Yes, Sri Lanka has gaming events. While such things are held on a massive scale in other countries, Sri Lanka's small but passionate gaming community holds events of their own with great enthusiasm. Many of these are backed by Sri Lanka's professional body for gaming: Gamer.LK
Speaking to Roar, Raveen Wijayatilake of Gamer.LK said the annual Sri Lanka Cyber Games (SLCG) and its supporting events attract about 30,000 visitors from all parts of the island. "We have regional championships in Jaffna, Kandy, Galle and the grand finals in Colombo," said Wijayatilake. "We will be expanding to other regions throughout the next few years to give gamers in those regions a platform to compete and showcase their skills."
A professional body for gaming exists in Sri Lanka because gaming has reached competitive levels. Tournaments, complete with their unique rules and regulations, have sponsors offering significant amounts of money. Last year's SLT-sponsored tournament offered a prize pool of Rs. 2 million. While Sri Lanka hasn't quite reached the level of last years global Dota 2 Championship, with its pool of over USD 20 million, that's still a lot of money.
Even before such cash-prized events, competitive gaming was long established in Sri Lanka, with "clans" having friendly rivalries and battling it out virtually either online or in gaming cafés—all for bragging rights.
When gaming leads to this level of competition, players dedicate more time playing and honing their skills. Spending 10-20 hours a week, or sometimes a day, is not uncommon in these situations. There are also individuals who spend that much time in front of the screen simply because it's their favourite and/or only form of entertainment. It's quite rare to see anyone in their 30s putting that kind of time into professional gaming. As responsibilities of the adult world takes precedence over gaming, most hardcore gamers tend to be young. This has their parents (or older relatives) understandably concerned, more often than not.
One such person, Chandrika Gadiewasam, recently posted on Facebook asking for advice on how to help someone gaming for 10-20 hours a week. She received a host of responses. The most helpful of these explained with anecdotes how similar individuals had grown out of it or how some are suffering after reaching addiction levels. Speaking to Roar, she asked how spending so much time on one activity without developing skills in any other area of life could possibly be appropriate behaviour.
"I'm just saying that any person obsessed with one particular activity is going to have a detrimental effect on development," she said. "I would say the same for a person who is sitting in front of the television for 15 hours [or] theoretically someone who is reading books for 15 hours."
However, gaming clans dispute that such behavior is actually antisocial and that the complete picture isn't always as clear cut.
Speaking to Roar, Nisal Weerakoon of Xiphos eSports said that his clan does not require a player to put in long hours. "It's the sole decision of the player or the team," said Weerakoon, "and I can proudly say all our members balance their life and their gaming."
However, he admitted that those playing games at a competitive level need to put in a significant number of hours towards practice and team strategisation. "It's no different from the hours that a student in school puts into cricket practice, or chess," said Weerakoon. "There are certain priorities that need to be maintained during different times in one's life, and we always encourage players to take those priorities seriously… We have been asked this question many times over the years, from Government Ministries to media stations. The cognitive and social benefits of playing video games are numerous and well-documented. Balance is key."
Indeed, some research shows that gaming may improve cognitive skills. One 2014 study published by the American Psychological Association titled, "The Benefits of Playing Video Games" identified four types of positive impacts that video games have on kids who play them: cognitive, motivational, emotional, and social. The study says that games have been shown to improve attention, focus, and reaction time, and that they a have motivational benefit because they encourage an incremental theory of intelligence. There is speculative evidence that games may help kids develop adaptive emotion regulation [The ability to respond with emotional reactions to ongoing experiences in a socially acceptable manner]. Gamers are also believed to be able to translate the prosocial skills that they learn from co-playing or multiplayer gameplay to "peer and family relations outside the gaming environment." Another study, published in Nature, showed that playing fast-paced, action-based video games "induces long-lasting improvements in contrast sensitivity, a basic visual function that commonly deteriorates with age."
However, it's misleading to suggest that games are good for you. Daphne Bavelier & C. Shawn Green said in Nature Reviews Neuroscience:
"One can no more say what the effects of video games are than one can say what the effects of food are. There are millions of individual games, hundreds of distinct genres and sub-genres, and they can be played on computers, consoles, hand-held devices and cell phones. Simply put, if one wants to know what the effects of video games are, the devil is in the details."
Some commenters on the previously mentioned Facebook post had brought up these positives as well. Gadiewasam said that it reassured her, to an extent. "There are people out there who don't think that there's anything wrong with this," she said, "and [there were others] who have been in that situation and not necessarily atrophied."
Computer gaming, or even eSports, can only grow in Sri Lanka as more and more people switch from traditional media to the computer screen for work and play. In fact, according to Wijayatilake of Gamer.LK, his organisation is currently in discussions with the Information and Communication Technology Agency of Sri Lanka (ICTA), the National Olympic Committee, and other organisations to promote eSports in Sri Lanka in a responsible manner.
There's no doubt that computer gaming will only increase its presence in Sri Lanka with the increasing use of technology. Future generations won't have to worry about explaining gaming to their parents. For now, there is a generation that missed out on the phenomena that still doesn't completely understand how gaming can be rewarding, if indulged responsibly and in moderation. It's going to take some patient discourse between the two generations to bridge the gap and not burn any bridges.
Featured image: Xiphos eSports Members at Lankan MKXL Pro League. Image credit: Xiphos eSports