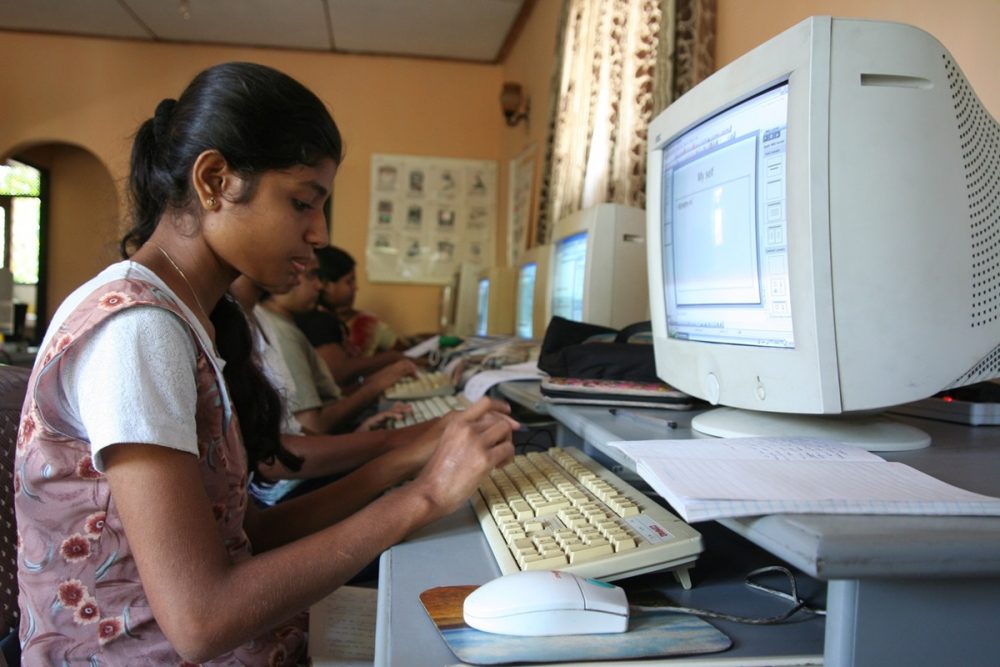 It's been 21 years since Sri Lanka first got unrestricted commercial internet access, becoming the first country in South Asia to do so. Some of us can look back with a sort of terrified nostalgia at the days when we accessed the web through a dial-up modem, a high pitch screech like the sound of a dying transistor, announcing our entry into the wonderful world of text-only web pages, IRC, and electronic mail. Things are a bit different now. Within two short decades, the internet and all the technology that runs off it, have become an indispensable part of our lives, our economy, and our Kardashian fixation.
According to the International Telecommunication Union, about 1 in 5 Sri Lankans is an internet user, though Prof. Rohan Samarajiva, Chair of LIRNEasia, estimates the number as slightly more (34.8% as opposed to 21.9%). The internet is not just about cats and Instagrams of our most recent gluten-free breakfasts either. Good ICT connectivity is very important to the growth of a country. According to a study by Ericsson, every time a country doubles its broadband speed, its GDP increases by 0.3%. The startup industry is growing fast, technology and computer adoption is high, and the government is looking to make Sri Lanka a regional tech hub. None of this is going to work if connectivity cannot keep up with the rate of growth.
Sri Lankans feel very strongly about their internet. A quick glance at any of the Facebook pages of service providers in the country reveals a bevy of complaints, requests, and desperate cries for help. Opinion on the quality of internet in Sri Lanka also varies widely. Some say it's the best in the region, while others describe it in terms of multiple crying emoji.
To settle the debate, we decided to look at the state of Sri Lanka's internet now, running through the numbers to see how it compares with the rest of the region and the world.
Broadband Speed Comparison
The most important thing on everyone's mind when it comes to internet, is speed.
Looking at broadband speeds globally, Sri Lanka, and most of South Asia really, don't do so well. The broadband speed heat map shows the entire southern part of Asia in varying shades of red, indicating speeds at the lower end of the spectrum. A closer look at the map shows that all countries in the region have pretty much the same speeds, with Sri Lanka having an average of 5.4 Mbps.
While South Asian countries pretty much match each other in broad speeds, Asia Pacific countries show a huge variation.
Sri Lanka and her neighbours rank pretty low in comparison to other APAC countries, with South Korea sitting right at the top with an average speed of 29 Mbps. That is an incredibly huge variation between countries of the same region.
All things considered, however, it's not all that bad in Sri Lanka. The last few years have shown rapid increases in connectivity speeds, with Sri Lanka crossing the 4 Mbps mark in 2014 and rapidly overtaking China. Sri Lanka has also consistently stayed ahead of its neighbour India, who seems to be having trouble keeping up.
Cost of Broadband
Comparing the cost of Sri Lankan internet with the rest of the world is a much harder nut to crack. Difficulty in collating data and making an apples to apples comparison makes this a complicated metric. There have been several attempts at representing costs graphically ‒ the most popular ones are here and here.
In 2011, the Broadband Commission for Digital Development set a standard for internet affordability:
"By 2015, entry-level broadband services should be made affordable in developing countries through adequate regulation and market forces (amounting to less than 5% of average monthly income)."
Data gathered by the International Telecommunication Union (ITU) puts Sri Lanka in the following sub-basket for broadband prices:
This is a pretty good place for Sri Lanka to be. Fixed Broadband prices are less than 2% of the GNI, making it very affordable, but of course, there's the annoying data cap to deal with.
Our neighbour India does not do so well, with fixed broadband coming in at 5.28% of the GNI. The United States and South Korea in comparison get their internet at 0.37 and 1.32 percent of their GNI respectively, though their net cost is, of course, higher.
So How Does Sri Lanka Fare?
Overall, Sri Lanka ranks somewhere in the bottom half of the world when it comes to the ICT Development Index (IDI) of 2015. Globally we are ranked 115 (of 167), but regionally Sri Lanka comes in at 20. So it's a bit of a mixed bag. Speed-wise we are on par with our neighbours and on the low side, but cost wise, Sri Lanka does fairly well. We even have some of the cheapest mobile broadband costs (0.57% of GNI, postpaid) in the world.
So, we are kind of slow, but cheap.
The Far East does consistently well in terms of ICT and connectivity when compared to Sri Lanka and the rest of South Asia. The numbers show that the potential is there, but we just haven't gotten the formula right. The key to this could be found in how South Korea manages its ICT policy.
Lessons From South Korea
According to an interview by IDG Connect with Linda Butcher, Director of Media Relations and Public Affairs at the Korea Economic Institute, the high internet penetration has to do with a top-down approach. The South Korean government has consistently planned initiatives to increase connectivity in the country. The Korean Information Infrastructure project was a ten-year programme that lay internet infrastructure across the country, connecting 50% of its citizens by the end of it. Now, about 84% of the population has internet access. It was not just the public sector that the government invested in. They also made changes in the private sector. The government made sure that barriers to entry were low enough that new ISPs were able to come in, and through a lot of healthy competition, bring down prices and increase speeds across the country.
There's also a matter of population density. Around 83% of South Korea's population resides in urban areas. This population density really makes it much easier to get faster internet to more people. Sri Lanka only has 18% of its population in urban areas, so it is more difficult to connect the majority of the population to the internet the way South Korea does.  
Such growth it not impossible, however. In South Korea, a lot of the heavy lifting is done by the private industry. A good relationship between the public and private sector is pretty important in driving growth.
Conclusion
All indicators so far show that Sri Lanka has been growing in ICT connectivity over the last three years ‒ perhaps not as rapidly as we like, but not at a snail's pace either. Having multiple numbers of telecom providers has dropped prices significantly for fixed broadband and mobile broadband, giving us some of the cheapest mobile broadband costs in the world. The new undersea cables under construction should also push data caps higher and reduce prices further. However, internet penetration is still on the low side, which seems to be an infrastructure problem.
Looking at South Korea, we can see that a strong government policy focusing on growth, that also brings in the private sector, can in a short number of years immensely improve connectivity, grow the economy, and make Sri Lanka a major player in the region. It will also make it that much easier to stream that new Mr. Robot season.
Featured image courtesy projects-abroad.ca