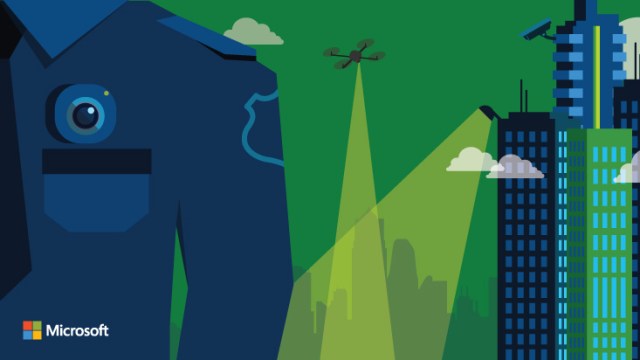 Last month, Microsoft's Arthur T. Ball and Srikant Kadambi arrived in Sri Lanka to conduct a series of closed seminars on Public Safety and National Security for officials in various parts of the government. If you've never heard of Microsoft's Public Safety and National Security work, you could forgive yourself ‒ it's not nearly as widely publicised as the software or hardware aspects of their industry. But Microsoft's public sector business does 15 billion dollars annually ‒ which is not exactly pocket change ‒ in health, education, government, and public safety and national security. The national security aspect deals with police, military, intelligence organisations, and the justice and corrections community ‒ all the areas that help keep  our society safe.
After the seminars, we had a chance to talk to Srikanth and Arthur about the work they do around the region and in Sri Lanka. Srikanth is the industry solutions consultant for Microsoft's APAC Public Sector business, while Arthur is the Managing Director in Asia for Microsoft's Public Safety and National Security (PS&NS) business, headquartered in Singapore. As part of their PS&NS business, Microsoft works with solutions developers, or Independent Software Vendors (ISVs) as they call them. ISVs are people or organisations who build business applications on Microsoft technology, whether they use Sharepoint, SQL databases, Skype for Business, integrate with Office 365, or use Azure. These applications could be horizontal ones, like document management systems which have broad applications in any sector. They could also be vertical applications ‒ some ISVs build solutions that are very sector specific and are tailored for sectors like law enforcement, defence, or justice.
Microsoft claims to have some of the most relevant solutions in these industry verticals, along with some very distinct Microsoft offerings and consultation services. During their visit to Sri Lanka, Microsoft brought down ISVs with solutions they insist are "best in breed." One of the companies, for example, had a video analytics solution that could take recorded and real-time video from security camera feeds and apply facial recognition or licence plate recognition to them. The solution could also apply behavioural analytics and predictive analytics to the video on these feeds for law enforcement purposes. Another ISV had crisis communications solutions. In case of a tsunami, fire, earthquake, or any national catastrophe, a government could immediately alert segments of the population. The solution sends data bursts across multiple media streams in order to make sure that the public has the information it needs. These, and others like them, were the sort of vendors and solutions that Microsoft presented during the seminars they conducted.
All this seemed like a remarkable amount of effort on the part of the technology giant. But when asked the reason behind these seminars, the gentlemen stated that Microsoft engages with governments across Asia in all industry segments in order to help them build a digital transformation as these governments and industries hope to improve business processes and provide for a healthier, educated, safer society. That, apparently, is Microsoft's role, to use technology to effect digital transformation.
On the first day of the seminars, the team had about 50 people from the Ministry of Defence attending. The second day had attendees from the police, traffic police, special task force, and the judiciary. As the team repeatedly stressed, not many people are aware that Microsoft is involved in the public sector in this way. The purpose of this visit and the ISV presentations was to expose to the public sector the fact that there are industry specific solutions available for them. These are very specific needs that Microsoft seeks to address. The police department, for example, has people on patrol and a command centre coordinating them. If an accident or theft happens and someone calls it in, the police are directed to that location through a radio communication. The officer arrives uninformed, without awareness of the status of the situation or much else in the way of information. Reports are then made using pen and paper and filed away, a process both tedious and labour intensive. A solution Microsoft brought to the table to address this integrates a video management and analytics solution that could detect the crime before it is called in, and identifies the perpetrator using facial recognition technology, checking it against a criminal watchlist. The solution can provide information to the responding officer with details of where the crime occurred, a picture of the suspect, history of the suspect, and a live video feed of the area before they arrive. As they resolve the incident, they are piping real-time information back to the command centre, filing their report automatically without ever having to head back to the office.
Microsoft's PS&NS have access to many other solutions like these. But since Sri Lanka already has many good local developers, we questioned the need to look to these ISVs instead of just developing our own product. The Microsoft representatives, however, had also met with local vendors, introducing them to their ISVs and to international best practices that will be of use to them in their own work in the country. All this, according to them, is an effort to build a stronger digital ecosystem in the country. Also, according to Srikant, anyone who develops solutions using Microsoft products, is an ISV.
When asked about what they felt were the vulnerabilities and the threats to national security in the region, the conversation inevitably turned to cybersecurity. Arthur said that it was the most common thread in terms of public safety ‒ that there is no organisation that is not under attack or already compromised. When we checked the Global Cybersecurity Index of 2015, the report splits south and east asian countries among the global rankings, with India coming in at number 5, and Sri Lanka coming in at 15, but countries like Pakistan, and Nepal coming in at 23 and 25, which is a wide spread for the region. This indicates that while some countries are doing good in terms of cyber security, others are more at risk, though none so badly as the countries in the  African region.
When questioned about Sri Lanka specifically, they were a little more elusive. They stressed that we have to be careful in terms of trying to "criticise" governments who are struggling to contend with the operating environment that they inherit. In addition, the technological changes happening globally ‒ biotech, AI, IOT, self-driving cars ‒ are borderless and pervasive, and governments are trying to contend with societal and technological changes while also dealing with their normal missions, which is a challenge. But Microsoft's mission was to demonstrate that digital technology will advance a government's work, and that bringing in partners will build a better ecosystem. The team said that they met with ministers who have a progressive and positive outlook on how they can bring in Microsoft and partner technologies into their ministries in productive and cost-effective ways to improve services for citizens here. They also stated that everyone starts at a different place  ‒ Sri Lanka is, for instance, at a different place from Singapore  ‒ but with the right leadership and right kind of technologies, you can rapidly move society along and improve government services.
When pushed a bit further and reminded of the lack of security of government websites, they stated that the best way to protect public facing websites is to push them onto a platform like Azure with embedded security capabilities to prevent things like DDOS attacks and hacking.  When an infected mail comes into the system, that email is opened in a sandbox in advance of it being pushed into enterprise architecture for it to be checked for malware. If it is infected, it never even enters the system. The government could also use Office 365 across ministries for collaboration.
When questioned on the advisability of cloud based platforms holding sensitive government information, they explained that it is safer than most places with on-premise capabilities, and that the biggest compromises have not occurred in the cloud but in large on-premise enterprise systems. (We guess the Snappening doesn't count)
Srikant used the analogy of us keeping our money in banks rather than closets, to describe the use of cloud based systems. He compared the cloud to an environment created by skilled software professionals, monitored and kept up to date 24/7 against a system built by hand using whatever levels of skill available on site. One's a "horse and buggy and the other is rocket science," according to Srikant. Arthur stated that years from now, launching services on the cloud will not even be a question. He says that people are either going to move to the cloud with a road map and an organised plan, or 4 or 5 years from now, they will be dragged kicking and screaming in a state of disrepair, realising they have missed the boat. Cloud computing, according to them, offers a scale and economy that is impossible to replicate at organisational levels.
Talking to Microsoft is fascinating, once you get past the mild condescension and the brochure-speak of representatives of an organisation pulling in more money than the GDP of most countries. To be fair, however, under Satya Nadella, Microsoft has been cultivating an image that is more open and candid than it ever was under Ballmer: more geeky and less sleazy. While Microsoft is probably right about cloud technologies becoming the norm in the future, they appear to be working pretty hard to make sure it is their cloud technologies that end up as the norm. This is not such a bad thing, though. According to Gartner, Microsoft is one of the leaders for cloud infrastructure as a service, worldwide. Microsoft has, and engages with, some of the best state-of-the-art technology, so their Public Sector representatives conducting seminars in Sri Lanka introducing the government to systems that will make it more efficient and safer is a win for all sides. Perhaps the very size of Microsoft might add weight to the digitisation initiative of Sri Lanka. One can only hope.