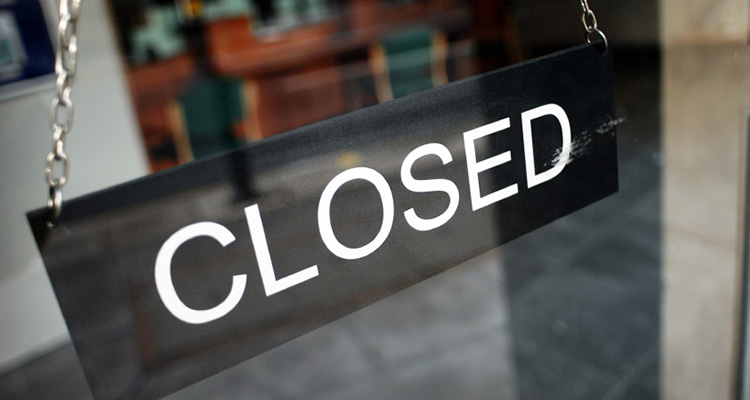 The internet changed the way we do everything. It's changed the way we communicate, the way we interact with each other, the way we entertain ourselves, the way knowledge is shared, and perhaps most importantly, the way we do business. Jack Ma, Chairman of Alibaba, stated that society is in for "decades of pain" as the internet disrupts the economy as we know it. And who better to talk about disruption than the one who is doing the disrupting. Chinese e-commerce site Alibaba owns nearly 80% of China's e-commerce market.
Speaking at the China Entrepreneur Club, Ma said that the next 30 years will see massive disruption in all sorts of industries because of the internet.
This disruption is being seen worldwide in one industry as people gradually use the internet for their shopping needs, turning away from traditional brick and mortar stores.
Over the last decade, Amazon has swallowed up physical bookstores, gradually putting them out of business as consumers turn to the easier—and often cheaper—online bookstore that Amazon offers. Using the same model that helped it conquer the book industry, Amazon then turned its eyes to retail.
It's all part of a natural progression, really. Just as neighbourhood mom-and-pop stores have been gradually replaced by retail chains, now retail chains face the prospect of losing their businesses to e-commerce. According to Bloomberg, the United States' retail business has been hit hard. Payless Inc., a popular shoe store chain, filed for bankruptcy recently and is in the process of closing down hundreds of stores. Rue21 Inc. is another apparel chain with about 1,000 stores that will be closing down. Ralph Lauren is also closing down their flagship Fifth Avenue Polo store, along with many other chain stores that are feeling the heat in 2017. Among them are RadioShack, which filed for bankruptcy for the second time, as well as Sears Holdings, Macy's, and J.C. Penney—all shutting down hundreds of locations.
It's predicted that 10 percent of US retail space may need to be closed in the coming years. This March, retailers cut around 30,000 positions, which was about the same amount they cut in February.
Amazon, on the other hand, has been growing. The Seattle-based online retail company accounts for 53 percent of American e-commerce sales growth last year.
A Look At The Numbers
Amazon and Alibaba, though in a way counterparts, have very different business models. Alibaba has more in common with eBay than it does with Amazon. Amazon sells electronics, merchandise, books, and digital media content which makes up 23 percent of its revenue. Alibaba, on the other hand, operates a number of commerce sites for sellers to reach out to consumers and sell their products online.
In total, Alibaba's sites have 423 annual active buyers and about 80% of China's e-commerce market share. Alibaba Group's largest business is Taobao, a consumer-to-consumer market place very much like eBay. But instead of charging commissions on transactions, they make money by selling ads. Merchants can pay to have their products made more visible to customers. Amazon, on the other hand, has about 30% of the US e-commerce market share, but also operates in a much more crowded market.
And business is booming for both. According to data compiled by ParcelHero, an international courier service, while Amazon ships 3 million packages a day, Alibaba ships 12 million. That's a lot of sales being made through a single platform. Even though Alibaba does so much more business, what has to be taken into consideration, of course, is that the customer base varies so much in size. There are 1.4 billion people living in China, while the US has a population of around 321 million.
Growing Pains
It's not all a bed of roses, though. Closer to home, the industry has been going through some turbulence. E-commerce is big in India, with some of the biggest players in the industry pumping huge amounts of money into marketing and product discounts in an effort to steal market share from competitors. But there's only so long such a standoff can last.
Snapdeal, India's third largest e-commerce site, has been struggling to keep up with Flipkart and Amazon. Despite huge investments, indiscriminate spending, a lack of focus, dissension in the boardroom and a series of errors has caused the company to fall into a nosedive from which it has been unable to recover. The company is now in talks to sell itself to rival Flipkart.
Flipkart may purchase Snapdeal in order to use its reach into smaller towns to beat out rival Amazon, which has been starving the other e-commerce companies of market share.
The retail market in India is about USD 630 billion and growing at the rate of 8 to 10 percent a year.  Only 2 percent of this is online, with the large majority of the rest of it being 'unorganised retail'. The towns and locations that unorganised retail dominates are much harder to reach out to, but this is also where smartphone and internet penetration are growing the fastest. Reaching these areas with e-commerce may require a very different approach.
Until an equilibrium is reached, the Indian e-commerce market will remain in a state of flux. The biggest companies are burning through money at a tremendous rate just to stay relevant. Amazon just has deeper pockets and can afford to play the long game.
Home Turf
The US and China are great examples of where e-commerce is headed. India is an example of the difficulties involved getting there. Potential does not equate to dollars unless a way is found to convert it, and that is what Amazon is counting on finding in India.
In Sri Lanka, the last few years have shown a huge increase in the number of e-commerce companies under much the same conditions as India.
A 2013 report by JLL estimated the size of Sri Lanka's retail market at between USD 25 and 30 billion with only 3% of it organized. Sri Lanka's current e-commerce market is estimated at 40 million dollars. Depending on which sources are being referred to, the numbers vary greatly. But what is certain is that e-commerce is only a fraction of the total retail business. But judging by the number of companies coming up, it is growing fast. Google India Director Nitin Bawankule expects this number to rise to 3% by 2018.
There is a growing understanding of the potential of e-commerce in Sri Lanka. Four years ago, there were very few companies venturing into e-commerce in the country, with companies like Takas.lk and Wow.lk leading the charge. But the past two years has seen a rash of companies battling each other for market share. Even traditional retailers are going online as part of their effort to reach out to more customers. Fashion stores like Odel, appliance stores like Abans, and supermarket chains like Keells, all now have online stores, and for good reason. Even supermarkets haven't been safe from the disruption of e-commerce. Mogo Super, Direct2Door and GroceryPal are all startups offering consumers the chance to purchase groceries online.
The Hurdles
Sri Lanka faces much the same problems India does. The time is right for e-commerce, but the retail market is still very unorganised, and the connectivity and IT literacy that e-commerce depends on is restricted to cities. For the Sri Lankan industry not to fall into the same trap as the Indian, scaling needs to be very controlled and expansion needs to be made into cities and towns outside of the Western Province. We're seeing this happen now, with the Uva Province being the next biggest market for Takas outside of the Western Province.
Ideally, the government can smoothen the road for e-commerce by improving IT literacy across the island, but right now they seem more concerned with taxing existing e-commerce businesses than actually creating a conducive environment for them to grow.
The transformation of retail as we know it is inevitable. It is already happening in the biggest economies of the world and the transition is evident among our neighbours. Technology adoption happens very rapidly in emerging markets such as ours, and before we know it, we may be looking at a vastly different retail landscape. Local industry and the government need to understand this.