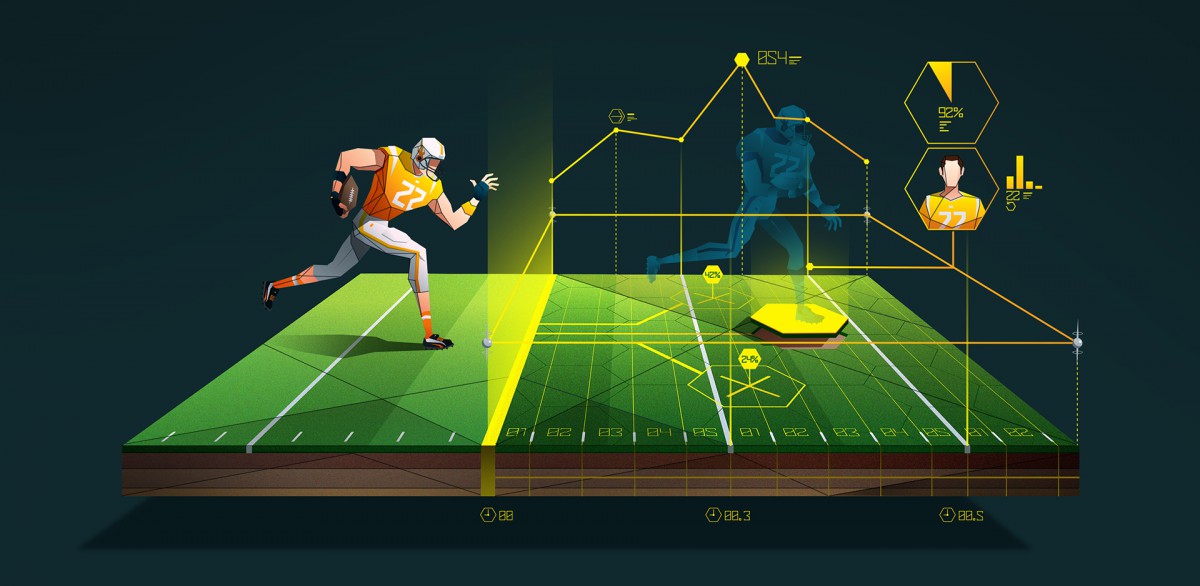 The tech startup industry in Sri Lanka tends to focus very much on a few core verticals—SaaS, mobile, and e-commerce—mostly because these are where the investors lie. But it can be very hard to stand out in sectors that are already saturated and over which investors are spread so thin. There are other areas though, that the tech startup industry hasn't placed much focus on in the past, but that are now growing very rapidly. Three of these industries are Fintech, Healthtech and, most recently, Sports tech. Of these, sports has received the least attention, which is surprising because the industry as a whole is huge, and ripe for the sort of high speed innovation that comes with startups.
In 2015, the Asia Pacific sports industry was projected to reach USD 27.5 billion and is still one of the biggest and fastest growing industries in the world. Singapore has been leading the charge in the region, trying to draw competitive sporting events and brand itself as a centre for these. In 2008, the country staged a Formula One race on its streets, and in 2014 it opened the Sports Hub, which is a multi-purpose sports and entertainment facility which has been drawing a number of major events ranging from rugby and MMA to music concerts. It's not just Singapore that's looking towards sports, however. According to a Nielsen Sports report, Thailand, Malaysia, and Indonesia have all been developing their sports sectors towards football, which is extremely popular in the region. This year, Malaysia is also hosting the Southeast Asian Games, which will draw in a lot of media and marketing dollars. On the mainland, China wants to build the world's biggest sport economy. That would mean an industry worth USD 850 billion by 2025.
Closer to home, major sports have been developing city-based franchise leagues in an attempt to replicate the success that the Indian Premier League has had with that model. The Hero Indian Super League, the Pro Kabaddi League, the Champions Tennis League, the Indian Badminton League, and Hockey India League all launched within the last four years, but haven't come close to the success that cricket enjoys in the region. Duff & Phelps valued the IPL brand in 2016 at USD 4.16 billion.
All this means is that the sports industry in the region is growing fast, has investment coming in, and is ripe for disruption.
The Investors
There's a new breed of investors looking for startups working these areas.
The leAD Sports Accelerator is a new programme founded by the grandchildren of the founder of Adidas—Adi Dassler. The Berlin-based programme focuses on early stage startups in the sports sector, not only in European and North American markets, but is also open for Asian startups. Apply by the end of May and you get 12 weeks of training, stress-testing your business case, deals from service partners, and media visibility. If you are among the 10 finalists you also get also EUR 25.000 each in exchange for 8% equity.  Surprisingly enough, the programme is open to esports startups as well.
There will be two more rounds by leAD in 2018.
Kick Up Sports Innovation is another innovation hub looking specifically to fund sports entrepreneurs and startups. Based in Portugal, they are an accelerator programme focused on early stage sports business startups. Their applications closed in March.
Nike launched an accelerator programme in 2013, but hasn't been seen since, but some of the more established funds do consider sports startups as well.
Tech In Sport Now
A lot of the sports-related startups getting funding now are looking at the sponsorship side of things, connecting brands, products, and sports personalities to fans. Out of six sport and esports related companies funded by the 500 Startups venture fund, five of them deal with the brand and sponsorship side of things, while one looks at logistics.
But it's not just about marketing and the fans. Technology is used to improve how athletes train. Stephen Curry, one of the best shooters in National Basketball Association history, trains using goggles which produce blanks in his visual space, requiring him to act based on only partial information. This helps him prepare for the uncertainties during the actual game.
The NFL is using sensors under shoulder pads of their players to track speed, distance travelled, acceleration, deceleration, and even orientation. Using the data and analysis software, coaches can identify strengths or weaknesses and even warn of impending injury. The Zebra sports tracking system worked so well, that it was expanded to 32 teams last year.
Wearables also show great promise when it comes to helping athletes train and gather data to improve performance. Backed by the San Francisco 49ers, the Push Band pairs with an iOS device and gives its user data and analytics for when they're lifting weights. The Lumo Run is a device that measures movement patterns of a runner's hip bones and gives feedback that can improve technique. The Under Armour Gemini 3 sneakers have sensors built into the sole that records movement data and determines fatigue level through a jump test.
The Opportunities
Sri Lanka has quite an opportunity when it comes to sports and technology. We have a rapidly growing startup industry. We also have a deeply embedded sports culture that starts at a school level and goes all the way to international competition. Sri Lanka is also well positioned to reach out to South Asian and Asian Pacific markets. Combining these factors, Sri Lanka can be among the first movers in sports tech to address the growing gap in a region that's well known for its passion for spectator sports. What's also interesting to note is that there is more female interest in sport in Asia, compared to the West. Japanese women in particular show a more than average interest in sports, and the UAE and India are among the countries with the lowest gender gap in spectator sports consumption.
Whether it be creating systems to track data, developing wearables, designing analytics software, engaging fans, or enhancing performance, there's a lot to be done in the sports tech sector. The 'playing field' in Asia is remarkably open and even. We just need to field the ball and run with it.
Featured image courtesy Penn State University