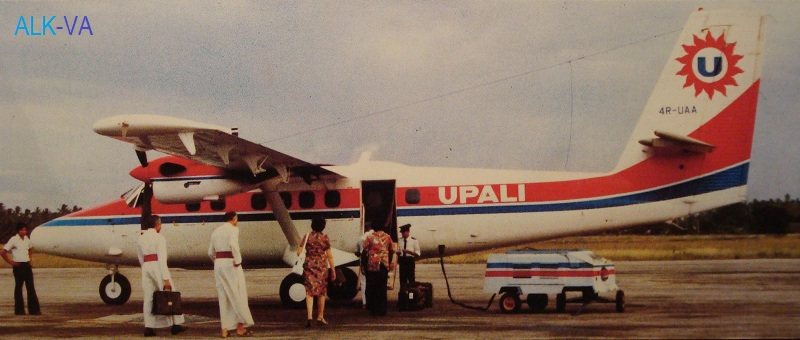 It has been over a month since we launched Roar Tech to cover the local tech and startup scenes, both of which have proven to be very dynamic. Sri Lanka's up-and-coming entrepreneurs, as we have observed ourselves, are constantly launching new ideas, or innovating on old ones.
In the light of this, we decided to compile a feature on one of Sri Lanka's most legendary entrepreneurs (and the most colourful, by far). His story predates the startup world of ours, but it is very much one of hard work, ingenuity, and most importantly, delegation. He did not launch a startup per se, but he created a business. And let's face it, that is what a startup should aim to be ‒ a real business.
And that man is none other than the late Upali Wijewardene.
Upali had many dreams, but his legacy was defined by his entrepreneurial spirit, which is what we aim to focus on. Rest assured, though, it's going to get interesting.
Early Life
Philip Upali Wijewardene was born to Don Walter Tudugalle Wijewardene and Anula Kalyanawathie Wijewardene on February 17, 1938. He also had two sisters, along with whom he grew up in 'Sedawatte Walawwa', his family home in Kelaniya. Being a scion of the prestigious Wijewardene family, he was able to count among his relatives the late senator S.C. Wijesinghe, and the late President J.R. Jayewardene.
An alumni of Royal College, Colombo, Upali was a 'perfect student', excelling in both his studies and sports. He was also known to be an excellent equestrian and held the sport very close to his heart. Unlike most other kids who spent much time fantasising about cricket and rugby, little Upali dreamt of becoming an international businessman, owning aircraft, and riding horses. Upon graduating from the much-celebrated institution on Reid Avenue, Upali went abroad in order to pursue his higher studies. He successfully completed both his undergraduate and postgraduate studies at the University of Cambridge, both times choosing to major in Economics.
First Job
Itching to get a start in the real world, young Upali secured a position as a Management Trainee at Lever Brothers (now Unilever). As the story goes, there was only one position available and needless to say, the competition was intense. The list was finally whittled down to two applicants, of which Upali was one. In order to make his final pick, the then CEO of Lever Brothers invited both candidates to the Galle Face Hotel for lunch. According to Upali, the goal of this whole exercise was to examine their table manners. When the soup was eventually served, the other candidate had tilted the soup plate towards him to gather the last spoonfuls. At that precise moment, Upali realised that he'd managed to lock down the job.
He later left the firm due to a dispute with the Chairman, who had accused him of failing to submit some reports. Upali had then set about trying to find the reports, and found them lying in the Chairman's file tray.
Irked, Upali bid farewell to the manufacturing giant and decided to strike it out on his own, his decision bolstered by the knowledge he'd gained during his short stint.
Awakening The Entrepreneur Within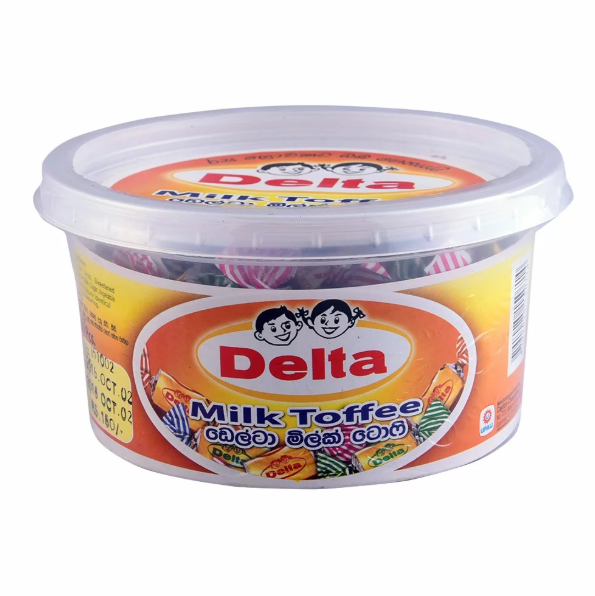 With Rs. 15,000 in cash and an old house to his name, Upali managed to acquire a small candy manufacturing business. In need of an assistant to help him make sales, the aspiring entrepreneur placed an ad in a local newspaper. The result of that advert came in the form of R. Murugaiah, who became his trusted lieutenant and later went on to become the Managing Director of the Upali Group.
At its beginning, the fledgling company only sold boiled sweets. As it grew, however, the firm ventured into making toffees, and the 'Delta Toffee' brand was born. Nobody seems to know why Upali chose to go with the name Delta, but one popular theory is that the name had something to do with his trusted partner Murugaiah, who is said to have grown up on a tea estate belonging to the Delta Group.
With the fire of ambition burning in his belly, Upali tried his hand at assembling clocks, radios, and TVs under 'UNIC', a brand which he created for the purpose. Since Sri Lanka followed a closed economic model at the time, shortages were rampant, and as with any such economy, quality took a backseat while price controls were the order of the day. Refusing to back down, Upali worked his connections and obtained a permit to assemble radios locally, which were UNIC's first product segment. He managed to avoid having price controls imposed on his products, in sharp contrast to his competitor in the business. UNIC turned out to be a cash cow which helped him finance the expansion of his growing business empire.
Flush with cash, he set his eyes on conquering the automobile industry.
In 1969, Upali set out to assemble Mazda cars in Sri Lanka. He built a factory complex in Homagama for the purpose, which he financed with the advances he'd received on his cars. Later, he also started assembling Fiat 128 cars, but the Upali Motor Company (UMC) had to be boarded up because its products were no match for the cheap, and reliable, Japanese cars which were beginning to dominate auto markets everywhere.
Around the same time, he started 'Upali Aviation', Sri Lanka's first domestic airline and helicopter service. Aviation seems to have fascinated him, perhaps because at the time, flying was synonymous with style and luxury (It wasn't called the "Golden Era of Aviation" for nothing). He later went on to acquire a couple of private jets and at least one helicopter, cementing his reputation as the most flamboyant Sri Lankan of that era.
Somewhere between the late 60s and early 70s, Upali began to tend to yet another company, which would eventually go on to become the crown jewel in his portfolio of businesses. It was a company called "Ceylon Chocolates" and it… well… made and sold chocolates.
The 'Kandos' Man And The Chocolate Factory
Upon the death of his uncle, the late senator Sarath Wijesinghe, Upali took over the firm in the early 70s. Pre-takeover, the company's performance was by no means spectacular, and it sold its products under the 'Kandos' brand name. Upali set about putting the house in order. He modernised the production process, and put in place measures to boost sales. Kandos chocolates were a roaring success, and brought him fame in the Far East, especially in Singapore.
Upali parlayed his success with Kandos by venturing into many other industries. He was never short of ambition. He steered the Upali group into the 'Consumer Products' segment and built three soap brands, "Sikuru","Crystal", and "Tingle". However, being a descendent of D.R. Wijewardene, newspaper publishing ran in his blood. In 1981, Upali Newspapers was established, and with it, The Island and Divaina newspapers began their first print run.
Beyond Sri Lankan Shores
Despite his success within the country, Upali felt stifled by the socialist policies of the government, and decided to venture abroad. He set up an elaborate corporate structure to facilitate his international business adventures, and also to wriggle free of Sri Lanka's draconian exchange control laws. Thanks to his ingenuity, Upali ended up owning a Cocoa plantation in Malaysia, a futures trading firm in New York, and some other business interests in Singapore.
Upali also had a strong desire to serve the public. That, together with his understanding of how capitalism can vastly enhance the living standards of the average citizen, meat that he was the perfect person to bring foreign investors to the country. Recognising this, his uncle, the late President J.R. Jayawardene, appointed him as the head of the BOI (then known as the GCEC).
Upali was enough of a visionary to realise that Sri Lanka needed to become much more than an apparel exporter, and managed to convince five semiconductor manufacturers (including Motorola) to invest in the country. Unfortunately for Sri Lanka, the troubles of 1983 resulted in these companies packing up, and leaving the country in search of better investment destinations.
Upali The Man
Fascinating entrepreneurs tend to have equally fascinating personalities. Upali's personality was very much one of great wit, charm, and flamboyance.
He was an avid golfer, a good equestrian, an enthusiastic motor car racer, and a pedigree dog breeder. He was someone who would have a meeting in Colombo in the afternoon, fly by chopper to Nuwara Eliya for a round of golf in the evening, and then return to Colombo for dinner. He was a regular at the Aston Park Stakes, and at The Derby (now the Epsom Derby) where he watched his horses compete for glory. He also relished being behind the wheel of a fast car, and as a younger man, raced at Katukurunda and Mahagastota.
Like we mentioned before, his wit was unmatched. Remember UMC? Well, its existence was made possible by a loophole which the government itself had created, by imposing a tax of 300% on cars, and a tax of 100% on spares. Upali imported spares at the lower rate and assembled the cars locally.When asked about this later, he is said to have quipped "I've wandered to the very edges of the law, but I've never crossed them".
His colourful exploits got him featured in Fortune and BusinessWeek magazines, signifying that he'd well and truly made it big. The Upali Group grew to such an extent that at its peak, it employed around 33,000 people worldwide.
With the passage of time, however, Upali's business empire started to show the first signs of trouble. Towards the late seventies and early eighties, the Upali group's financial situation deteriorated. The purchase of Upali's infamous LearJet is said to have strained the group's finances even further.
Yet, his business empire chugged along. It still wasn't completely out of steam.
The Day He Went Missing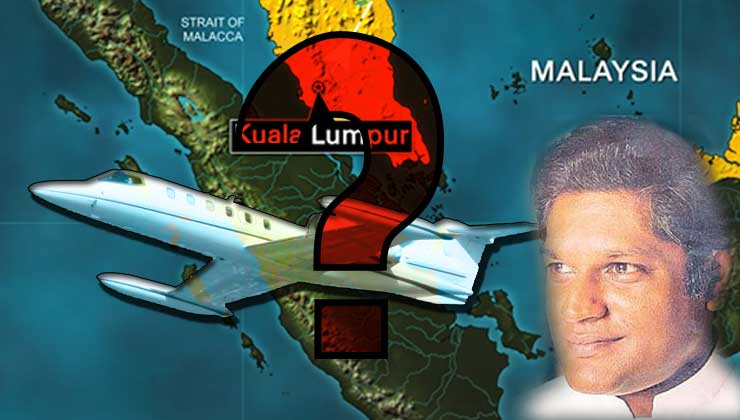 On February 13, 1983, Sri Lanka woke up to the news of Upali's mysterious disappearance. According to the news reports, his LearJet (in which he was travelling at the time) had disappeared somewhere over the Strait of Malacca. The news left the entire country in shock, unable to believe that the one man from amongst them who'd managed to make it really big, had vanished so suddenly. While the incident was pretty much the closing chapter of Upali Wijewardene's story, it fuelled a wave of conspiracy theories which continue to live on to this day.
Aside from his obvious business success, Upali succeeded in showing Sri Lanka that with ambition, ingenuity, and hard work anything is possible. In the process, he also inspired an entire generation of entrepreneurs , who today hold the reigns of corporate Sri Lanka.
We are very grateful to Mr. D.B.S. Jeyaraj (veteran journalist), Mr. K. Godage (former Sri Lankan High Commissioner to Malaysia), Mr. Upatissa Hulugalle (friend and close associate of Mr. Wijewardene), and Mr. Rajah Sinnathuray (Past President of the Automobile Association of Ceylon and former Secretary of the Sri Lanka Turf Club) whose writings were of immense help in piecing together the timeline of events connected to this article.