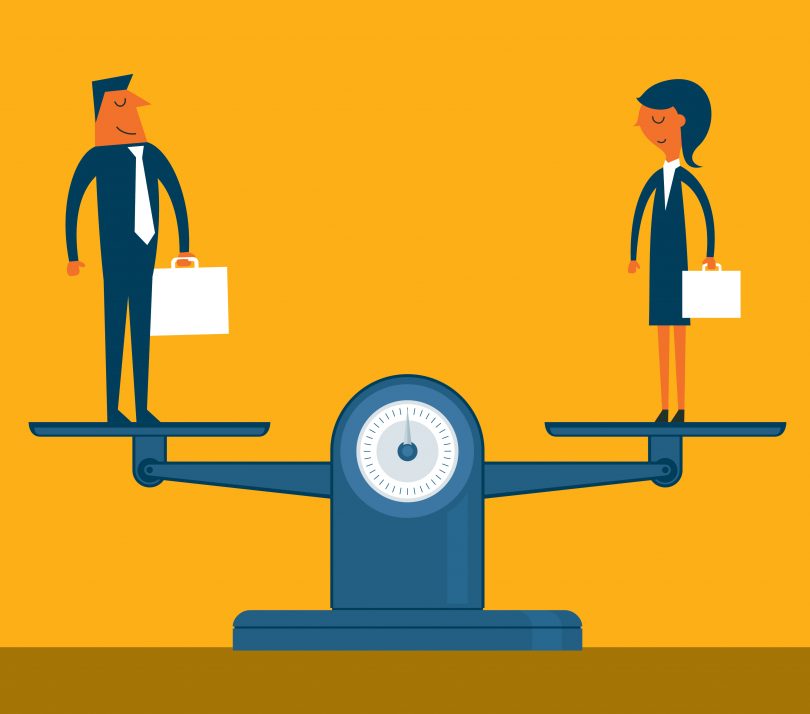 The tech industry over the past year has borne quite a resemblance to James Bond's favourite martini—shaken, with a twist of citrus. Gender diversity has always been a big talking point when it comes to tech companies, especially with the scandals surrounding Uber and the harassment that women face in Silicon Valley. No one expected Google to be drawn into it, however, which goes to show just how far reaching gender issues are. Google has traditionally been quite a champion of diversity, but last August, a senior software engineer wrote a document that argued that the gender gap at Google was a result of biological differences between men and women.
The views expressed were personal, but the document went public and understandably upset a whole lot of people. The engineer was fired, but the whole incident raised a storm of internet noise, with some calling on a march on google, for what purpose, exactly, we found it hard to figure out.
The tech industry in particular has been the focus of conversation on diversity. Perhaps because it has such a poor history of gender diversity and hasn't shown much improvement since.
This issue is not one that affects the West alone, but seems to exist around the world, and in Sri Lanka. Just as we adopted the iPhone with all of its cultural accoutrements, perhaps we've adopted the sexism that comes with it. Or maybe we haven't, and this is all part a deeper issue that lies within our own culture. Whatever the reason, the latest numbers put female participation in Sri Lanka's workforce at about 36.6%—which is just under half that of men. As usual, the economically active rural female population exceeds that of their urban counterparts by a few percentage points. Computer literacy of females lags behind men as well, with 26.1% compared to 30.7%.
To find out more about the issues that lie in our growing tech industry, from a more personal perspective, we spoke to professionals in the industry who've had to deal with the difficulties of a male dominated workforce and leadership. Here are their thoughts.
A Man's World
Yusra Aziz-Eliyas started her career in the IT industry, but she left because of family commitments and the need to take care of her children. During her time in the industry, Yusra was very much part of a system that was not at all optimal for a woman to work in. Which is why she left, she states, and why she became a founder herself, creating Podi Jobs—a freelance platform that also empowers women and stay-at-home mothers.
She tells us that the IT industry in Sri Lanka is very male dominated, with men preferring to work with other men. Very rarely was a female picked as a team lead, and there were not many female software architects in her company. Yusra says that women have to be constantly proving themselves capable in their roles, far more than men have to. There's an attitude of condescension when it comes to dealing with women in tech. As if it is a surprise that women can have an understanding of a website's backend or of systems architecture.
Perhaps the whole issue can be traced back to culture, Yusra says. Women (unless they fight for it) are not supposed to hold positions of authority in the tech world. The whole concept of technology is very much reserved for men. One rarely sees a man having a conversation with a woman about the latest gadgets or apps.
We also spoke to Kumudini, who worked in a leading strategy consulting firm as a Business Consultant for 8 years. A woman has to be tough, she says, to survive. There's a lot of crass humour, a lot of belittling of women, and a lot of condescension that a woman has to deal with just to stay in the industry. Kumudini was one of only two women in that particular section of the company. By the time she resigned, she was the only single mother still working there.
Work Hours
Sexism is not the only difficulty the tech industry poses for women. There are also the long work hours. During periods where companies have large projects to complete, Kumudini says employees work long hours, sometimes staying overnight for days at a time. Women are not always willing to do that, in this culture.
Kumudini also points out that some parts of systems development require a great degree of intelligence and specialization. If a woman who holds this role gets married and has to stay home, or decides to have a child, it's very hard to replace such a skill set. That can turn out to be a liability to the company, who'll have to expend resources finding a replacement or a stand-in.
The work culture of the tech industry comes into odds with the strong family tradition of Sri Lankan (and South Asian) culture.
The Startups
The newer companies seem to be doing better when it comes to gender balance. Ashika* is a QA Engineer at a software engineering company that works internationally. She feels there is a pretty good balance and approach when it comes to hiring women. Several team leads in the company are women. However, it must be noted that the higher management were all male.
Vanessa, too, works in a large software engineering company that creates products for the local and international market. When she had her baby, the company gave her maternity leave and then allowed her to work from home so that she could spend more time with the baby. For Vanessa, working with this particular tech company has been a great experience, because of the emphasis the management places on its human resources, both male and female.
Yusra, too, notes that tech startups hire regardless of gender, but based on skill and ability. But not all entities in the industry are startups. And being a female founder of a startup is a different kettle of fish. Yusra has been asked the most intrusive questions. She was asked how old she was, whether she has any idea about technology, and how much she makes. She's had to deal with unsolicited, condescending advice, right up until she reveals her own background in the industry.
Yusra says that male investors tend to invest in male founders, as they see more potential for business in a man, than in a woman.
Education
Roar Media also spoke to Dr. Sepali Kottegoda, the Executive Director of the Women and Media Collective. Dr. Kottegoda warned against the blanket-blaming of the tech industry and making the assumption that the 'tech industry' (as we called it) was in control or responsible for the lack of gender diversity. Dr. Kottegoda questioned the exposure that young men and women had to tech knowledge. She said there was a gender bias in the way which we made space for boys and girls to access this knowledge. She also said that there was a strong argument that tech is not being made inclusive or comfortable for women. There is an underlying impression that girls are not good at math. Boys are pushed towards more mechanical pursuits, and girls towards more service oriented ones, which is why she says there are fewer female engineering students than male, but nearly equal numbers of female medical or law students as their male counterparts.
More proactive measures are needed, Dr. Kottegoda says, to encourage girls to study tech related streams and to work against this bias that only boys are good at computers.
A More Flexible Industry
The nature of work itself has been changing over the last decade. Nine-to-fives, office overnighters, and power naps on coffee stained carpets are symptoms of a more legacy type industry that belonged with the days of mainframes, magnetic tape backups, and the floppy disk. Better hardware, connectivity and the ubiquity of technology means that we're literally connected all the time, to everything. This itself should change the way we approach work.
Yusra strongly emphasises that women are intrinsically good multi-taskers and managers of stress. It's not the stress of work, she says, that's an issue to a woman, but the inability to be in two places at once. Why, she asks, does a woman have to be in a conference room to take a call. Couldn't she do it while waiting for her kids at a sports practice? At Podi Jobs, she says, there are client servicing agents who make sales calls on their own time, working around family commitments. Our industry, she says, is making women choose between working during office hours, or not working at all.
The issue of gender imbalance in the tech industry is one that needs addressing, whether it be culturally, in the education system or among the open floor plans and psychedelic beanbags of the trendy modern startup. Perhaps a good start will be to actually listen to what women have to say first. This ultimately makes good business sense. After all, half the world (and half the market) are women.
* Not her real name
Cover image courtesy America Magazine