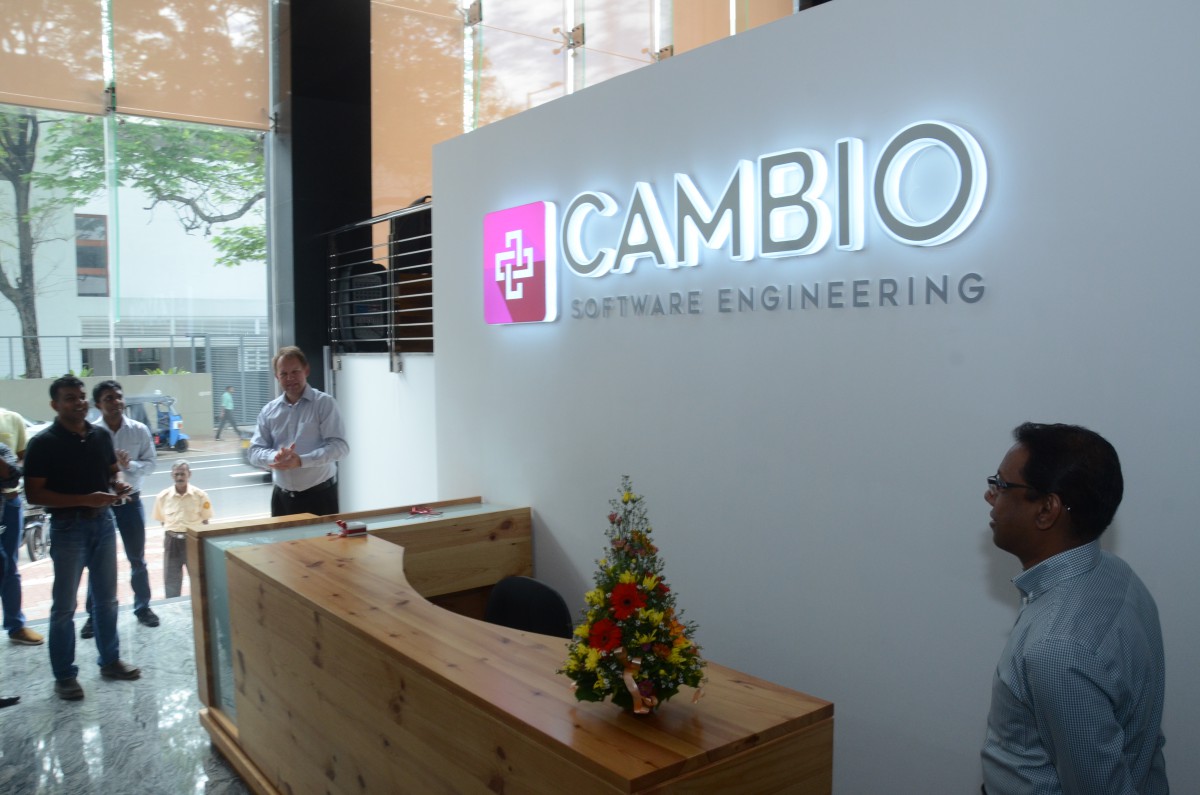 Cambio Software Engineering, which builds mission critical Enterprise Healthcare Solutions for foreign clients, has been operating in Sri Lanka for the last 12 years and is one of Scandinavia's leading providers of Electronic Health Record (EHR) System. This June 2, the company moved its base of operations into two new and more spacious buildings in Colombo 03, making way for expansion of staff and service. Currently employing 270 software engineers and staff, the company looks to grow to 400 over the next two years.
Peter Cornelius and Sushena Ranatunga led the ceremony to officially open up the two new buildings for Cambio, and to unveil Cambio Sri Lanka's new logo. Ranatunga is the Director of Cambio Software Engineering Pte Ltd., and Cornelius, who flew down especially for the event, is the Head of R&D for Cambio Healthcare Systems AB, Sweden. Cornelius had this to say about the opening of the new facilities: "Our Sri Lankan operations is vital to the success of Cambio. We build our future and strategies on a scalable and reliable office here in Colombo. Opening a new office and allowing for growth and efficiency is good for everyone. Our employees need to be in an office where they can be creative and feel that they are part of a modern software company, I think this is exactly what we now have."
Product Development
Cambio Software Engineering is the research and development centre for Cambio Healthcare Systems. Here, engineers design and build state of the art technology solutions for the European healthcare market. Cambio COSMIC is a fully integrated, Electronic Health Record (EHR) System used by anything from university hospitals to primary care clinics to streamline their services. The system handles everything from patient administration to documentation, clinical decision support, and systems monitoring.
Cambio's integrated solutions serve over 4 million patients in Sweden, Denmark, and the UK. They have over a hundred thousand licenced users ranging from healthcare professionals in general hospitals to those in university hospitals, specialist units, and outpatient units.
Growth And Job Opportunities
The current customer demand in Europe is pushing the expansion of the R&D centre in Sri Lanka to new heights. Recruiting talent from local universities and industry, Cambio's expansion is providing job opportunities for the local market and creating a knowledge sharing economy between Sri Lanka and Northern Europe.
The General Manager of Cambio Software Engineering said that "Our future expansion will also require the best of Business Analysts, Software Developers and Quality Assurance/Test Engineers. Our new logo branding signifies change, especially for the next 10 years of operation, in our quest to transform Cambio to create a world class software development work environment for Sri Lankan software engineers."
Cambio is an example of how Sri Lankan talent can be leveraged to develop world class products for the international market. The rapid growth of the Sri Lankan tech and software industry and the opening up of global markets is an opportunity for Sri Lanka to become a bigger player in the information systems and software development market. A large talent pool and competitive pricing means that Sri Lanka can snag a good percentage of the market share of healthcare systems and several other industry-specific information systems software. Opportunities are available and the time is ripe for Sri Lanka to get more involved in the global software industry.