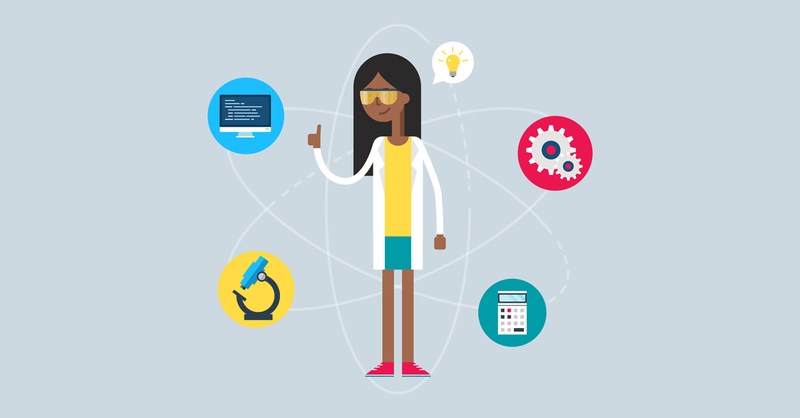 While historically, the subjects of science, technology, engineering, and mathematics in higher education were separated into individual disciplines, in the recent past, there has been a refreshed drive to integrate a STEM-based approach into the curriculums of most fields globally and even in Sri Lanka as a strategy to diversify the skills of graduates.
To bring about a true change to our businesses and economy, Sri Lanka needs to adopt the practices seen in the STEM-based approach to higher education on an organisation level, and provide the foundation needed for our most innovative minds to be bold, to create, and invent.
Why STEM is important for Sri Lanka
The core disciplines in STEM are key to driving innovation and solving problems relevant to both developing and developed nations. While the brain drain has played its part in taking away talent from Sri Lanka, the ​Government of Sri Lanka is pushing towards​ providing more opportunities in STEM, having identified the massive importance it will play in our growth as a nation, and thus potentially constructing an environment where creativity and problem solving takes precedence over a more archaic approaches.
As Sri Lanka heads towards being a more digital based economy, STEM will play a massive part in creating a workforce that will have the multidisciplinary background needed to tackle the complexities of the modern-day workforce. The benefits of adopting STEM were clearly seen in the US​ during the 'dotcom boom' in the 90's, when the United States built itself into the hub of global technology, engineering, and science. Countries such as Japan, and South Korea as well as countries in the Scandinavian region all benefited from the early adoption of disciplines that fall under STEM, and are now amongst the world's biggest economies which did not dwindle away with the reduction of old industries.
Therefore, it's the ideal time for Sri Lanka to think ahead and encourage our youngest minds to be part of the STEM multidisciplinary approach.
Some of the key benefits that adopting STEM brings to the table are:
Technology moves fast and fields such as engineering and science continue to drive us towards a more robust and developed society. STEM allows a higher percentage of the population to be aware of the latest digital trends and scientific breakthroughs, which in turn funnel new ideas and challenges and critical thinking.
By encouraging creative thinking and a cross-disciplinary approach to education, STEM drives a greater level of innovation. A graduate with a technology background may be able to code an app to detect different parts of a car using image detection technology, but may not realise the lack of such technology in the field of science. The broader the knowledge acquired, the greater the innovation can be, and STEM can lead to a much stronger/successful level of startups emerging in our ecosystem.
Thinking outside the box may be an overused phrase, but to truly create a change when it comes to driving business, the presence of creative thinking is key. Forecasting economic trends and growth are all reliant on mathematics, discovering the right calculations that use numbers to tell us where we should best invest our money, where we are wasting our resources and how to optimise our expenditure to keep our economy growing. These all come through having a foundation in STEM.
Careers in STEM can prove to be financially rewarding in comparison to other careers. While Sri Lanka may not be on the same pay scale at present, STEM-related careers such as biomedical engineering, financial examiners, and medical scientists​ receive more compensation and benefits. As our economy grows, those that occupy such positions will see an increased value and a raise in pay over more traditional jobs.
Focusing on one discipline can limit career opportunities and in this ever competitive market, graduates often have difficulty finding work in their fields. Roles such as data scientists, UX engineers, and growth hackers are all new job titles that are a result of STEM and the need to bring together skills from multiple disciplines into technology. More of these new multidisciplinary roles are expected to emerge in the coming years.
Opportunities in STEM for Sri Lankans
Institutions and educational facilities have work to do to better integrate the foundational approach of STEM, as STEM should ideally be adopted from the earliest age possible. However, there are plenty of opportunities available in Sri Lanka, especially in the technology field, with a budding startup ecosystem that requires a variety of skills and isn't strictly restricted to those with a degree in Computer Science anymore.
The JKH-STEM Program
John Keells Holdings PLC is launching a STEM program and is on the lookout for UX/UI Designers, Growth Marketers, Software Engineers, and Data Scientists. They're looking for creative thinkers and innovators who can be given a problem to which multiple solutions can be generated. If you are bold enough to disrupt and innovate, and want to be part of a diverse organization, here's your chance to apply!
Apply at​ http://keells.com/STEM and fill out your details.
Cover Image Courtesy: ted.com