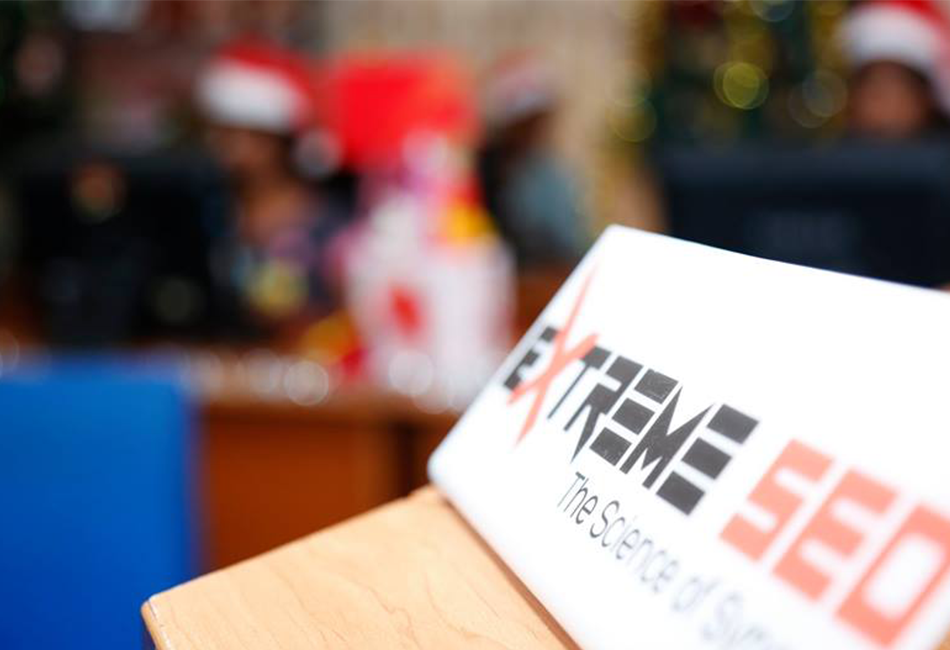 At the last available count, Google indexes over 60 trillion web pages. That's practically double what it used to be 3 years ago, and works out to about 8,571 pages for every person on this planet. That's a lot to surf through. The majority of users on the internet find web pages through a search engine, but with so many web pages, it's pretty easy to get lost amid all the noise out there. That's where Search Engine Optimisation or SEO comes in. SEO takes a look at how search engines work, the actual words typed into a search engine, which search engines are preferred by the target audience, and then optimises a website for it. SEO is basically used to help a website reach its target audience, or conversely, to help web users find the most relevant information. It's a pretty big business, and a service that almost every web page requires.
There are plenty of SEO companies out there, so it takes something special to succeed in the industry, and to remain relevant and consistent. Extreme SEO is Sri Lanka's very own success story in this heavily populated industry. Rising from humble beginnings, the startup has managed to build a name for itself in an industry that is extremely competitive by nature, and a difficult one in which to be established.
Humble Beginnings
Extreme SEO is the brainchild of Sharanyan Sharma, a truck driver turned tech entrepreneur from Vavuniya. Having had a rough start, Sharanyan ended up driving a truck that delivered snacks around Colombo. Around then, he became fascinated by e-commerce and how it leveled the playing field for everyone, giving each individual an equal opportunity at creating a business. Not having enough funds to buy a computer at the time, he borrowed from neighbours till he had enough to purchase his first PC. It took him two months to get his first client from the US, earning him a grand total of USD 5.
Pretty soon, however, he had enough projects lined up that he had to hire people to help him keep up with the demand. Since the founding of the company in September of 2008, he now employs more than 45 people with headquarters in Northern Vavuniya, and a branch at the World Trade Centre in Colombo.
Vavuniya is not the first choice for entrepreneurs working on their startup ideas, especially in the days Sharanyan started his company. Lack of seed funding, infrastructure, and poor market access at the time made it an uphill climb all the way. Internet access failing for up to days at a time didn't help very much either.
Even after drumming up business, receiving payments was not easy. His first big payment of USD 5,000 was frozen by the Central Bank who were suspicious of the money coming in. It took him a month to convince the bank that he ran a legitimate business and to give him his money.
Company Culture
Extreme SEO places a strong emphasis on community and good company culture. Recruitment happens from institutions like NAITA, the Vocational Training Academy, and technical colleges, but they hire on basis of willingness to work and adapt as opposed to solely judging by paper qualifications. Interns get paired with senior staff, so they learn the ropes, and are kept as happy and as comfortable as possible in an office environment far away from the noise of the city.
The employees also get a healthy breakfast every day, should they want it, and work the standard 8 hour days during the week, with a half-day on Saturday. At times, employees need to stay in touch with clients in different time zones, so they are provided with smartphones and laptops, or even transport if they need to get to office quick. It's not all about work, though. Extreme SEO knows that a good work-life balance is important, so they make sure their employees have adequate assistance when they need it. Support is provided to staff for when they need to deal with housing loans or if they have weddings planned.
Small no-interest loans are also available to the staff when they have urgent needs. All permanent employees also get life insurance. People are important to them, and it shows.
Development of personal skills like public speaking and presentations are also encouraged, and time is set aside each week for these sessions. They've also got carrom and chess boards set up for some light entertainment. Twice a year, the company takes the staff out on an excursion to relax, bond with each other, and have some fun all round.
Giving back to the community is also important for Extreme SEO, which is why they choose to keep their headquarters in Vavuniya. They have, however, opened up a branch in Colombo at the World Trade Center, and are looking into opening a branch in Kolkata.
Services
Extreme SEO has a fully fledged set of services on offer on their website. They do Search Engine Optimisation, Social Media Marketing, Conversion Optimisation, and Reputation Management, monitoring a business's online presence through a series of tracking services. They also offer very specific Local Marketing for companies aiming their services at local consumers, giving them an edge over global companies targeting a more general audience. Inbound marketing is also one of their specialities, including content creation, lifestyle marketing, and personalised content.
The Extreme SEO team comprises certified professionals in technical, on-page and off-page optimisation with over five years of experience in the e-commerce and e-marketing fields. Their methods adhere to best practices set by Google and predominantly stick to White Hat SEO techniques. Good ethics are a strong part of company culture.
Their portfolio includes several well-known companies, such as Find My Fare, MyStore.lk, Serverboost LLC, and Xiteb.
Awards
Extreme SEO has won a number of awards since their inception. They won the 2012 Sri Lanka Entrepreneur of the Year award, as well as the Asian Pacific Entrepreneur of the Year the following year. They've won Promotion World's Reader's Choice Award, and Digital Marketing Awards three years in a row starting from 2013. To cap it all off, they won the Sri Lanka Best Innovative Award in 2015.
Optimised for Success
Extreme SEO has a lot going for it, with a pretty extreme drive to succeed in a fast-paced industry. They never seem to stand still, always looking for new ways to expand themselves and have over 900 active resellers working on their product, pretty much guaranteeing results with their talented team of SEO experts.
They believe communication is important and are constantly available to provide feedback and conversation for their clients. Their focus is on making businesses more efficient and optimising for success. Visit their website here, to learn more about them and what Extreme SEO can do for your business.