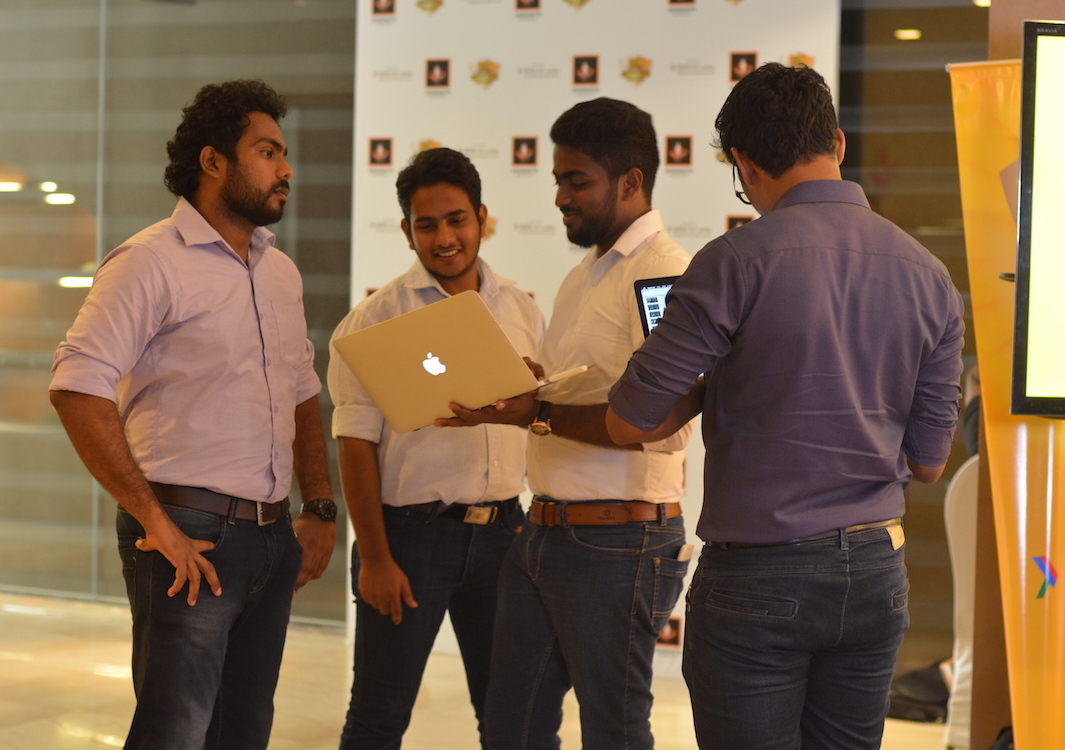 On October 1, the Janashakthi Full Option Appathon Challenge held its first round of presentations by contestants who spent the last month conceptualising an app that could win them a prize of one million rupees.
Gathered at the Angsana Meeting Room of the Cinnamon Grand Colombo, were the top 20 teams whose concepts for an app that will solve the traffic problem in Sri Lanka are in the running for the grand prize. Last month, a total of 100 shortlisted teams participated in an interactive idea generation workshop, after which they were required to submit their proposals.
At the Idea Presentation session, each team was required to pitch their idea for the app within ten minutes before a panel of judges, which comprised Chrishan Perera ‒ Director, Strategy & Marketing / Co-Founder of OMAK Technologies, Milindhu Sanoj – Manager of the Google Developer Group, Jude Fernando – Chief Executive Officer of Janashakthi Insurance and its Head of Marketing,  Manindri Bandaranayake. This stage did not require them to have actually designed or developed the app yet, so the teams could only count on their presentation skills and visual guides to convince the judges they had the right solution.
While speaking to some of the teams who were waiting their turn outside the presentation room, it was inspiring to note the confidence with which they approached this crucial stage.
"We encounter traffic every day in our lives, and everyone we know faces this problem too. So we were able to use our own experiences to figure out a way to encourage drivers to drive with more focus and concern for safety," says Team Indigo, a group of IT undergraduates. Janashakthi has stated that the main objectives of this challenge is to support young talent to develop a viable solution to an everyday problem, as well as develop an app that would support the company's objective of maintaining its connection with the youth and more mobile-savvy consumer base.
Janashakthi has now further narrowed down this pool of contestants to the best five teams. This is the critical juncture where the top five teams will feel the heat of the competition, as they undergo grooming and mentorship from industry experts before their final pitch.
Although the competition has no room for more than the five best ideas, it certainly has been a learning experience for all contestants. The opportunity to work in teams, use real-life experiences to innovate solutions for real-life problems, and, most importantly, sell an idea, are challenges that would help them navigate through the industry much after the competition. For those who will present their ideas at the Grand Finale later this month, this can only be the start to a very promising future.