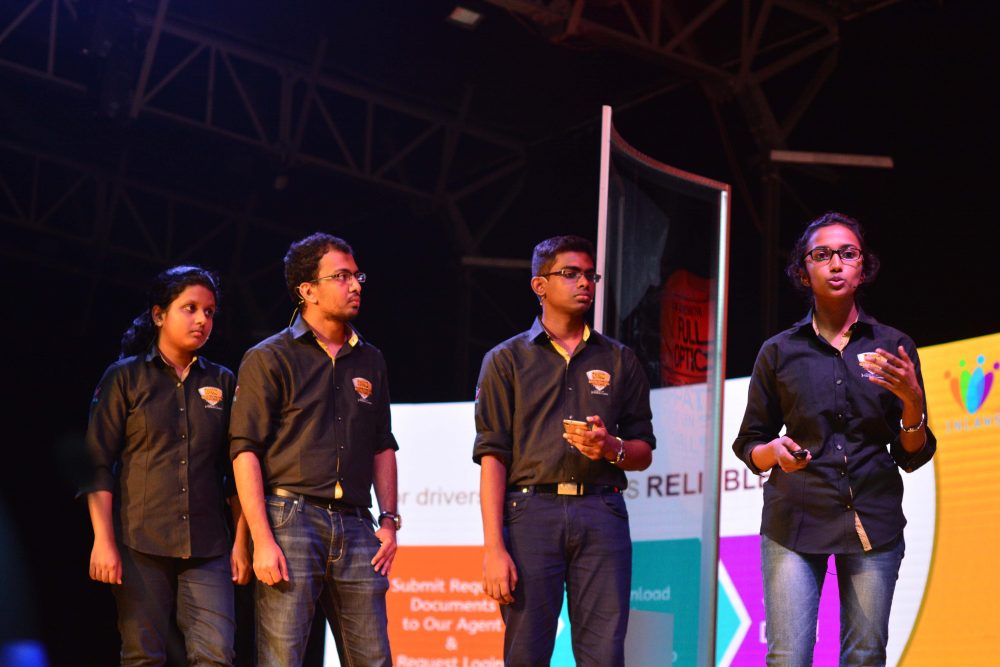 On October 28, Park Street Mews played host to the Grand Finale of the Janashakthi Full Option Appathon Challenge, where after over two months of preparation and innovation, Team WhileLoop was crowned the winner for their carpooling app, 'TMT', or 'Take Me There'.
The Grand Finale, where the top five teams whose apps look to solve Sri Lanka's traffic problem made their final presentations, was graced by Chief Guest, Muhunthan Canagey, Managing Director and CEO of the Information Communication Technology Agency of Sri Lanka (ICTA), and Guest of Honour, Professor Gihan Wikramanayake of the Colombo University School of Computing.
The evening kicked off with a welcome address by Manindri Bandaranayake, Head of Marketing at Janashakthi, who highlighted the importance of initiatives such as the Appathon in fueling those with a knack for innovation.
A slideshow followed, which recounted the competitors' journeys from the launch of the challenge, through the workshops, proposals, and presentations, right to the final.
Having dispensed with the formalities, it was time for the main event, which was preceded by the introduction of the night's judges: Alyna Haji Omar, CEO of J Walter Thompson; Dr. Harsha Subasinghe, CEO of Codegen; Irfan Ahmed, founder of Innovation Quotient; and Ehantha Sirisena, CEO and Managing Director of OMAK.
The first team to take the stage for their final presentation was Team WhileLoop, whose app was based largely on a public carpooling system, which would allow users to share their rides in the hopes of reducing the number of vehicles on the road. Also presenting variants of the carpooling system were Team Parallax, the scope of whose app was narrowed to circles of friends in the interest of privacy and security, and Team FourLoop, whose app aimed at finding a happy middle between the two.
Team InLaws took an entirely different approach to solving the traffic problem with an app that regulated school vans, while Team WinterRise followed suit with an app that looked to manage parking spaces in and around Colombo.
Having listened to the presentations and asked questions that tested the competitors' familiarity with their apps and the potential problems they may encounter, the judges retired for their final deliberations, during which VoicePrint took to the stage to provide some entertainment in the form of music.
At last came the most anticipated moment of the night – the crowning of the winners. After much consideration, Teams WhileLoop and WinterRise were named the Top 2, and it was from among them that Team WhileLoop emerged the ultimate winners.
In what was a fitting end to a two-month journey full of ups and downs and, we are told, many a sleepless night, Bathiya and Santhush took to the stage, to kick off the celebrations proper.