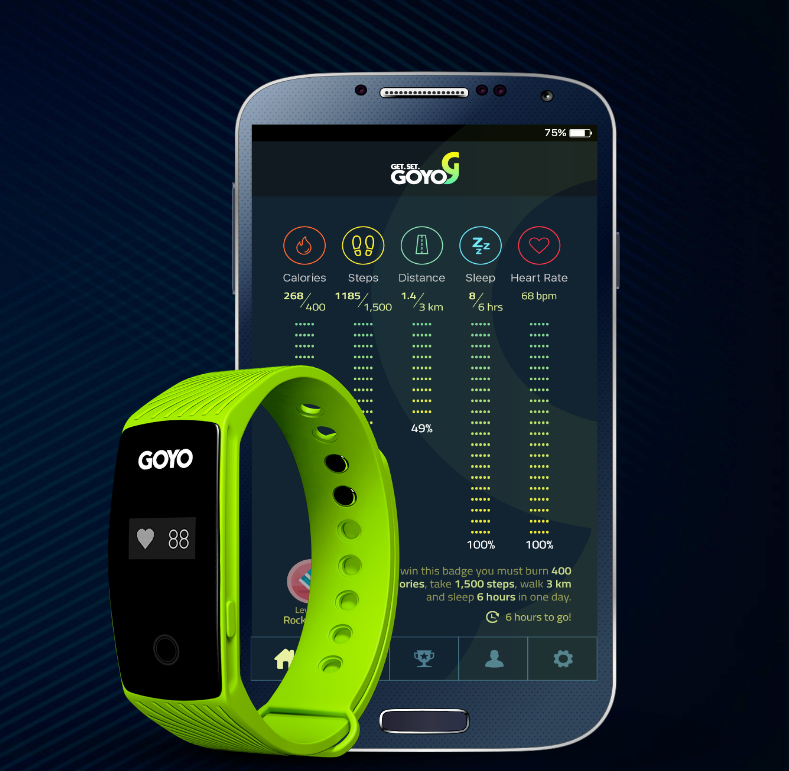 It's January. You know what that means? It means that practically every gym, jogging track, or bit of open lawn will be packed with joggers, lifters, and crossfitters, carrying yoga mats, earphones and a head full of dreams of six-packs. The top resolution for practically every new year, is to get fit or to lose weight. But only about half of these resolutions last past the first month. It's pretty hard to maintain the willpower and the consistency you need to do something as difficult as keeping fit ‒ unless, that is, you give yourself incentive and accountability by tracking your goals systematically. It's much easier to keep a resolution when you have concrete step-by-step goals and a way to track your progress. This is the reason why wearable fitness technology is so popular. Wearables provide a way to see where you stand in your fitness journey, set realistic goals, and scientifically track your progress using anything from the number of steps you take daily, to your heart rate and your sleep cycles.
Over the last few years, wearable tech has become increasingly popular. Hardware is becoming cheaper, tracking software is compatible with most devices, and the list of fitness functions are broader than ever before. But the majority of Western fitness device brands are still not affordable enough for the general user ‒ costing anything from a hundred to nearly two hundred and fifty dollars for some devices. That's not exactly pocket change for the average Sri Lankan.
Fitness ‒ Lankan Style
A new entrant, however, is trying to change all that. GOYO is a Sri Lanka-based brand looking to revolutionise the way we handle fitness in the island. They have developed a wearable device and an accompanying app to help you maintain a healthy lifestyle and benefit from it ‒ all with a Sri Lankan context (and budget) in mind. The app functions as a personal health advisor, motivating you towards achieving your daily goals. Through the app, you can set goals, track your stats, compete on a Leaderboard for bragging rights, accumulate badges, and maintain your own GOYO fitness profile. The app is available for both Android and iOS, so platforms are not a problem.
Probably the most fun and unique part of the app is the way it incentivises you to stick to your goals. GOYO partners with several local and international brands, so that when you complete a set task on your app, you get a chance to win rewards from GOYO partners. The rewards are all localised and available to anyone with a smartphone. You can get Instant Rewards for signing up and for completing non-challenge related goals. You also get Challenge Based Rewards for completing a challenge within a stipulated time period. Rewards could include discounts and special deals from partners ranging from restaurants to hotels, and travel to lifestyle products and services. What better way to keep to your goals than bribing yourself in true Lankan style.
The Wearable
The wearable itself is sleek and comes in a variety of colours to match your personality. The wearable connects directly to the app and has the hardware to carry out a variety of functions.
Calories ‒ Watch your weight by calculating the number of calories you burn daily.

Step counter ‒  Track the number of step you take

Distance tracking ‒ Know how far you walk in a day

Sleep tracking ‒ The device tracks your sleep patterns so you know how good your rest has been. A good sleep cycle is essential to staying fit.

Heart rate monitor ‒ Continuously measure your heart rate and track your cardio fitness levels during your exercise routines.

Stat display ‒ Get daily stat updates at a glance on the GOYO wearable screen.

Bluetooth connectivity ‒ Stay connected with the GOYO app on your smartphone via the wearable's Bluetooth connectivity. Then monitor all your stats through the app.
The Launch
GOYO is launching their Sri Lankan fitness ecosystem on the 21st of January at the Arcade, Independence Square, from 4:00 p.m. onwards, at the GOYO Fitness Fiesta. At the event, you'll get to meet the GOYO Partners, engage in a range of fitness activities, win exciting gifts, meet famous personalities and get free advice from health and fitness professionals, along with a host of other fun stuff.
Also at the Fiesta are several Sri Lankan fitness celebrities. You'll get to meet the Natty Muscle SL team and find out everything you need to know about a fitter lifestyle. You can get fit with Yureni Noshika and get your Zumba on with Dharshan, proving that fitness can be healthy and a lot of fun in the process.
The GOYO Fitness Fiesta has several challenges you can complete to win exciting rewards as well. You can post a selfie from the event, hashtagging #GOYO, to stand a chance to win free wearables. You could also win 2 return air tickets from Colombo to Kandy or Sigiriya from Cinnamon Air, or test your strength in fitness challenges to win complimentary gifts. There will be instant rewards for anyone who attends the Fiesta as well, like an exclusive 20% discount on Fuze swimwear, by Rum Punch.
To take part in the GOYO Fitness Fiesta and join in the fun, register online at www.goyo.lk for your free invitation and access to many more rewards. You can also visit their Facebook page here to find out more about GOYO.