Everyone likes to get free stuff. Especially stuff like extra data on your mobile phone, free SMSs, mobile topups, and even new television channels. But not everyone is lucky enough to win prizes like these. Until now, that is. There is now a sure-fire way to get your hands on such rewards, not just once or twice, but repeatedly, whenever you want them.
Freezone.lk is a digital engagement platform that allows users to engage with businesses and complete tasks in exchange for rewards. All one has to do is log on to the site, complete a short task, and walk away with a guaranteed prize. Freezone is the first of its kind in Sri Lanka, and gives users the chance to explore the best deals and claim quick prizes.
Freezone has a two-pronged approach. First, it provides a platform for businesses to reach out to an audience. A business that wishes to engage users creates a task or a deal and then selects a reward for that task. The second part of the process is for the user. The user can select a particular reward that appeals to them, complete the task and claim the reward. The process is very fast.
The tasks are very simple ones. The user logs onto the site using their mobile number, Dialog 4G Home Broadband, or Dialog Television account number. They then select and complete a task like one of the following:
Watch a YouTube video
Click a link
Click a banner
Like a Facebook page
Fill a survey
Each of the tasks is associated with a certain reward. So if a user wants free mobile data, for example, he or she simply selects the tasks that gives them free data and completes it to get the reward. Once the task is completed, the user gets an SMS confirming that the reward has been credited to their account. It is that simple. Through the platform, Dialog also sponsors rewards for Dialog customers.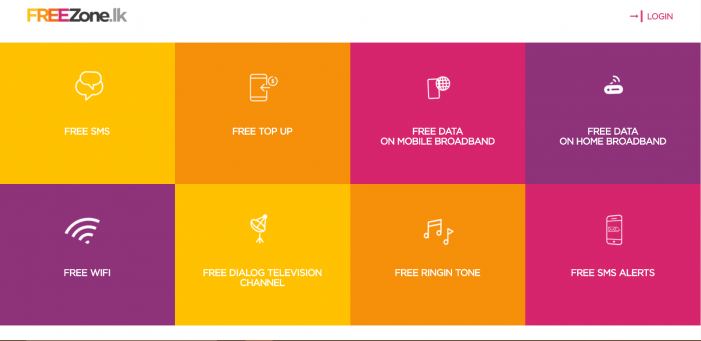 The rewards include:
Free data
Free SMS
Mobile top-up
Dialog TV channels
Ring In Tones
Alerts
Benefits For Both Merchants And Consumers
The Freezone platform is a novel way for businesses to engage with their audiences and customer base. Through the platform, the merchant has access to specific metrics that are useful for their business. They can specifically target groups, get instant feedback and track tasks, as well as receive automated reporting. The merchant can also schedule a deal in advance to coincide with special festivals or events.
On the consumer side of things, Freezone is a great place for users to reward themselves. If ever they need extra data, SMS, or top-ups they just have to visit the Freezone site. Users can monetise their time and attention whenever they want, and convert it to value additions for their mobile and data services.
Top Sri Lankan brands like Knorr, Arpico, Edge, Seylan Bank, and NSB have already come onboard with the Freezone platform, and within three weeks of the launch, Freezone has already given away over 10,000 rewards. You can visit Freezone.lk to claim your rewards, and check back daily for the latest offers.