Most of us have used Microsoft Word at some point in our lives. It's practically a staple whenever one had to do any work on a PC, whether it was homework, writing a project proposal, or drafting that noir, romance novel that never saw the light of day. From searching for Excel formulae to creating that perfect PowerPoint transition, we all have a certain amount of nostalgia attached to the suite of applications that Microsoft created for desktop computing.
Things have changed a bit over the years, however. The desktop paradigm has slowly given way to a more mobile one. We've got a lot of devices and we use them all, switching between them at speed, like David Blaine with a deck of cards. The core of it all never changes, though. We may switch between devices, but our identity and our profiles persist. It's the same with our data. We still need to be able to access it over a multitude of platforms. We need to write, to analyse sets of numbers, to communicate with others, and to present our ideas in a way that is easy to comprehend.
This is why Microsoft made the move to take its productivity services and make them accessible in the cloud. Traditionally, a desktop suite of software, the productivity package is now offered as a cloud based subscription service called Office 365.
Moving to a subscription-based cloud model is tremendously empowering for the average user. For one, it means that you don't have to keep going back to your PC to work on something; you can simply access it wherever you are. You can start a document on your laptop, make edits to it on your tablet, and email it through your phone. Whether you are a student, a researcher, a writer, or a stay-at-home mom, this means access to your work on the go, automatic backups, editing anywhere, and platform independence. Since access is on a subscription basis, it means there is no significant initial investment needed to get started.
First launched as a private beta in 2010, Office 365 now has 24 million subscribers in 150 markets and 44 languages. That's a lot of PowerPoint presentations. Microsoft also launched their Office 365 campaign in Sri Lanka at the Singer Lifestyle Fair and Exhibition 2016 earlier last month, spearheading a push to get people to use software that is both licensed, effective, and affordable.
Features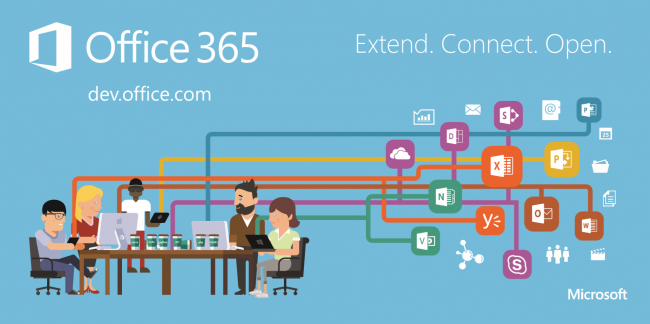 Office 365 is accessible on PC, Mac, iOS, Android and, of course, Windows devices. You can create, edit and share from any of these platforms, and because all your documents exist in the cloud, you always have access to the latest version of your files. You don't need to worry about space either, because the software giant provides 1 TB of personal document storage online per user.
Collaboration is pretty easy as well, since several people can work together on the same file, so there's no more need to mail documents back and forth for editing. But you do have complete control over who sees or edits files.
Their Office 365 Home package gives you Word, Excel, PowerPoint, OneNote, Outlook, Publisher and Access. These can be installed on five machines as well as used on an additional five tablets and phones for Rs. 13,500 a year. The Personal package gives you the same types of access but limited to one computer, a tablet and a phone, at Rs. 12,000 a year. Subscriptions also give users 60 minutes of Skype monthly per user. All things considered, it's a pretty good deal.
Office 365 is also optimised to work well with Windows 10 and with touch screen devices. So you can use touch to read, edit, and navigate documents. You can also write notes and make annotations using digital ink. Doing your homework while on the couch is much easier now.
Security
Microsoft promises a guarantee of 99.9% uptime, which should ease any worries of the availability of the cloud service. The components used in Office 365 are functionally distributed, which means a problem in one part of the suite won't affect the rest of it. Redundancy is built in at the physical and data levels so you alway have access to your data. All this means that Office 365 is really, really, stable.
All data is encrypted at rest on their servers and in transit with SSL/TLS, so data is protected while it's been transmitted between you and Microsoft. Message encryption also allows users to send encrypted mail to anyone.
The current affordability of Office 365 is a significant reason to switch from pirated and cracked software to licenced and secure versions. Installing cracked software is essentially giving attackers a backdoor into your life. The current proliferation of cryptolocker viruses and ransomware means that malicious individuals can lock your data until you pay up a ransom to get access again. Using pirated software is an unnecessary risk for a home, especially since Office 365 is easily available and always up-to-date in security features.
Conclusion
Office 365 Home is a great way to provide productivity software for the entire family. It caters to a variety of needs, from students to business moms to more casual needs like keeping track of dad's BBQ recipes on One Note. Its accessibility is extremely empowering and of great value to any user, no matter what purpose it's used for. Check out their various packages and services, to see which one works best for you.
This article is sponsored by Microsoft