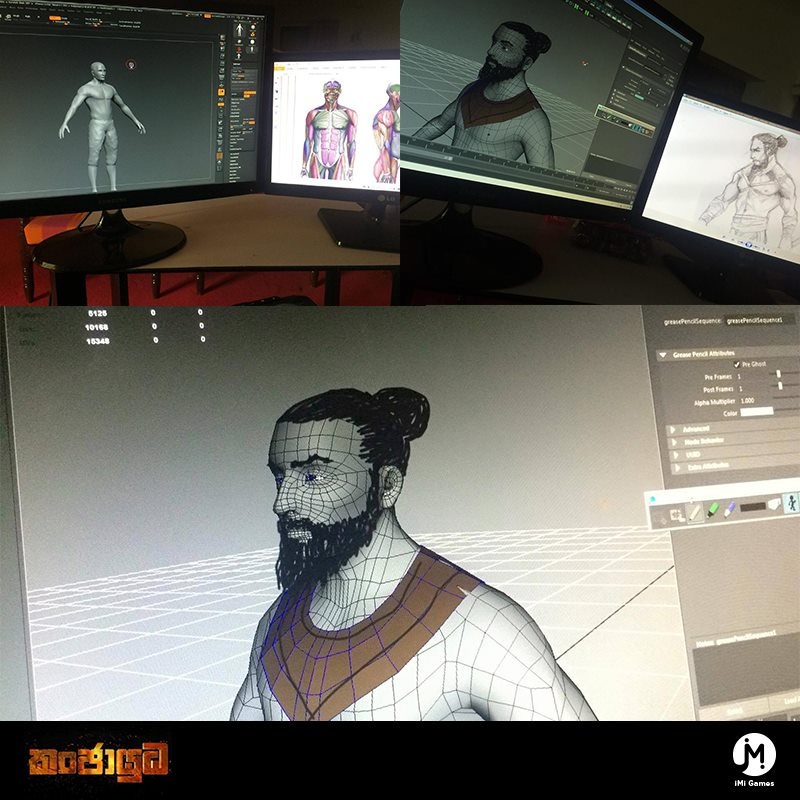 Sri Lanka isn't exactly well known for producing high-end video games, but that could all change with Arimac Lanka (PVT) Limited's bold approach to the art of game development.
In 2016, Arimac redefined the Sri Lankan gaming industry with the release of 'Kanchayudha' (K) [free to play and download here]. The story-driven open-world adventure game reached a 60,000 user base in its opening weeks, and showcases Arimac's solid gaming-making capabilities to the fullest. Their focus of integrating a variety of emerging technologies, such as deep learning and AI, into their games delivers a genuinely novel gaming experience.
And Arimac's tech prowess doesn't stop at gaming. Their focus also spans the digital landscape of 3D movies and visual effects, virtual reality, enterprise web and mobility solutions, and user interface and experience management. These can all be packaged as marketing and branding solutions for organisations who want to deeply connect with their service-users using innovative tech.
Thriving in a challenging environment
Arimac's impressive roster of clients is already a who's who of local and international big players: Dialog, Brandix, MAS, Srilankan Airlines, and Emirates. But things have not always been plain sailing, especially in the Sri Lankan market. Back in 2011, when Arimac was first founded, the market-need locally for digital interactive media was near-non-existent.
Therefore one of the major challenges they faced was changing the mindset of the nation, CEO and Founder, Chamira Jayasinghe, told Roar Tech in an interview. They had to find a way to show the world what Arimac was all about.
So, they went international, in a reversal of classic startup business models. There they found a bigger market-need and were able to build a portfolio of digital innovations with the some of the world biggest brands: Coca Cola, Nestle, and Unilever.
Since, they have managed to attract a steady stream of prestigious Sri Lankan clients. VR experiences have especially captured the imagination locally. In July 2016, Arimac hosted a huge activation for Dialog with a VR rollercoaster experience. For Lion Brewery's launch of a new apple cider product, they provided a VR experience where players entered an alternative realm: a living orchard where they could pick apples fresh from the tree.
Arguably, one of their most ambitious projects to date has been with Maggi. For a mother's day marketing activity they hosted a Ready, Steady, Cook! competition, where the 50 mother-contestants were preparing meals in VR. As the mothers cut vegetables, sautéed garlic, and finished the noodles, aroma emitters released appropriate smells on stage to provide a complete multi-sensory experience.
Creating Competition and Curtailing Brain Drain
Not content at producing Sri Lanka's biggest ever PC game, Jayasinghe is hopeful that more games will be developed here. A couple of new studios have opened since K's release, he says, so the competition is increasing. For him, this is great news for the local tech startup ecosystem and it will go a long way to curtailing the problem of brain drain in the country.
Currently, a lot of tech-talent moves out of Sri Lanka, attracted by international recognition and big wages. But Jayasinghe wants to build a market that is equally rewarding locally. In fact, he is doing just that. Recently, Arimac, recruited their new director, [Sri Lankan] Prashan Perera, from a big firm in Singapore.
Advice for startups and entrepreneurs
Like any startup CEO worth their salt, Jayasinghe has plenty of advice for any budding entrepreneur out there. He says priority should always be given to quality over quantity. During the initial growth stage, quality of content is definitely key. The desire for more content should never hinder the quality.
"At Arimac", he explained, "even our smallest projects have managers involved. Nothing is too small for us to all get involved, and go that extra mile."
Jayasinghe also reserved a special mention to the staff in any young startup.
"These are the people who are helping you achieve you dream, so always treat them right and go with them on the journey."
Evident throughout the conversation is Jayasinghe's ambition and drive to really grow Arimac into something truly remarkable. This is clear from Arimac's mantra, Reach For The Unreachable. Jayasinghe's dream competitors are Pixar and Disney and he is setting up a company that aspires to that level of greatness.
Expansion Plans
Despite the invitation of many investors, for the past six years Arimac has been a 100% bootstrapped company. They have completely relied on revenue earned from their innovative products and services. However, this year is shaping up to be a little different, said Jayasinghe. For the first time they have welcomed one major investor onboard to expedite the expansion into new international markets.
Upon being pressed for more information about Arimac's future, Jayasinghe maintained a bold vision for the future of his company, but with his cards close to his chest:
"Our ultimate goal will be a disruptive twist and a vital landmark in the IT industry. Unfortunately, for that, you will have to wait until 2028 to find out more!"
Ten years may well be a long way away, but Roar Tech gets the feeling that it will be worth the wait.
Cover Image – Kanchayudha character modeling. Image courtesy Arimac