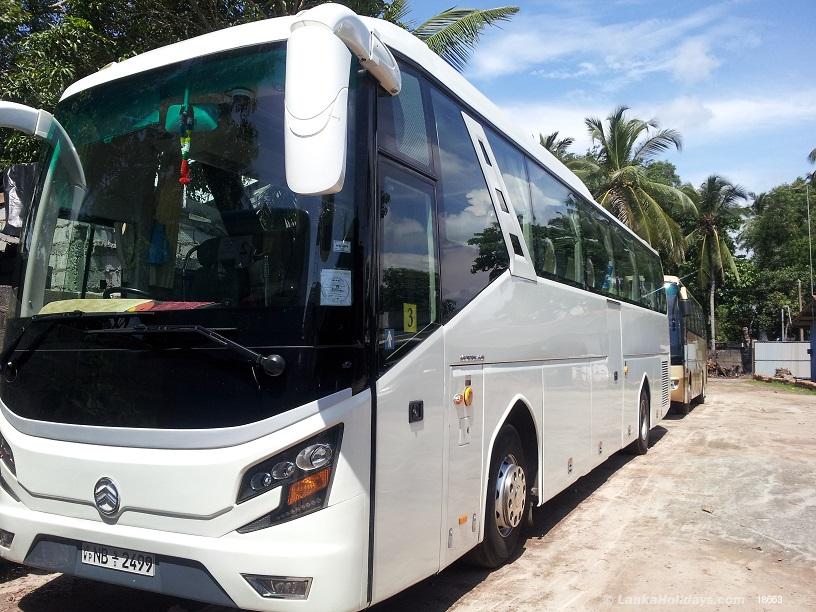 Anyone who's taken one of those big luxury buses to Jaffna knows the kind of hassle you have to go through to book a ticket. While the bus service itself is fantastic, reserving a seat can be a time-consuming process that requires you to personally visit a reservation centre, often located in a random grocery store on Galle Road, far removed from where the action is, hours or sometimes days in advance. It's great if you have the time, but unfortunately, not everyone does.
This is where busseat.lk comes in – a handy new service that has taken the entire reservation process online, allowing you to select your seat, destination and the type of bus that you wish to take, all on your web or mobile browser.
Funded by the Lanka Angel Network, busseat.lk was developed by Techkitez Pvt. Ltd, a fledgling IT company with big dreams of revolutionising the country's public transport reservation business. The service is currently limited to long distance buses traveling from Colombo to Jaffna, Batticaloa and Ampara, but according to Techkitez CEO Prasanth Subendran, the company is in talks with the authorities, including the Sri Lanka Transport Board (SLTB), on expanding its service to bus routes across the country over the next few months.
Bus owners operating on the above routes have allocated a number of seats for online reservation via busseat.lk. Would-be passengers first select the route, boarding point and destination, and the journey date. They are then taken to a list of available buses, with the bus type (luxury or semi-luxury), departure and arrival times, number of seats available and pricing are displayed in a simple, readable format. Upon selection, they are taken to a seating plan, where they may click on (or tap, if on a phone) a seat of their choosing depending on availability. The passenger then gives their contact information and makes the payment via credit card, Dialog eZ Cash or an equivalent mobile money transfer service, after which they receive an SMS with a confirmation. That's it. All done in under a minute.
There is one catch, however. With cultural values of Northern Sri Lanka in mind, the developers have segregated male and female bookings in a way that might confuse some people. If you're a male, you may reserve adjacent seats for yourself and a female travel companion. But if a seat has already been booked separately by a female passenger, you may not reserve the seat immediately next to it for yourself or any other male passenger. That's just how it is. It's not as bad as it sounds, though, as this has always been a common practice among bus operators from the Jaffna peninsula. Available seats are colour coded on the site, with seats available for ladies only clearly identified.
According to Prasanth, bus owners can also use the busseat.lk system to run their own reservation service, with Techitez providing the back end. The operators may use their own branding on their sites, but ultimately the passengers will still be in control. Cancellations are also possible under certain conditions, he says.
While the site isn't anything groundbreaking in terms of design, busseat.lk is a neat, useful service that addresses a need that most people didn't even know they had. It's simple, easy to use and very secure, and anyone with a credit card, debit card, eZ Cash (now available to Hutch and Etisalat customers) can use it without a hassle (Mobiltel mCash is to be added soon). There is no mobile app yet (Prasanth says it's on the way for both Android and iOS), but we tried the service via the mobile browser and it was quite smooth and responsive.
Overall, it's quality service that will hopefully spread out to the rest of the country sooner rather than later. Let us know what you think.