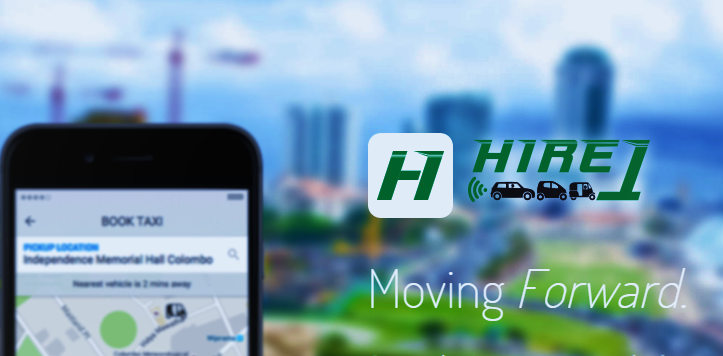 Hire1 is a new transportation startup in Sri Lanka that is looking to provide a connecting platform between taxis and commuters. Yet another taxi-service start-up you say? Although it sounds like something that's been done before, they seem to have a different vision from that of the competition.  
According to Yeshanth Gunewardena of Hire1, their biggest plan so far involves identifying gaps in the existing market to optimise the end product, and this applies to both the user and the supplier ends of the market. On one side there's the consumers who haven't picked up on the existing taxi app platforms, and on the other side, the drivers who haven't partnered up with the existing umbrella service providers.
Drivers are given training on a number of aspects. "We have modules on topics varying from handling the app, to dealing with customers," said Yeshanth. Hire1 has a loan system for any driver coming onboard who might be interested in purchasing a smartphone to utilise the app. They have an interesting commission model with their drivers, where drivers are charged a 0% commission for any rides worth Rs.100 or less.
Hire1 is backed by MAS Holdings, McLarens Holdings and St. Anthony's Knowledge Services.
Analysis
The taxi ecosystem of Sri Lanka is saturated and the competition is high, but Hire1 has their vision on the end-users who are not satisfied with what's in the market so far. With their pricing models and ambitious targets of fishing out their share of the market, Hire1 seems to have a good grasp on where they are going and what they want to be. As for getting there, however, the one thing that comes to mind is 'easier said than done'.
Challenges
"There is always the challenge of creating change, especially when coming out with a product like this. There's a significant change required in people's behavior and mentality for it to kick-off," said Yeshanth.Their late entry into the market has, to an extent, worked in their favour, as players like PickMe and Uber have already done the groundwork in terms of getting the public comfortable with the concept of using a smartphone to hail a ride.
Another challenge that they are currently dealing is with in developing the two sided market needed for Hire1 to flourish. "To attract enough drivers you need customers, and to attract customers you need enough drivers" he said. The aforementioned low commission rates, driver training, and financial backing for drivers to get their own smartphones should work in Hire1's favour, and once they have the numbers they should, hopefully, be able to tap into the market that they are targeting.
Our experience with the Hire1 app
The Android app for Hire1 that we tried out offers pretty much the same functionality as their competition. The welcome screen works as a gateway to ordering a tuk, a mini or a car. It is worth noting that the overall interface seems nicely polished and finished.
Although we did try to hail a tuk through this interface, it seems there's currently a shortage where drivers are concerned. The first attempt at hailing a cab from Madiwela yielded no results at 10.30 a.m. 'No vehicles near you. Working hard to add more,' says the app. The second attempt at 10.42 a.m. from Rajagiriya, a relatively busy area, gave the same result. We struck gold on the third attempt, this time from Colombo 7 a little after noon. One tuk showed up with an approximate arrival time of 4 minutes.
[foogallery id="5232″]
Conclusion
Considering the nature of the market and the fact that Hire1 is a new startup, it will take some time for them to pick up the traction needed and get moving. Given the aspirations of the team and their potential for innovating on the tech aspect, it will be interesting to see where they go and how they get there.