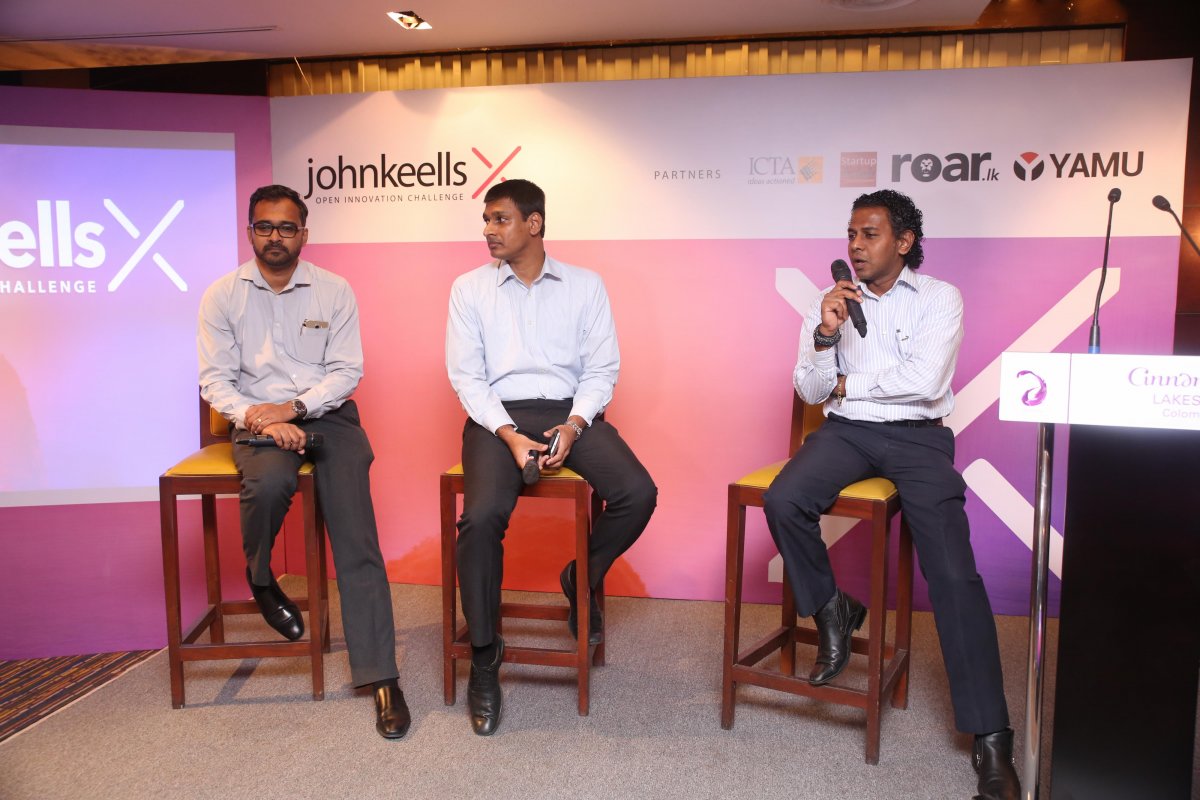 On June 5, John Keells X held a meetup for early applicants to its Open Innovation Challenge. While the deadline for applications is June 25, by the end of May, there were already 119 applications made. Taking into consideration the Sri Lankan propensity to apply for everything at the last minute, having a hundred early applications is a good indication of the interest in the programme, as well as the level of competition we can look forward to.
The early applications were not just a result of punctilious prospective founders. All of those who applied before the end of May got invitations to an exclusive meetup, where they got to talk to some of the people behind John Keells X. People like Krishan Balendra, President of Leisure, Gihan Cooray, President of Retail, Jit Gunaratne, President of Consumer Foods and Beverage, Romesh David, President of the Transportation Sector and Ramesh Shanmuganathan, Group CIO, all attended the event.
The advantage of getting access to this event is that the early applicants can get feedback from the industry veterans present there, and use it to refine their applications and re-apply before the deadline. The more refined and specific the application, the better the team's chances of making it through to the programme.
Accelerated Growth
While last year's JKX was a competition, this year's programme is built to be more of an accelerator, in an effort to give young startups the push they need to faster become a fully functional, profitable entity.
Sri Lanka's startup scene is still in its early stages, and it can be difficult to get a startup off the ground. Hunting for investors, mentors, office space and connections can take up too much of a startup's time and resources—resources that would have been better spent on building a product and acquiring customers. The advantage for startups that join the JKX programme is that they get training, advice, and feedback right from the get-go on how to develop their concepts, make it actionable, how to use the right tools, and what business processes to follow when building their company.
Each team will be trained through a curriculum on disciplined entrepreneurship created by the Managing Director of the Martin Trust Center for MIT Entrepreneurship, Bill Aulet. Winners will get expert advice from Growth Tribe, an Amsterdam-based growth hacking academy.
Probably even more important than the prize money, however, are the connections and the resources that each team has access to when going through the accelerator. The teams get access to industry veterans and experts who work for the John Keells Group's various companies. They will also have access to the data that the John Keells Group has, as well as their client base, which in turn will help them refine their business models and set up their own channels to consumers.
Teams also get more mundane—but necessary support—like access to secretarial and legal services.
All these advantages only exist because the programme is an accelerator that is backed by a conglomerate. Not only do teams go through an accelerated, guided development process, but they can also tap into the extensive resources available to a business entity of this size.
The Money
Last year, the winning team of the JKX Open Innovation Challenge was awarded Rs. 2 million. This year, up to seven teams will get Rs. 2 million each, but as investment in exchange for 5% of their company.
This early stage investment is very important. First, it gives the company a quick infusion of capital that will enable it to continue working on developing its product, taking away the worry of hunting for investors and loans to run the company. It also means that John Keells has a vested interest in the growth of a company after having invested in it.
For the next six months, John Keells will work with the finalists to rapidly grow their businesses' concepts, open channels, and work out access to customers. Experts will teach the teams to manage rapid scaling, and help them bridge the gap between their current skills and the newest tools out there. The teams will use John Keells' resources to take their products and services to the next level.
By April 2018, the teams will get a chance to pitch their companies to the board and investors. At this point, the teams have a chance to earn up to Rs. 50 million in additional investment.
The Opportunity
The first generation of startups in Sri Lanka had difficulty climbing the ladder. They had to fight against the inertia of traditional business thinking, convince investors to back them, appeal to customers who were hesitant to trust new businesses, fight for more funding, and build a company from the ground up in an environment that resisted them. The John Keells X programme provides a safe place for the next generation of entrepreneurs to grow. It encourages lateral thinking, builds a tolerance for risk-taking, and creates a supportive environment for new types of commerce.
Through the accelerator, JKX condenses what could be two to three years of marathon effort into a twelve-month sprint. The programme benefits the startups who join by helping build a legitimate company. It benefits the John Keells group by bringing in innovation and talent, and benefits the Sri Lankan economy as a whole, because startups create jobs and have a positive impact on economic growth.
Joining an accelerator programme like this is a tremendous opportunity, just for the learning experience it offers to those in it. Apply here before June 25 to get jump-started into Sri Lanka's startup ecosystem, and have a chance at building your own company.