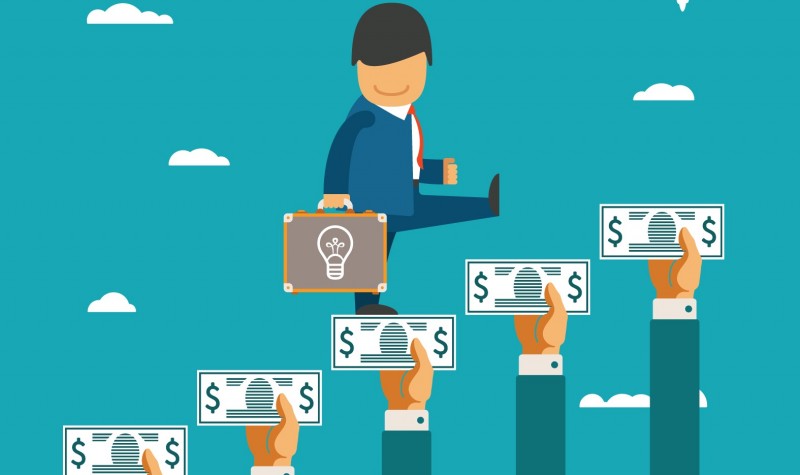 The month of March saw some changes in Sri Lanka's hospitality service sector. It's no secret that there's a noticeable increase in the number of tourists dropping by to check out the country, and this has resulted in some of the bigger players of the hospitality domain in the region testing the waters here.
So we felt it apt to focus on some startups that have expanded their operations into Sri Lanka, and then of course some of our very own. The latter includes a super cool local startup that aims to take marketing to a whole new, previously untapped dimension, and another local initiative that's aspiring to put a whole new spin to growing your own food.
Without further ado, here's our list of startups for March.
Chapzi
Utilising the unmatchable reach of tuk tuks as a means of  advertising, Chapzi was founded in August 2015 by Charitha Rasaputra, Fazi Bin Jameel and Angelo Portier.
"What we are trying to do is harness the amount of tuks on the roads as an effective medium for advertising… many other countries use public transport mediums for advertising [but] we are yet to see that in Sri Lanka," said Charitha.
How Chapzi works is through poster-sized stickers that go on the exterior sides of the tuk (check out the pics) and an LED back-lit display board that is attached to the back of the driver's seat. Although unknown to many, it's actually illegal to have stickers on the back of a tuk, according to Charitha. This, and the fact that there's increased visibility plus real-estate on the sides of a tuk, made them focus on the sides and the back-lit board from within the tuk.
Considering how most of us spend at least 10 minutes in the back of a tuk, it's no surprise that they might have hit a sweet spot for advertising. "It's not like you're going to be reading a newspaper for that time, and having an ad in front of you for even that limited time will definitely have you checking it out, even out of curiosity," said Angelo.
Chapzi doesn't, however, pick any old tuk off the streets ‒ any tuk involved in this initiative must meet certain standards. According to Angelo, "The brand that's advertising is putting their reputation in our hands, so we have to be extra careful about where we advertise." Hence, Chapzi is somewhat picky about who gets in. As of now, the tuk has to be relatively new (registered under two English letters at least), and has to have absolutely no other offensive stickers, slogans or other branding.
What's really cool about Chapzi is how a brand can reach out and convey their message to the target audience using this service (keep in mind, tuk tuks are everywhere ‒ all the time). Say your product caters to the 'young-professional' types: just make sure the branded tuks hit Colombo around 4.30 p.m. (the dreaded office-rush-hour).
Considering there are  more than 380,000 tuks in Colombo and a million tuks islandwide, Chapzi sure holds a lot of potential to be a major player in the advertising sector.
ZEN Rooms
If you follow the happenings of the global startup sphere closely, chances are that you are already familiar with the name ZEN Rooms. A startup based out of Singapore and backed by Germany's Rocket Internet and Qatar based telecom operator Ooredoo, ZEN Rooms made headlines last year when they raised USD 1 million from former CEO of Kingfisher airlines, Sanjay Aggarwal, and former Chief Commercial Officer of SpiceJet, Kaneswaran Avili.
ZEN Rooms was founded by Vinay Gupta, founder of online travel agency via.com, Kiren Tanna, who has worked with various incubator programmes in the region as well as Rocket Internet Asia Pacific, and Madhur Yadhav, a former head of digital marketing for Facebook across Asia Pacific.
Their brand promise is a relatively simple, but somewhat ambitious 'Sleep Well, Pay Less'. But the reviews ZEN Rooms has been getting so far are proof that they are serious about their brand promise. And the best part? ZEN Rooms is now in Sri Lanka.
What they do, in a nutshell, is rebrand existing budget hotels through their brand-name ZEN Rooms, but it doesn't stop there. Once rebranded, there is also constant quality control and ongoing curation to ensure that the rooms are indeed on par with what ZEN Rooms promises. For Sri Lanka, we can expect free WiFi, a double bed, air conditioning (yes, please), clean rooms and an in-room shower. Not bad at all, considering their starting prices, which hover somewhere around USD 21 (LKR 3,071.99) in locations around Colombo, Dehiwala/Mount Lavinia, and Kandy.
Their expansion isn't limited to just Sri Lanka either. ZEN Rooms will be expanding into Thailand, Singapore and Philippines as well.
Foodigrow
Founded by Sunesh Rodrigo, a young professional who got bored with the 'young professional' lifestyle, Foodigrow could very well be one of the most interesting startups we have featured. Based around the simple principle of encouraging people to growing their own food, Sunesh's vision touches on sustainability, improved health, and conservation where the environment is concerned.
Sunesh's Foodigrow model touches on selling bud plants of commonly grown fruits and vegetables that are high in demand, such as pineapples and pepper, and even paddy, to people who are interested in growing them. For a minimal charge he will also deliver the plants to your location and help you set up the basics.
It's not just another hype either, as earlier this year Foodigrow landed MAS Fabrics as their first corporate client. Interested to see what you could grow or how you could be a part of an agricultural revolution? Check out the Foodigrow Facebook page.
Vista Rooms
Originally a startup based out of Mumbai, India, that specialised in online based accommodation, VISTA Rooms is another player in the hospitality sector that's entered Sri Lanka vying for a top spot.
The brainchild of three co-founders, Amit Damani, Ankita Sheth and Pranav Maheswari, Vista Rooms came into being in April 2015 with just 15 hotels in Mumbai and Pune. They have somewhat aggressive plans when it comes to expansion as well, and for 2016 Vista Rooms plans to add 1,300 hotels to their network from 65 new cities, with approximately 10,000 rooms in the overall network. Their foray into Sri Lanka has taken place under the guidance of Mahesh and Rakhil Hirdaramani of Hirdaramani Group.
So what can you expect from Vista Rooms? Overall, their business model doesn't look much different to that of ZEN Rooms, and what they will be doing is co-branding with accommodation providers to bring a uniform user experience throughout the network. For the record, they aim to bring a standard package consisting of complimentary breakfast, 24/7 concierge services, and free WiFi.
With plans of breaking even in 2017, Vista Rooms was hoping to raise USD 10 million in Series A funding earlier this year.
There you go, that's our Startup Bundle for the month of March. Know of any other cool startups? Do let us know in the comments section.
Cover image credit: thenextweb.com