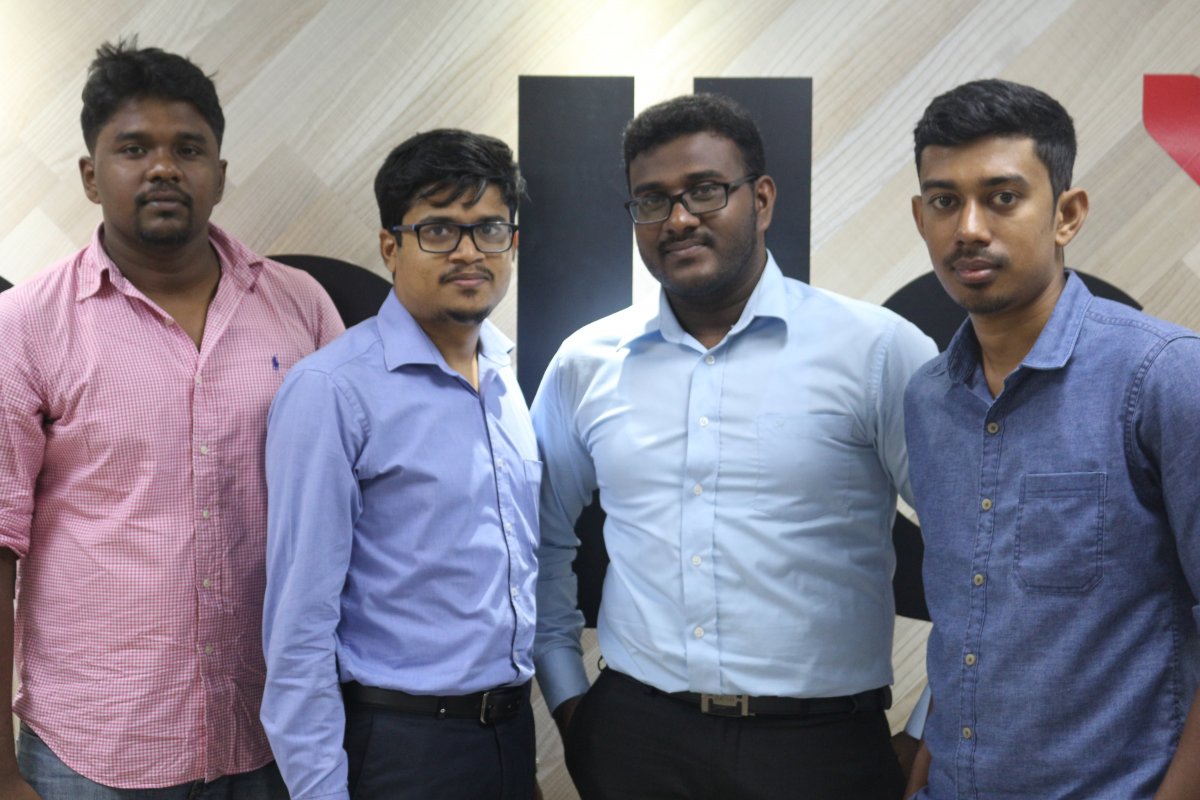 CEO T. "Jey" Jeyjenthan, CTO A. John, and COO R. Miller of SenzMate were university rivals who realized collaboration was more powerful than competition, and have been working side by side ever since.
Three years later their Internet of Things (IoT) technology has taken them to Europe (twice) to represent Sri Lanka in international startup accelerators. Now, they have won seed funding and are developing products for the global market.
"And this is only the beginning", grins Rajendran in an interview with Roar Tech.
Lightbulb Moment
The actual beginning was back in 2009. After the war, Jaffna's power supply was only switched on for two hours a day: between 10 pm and midnight. As the sons of farmers, both Jey and Rajendran would pray that they weren't sent to the fields after dark—through the long grass and what hides within—to switch on the water irrigation systems.
But perhaps bright moments happen in dark times. That's when the idea of remote technology pinged into Jey's mind. Or DIA has it is known in the agricultural industry: Digital Irrigation Automation.
By the end of university in 2014 they had developed an early-stage version of their now pioneering product, SenzAgro. Marketed as a smart irrigation system, the small handheld device sits in the soil and digitalises a farm: calculating the soil temperature and moisture. The data is then sent to a central computerised interface, where IoT technology takes over and sprinkler systems are automatically switched on and irrigation alleys emptied.
The young team took their product to the Jaffna's first startup accelerator, YARL IT Hub, and made some a powerful impression on the Director of Engineering, Systems and Applications at Rambus, based in Sunnyvale, California. As a social entrepreneur, the director (who did not wish to be named) dreams of making Jaffna the next Silicon Valley, and found Vetri Holdings LLC,  "to become the de-facto integrator for the development of IT-based infrastructure in Sri Lanka." He saw SenzMate as an integral cog in this dream.
So Far, So Fab
But not for Jey. He confessed:
"We actually kind of failed. We produced a piece of useful kit and gave it to farmers, but it was beyond their means and capacity. Jaffna farmers can't use tech!"
So they returned to Colombo to finesse the formula. And in this intense incubation period, the team delivered a major breakthrough.
They developed their now-core product, MAGMA: a cloud-based IoT platform.
This would become the glue to stick their hardware products together. As a cloud-based platform, it's where the big data that their IoT captures is converted into analytics, allowing for access insight anywhere. It connects big data to external sources such as weather forecasts and maps, giving greater real-world knowledge; providing bespoke insight and decision. And, crucially, MAGMA also offers data security and scalability.
Jey and Rajendran were quick to prove MAGMA's dexterity. Mosurance is renown on the startup scene already for their innovative service that incentivizes responsible driving by basing insurance premiums on the quality of your driving stats. The core of this tech is MAGMA.
Pivot: From Farm to Fridge
Like many early-stage startups, having the courage to pivot your product can be a lifeline or death sentence. Fortunately, for SenzMate it was the former. By not ignoring their local-farmer-tech-breakdown, they pivoted their IoT technology to a more tech-savvy industry: hospitality.
They reasoned that their tech could regulate other climates: notably the temperature of refrigerators in kitchens in the restaurant and hotel world. They launched their next product as POLAR: a device to assess the temperature of a large walk-in fridges and cold rooms, and to digitally adjust it according to the products being stored.
Aside from the precious service of better-preserving perishable produce such as meat and fish for longer—a boon for chefs, restaurant managers, and diners alike—POLAR also lends intelligence to emanate "white goods". POLAR informs business owners on the workability of their own hardware, allowing them to preempt breakdowns and maintenance.
The success of this pivot-story does not stop there as POLAR's technology is easily transferable beyond the hospitality industry. Now they are working with John Keells supermarket in the export spice market where precise travel temperatures for delicate commodities is parament. Furthermore, SenzMate is looking into the lucrative pharmaceutical industry.
Travel Broadens The Mind
For a Sri Lankan startup only a few years into their journey, SenzMate have traveled. A lot. Rajendran's international excursions began in 2013 when he was awarded an exchange from the University of Jaffna to Japan.
In February 2017, they were picked as one of ten Sri Lankan startups to pitch at the Mobile World Congress (MWC) in Barcelona: one of the largest tech events in the world. For the Slush Global Impact Accelerator (December 2017) in Helskini, Finland, they represented Sri Lanka alongside the online doctor consultation app, ODOC.
Both Euro-trips proved productive. Whereas the original SenzAggro product was too tech-heavy for Jaffna farmers to handle, they were now attracting customers in much more advanced markets in central Europe and Scandinavia.
And they are an attractive proposition: IoT competitors in the USA or Israel are offering similar products for approximately $800 each, explained Rajendran. SenzMate is producing their single devices for only $80 each and retailing at $120.
With that sort of saving vis-a-vis their international competitors, you have to wonder if SenzMate is not selling themselves too short?
Don't Forget Your Roots
2017 was a great year for SenzMate. They moved to a dedicated tech space in Orion Park and grew from ten staff members to sixteen dedicated employees.
"These guys are all engineers from Moratuwa or Jaffna universities! They could be working anywhere in the world, but they are here with us".
Miller continued: "And we will persist with our volunteer work at YARL IT hub: we want to be the Jaffna superstars who lead the way… And show that the everyman can succeed too."
They may be selling internationally, but these guys are very much focused on adding value back at home.
Cover image courtesy: Roar Media/Craig Ryder