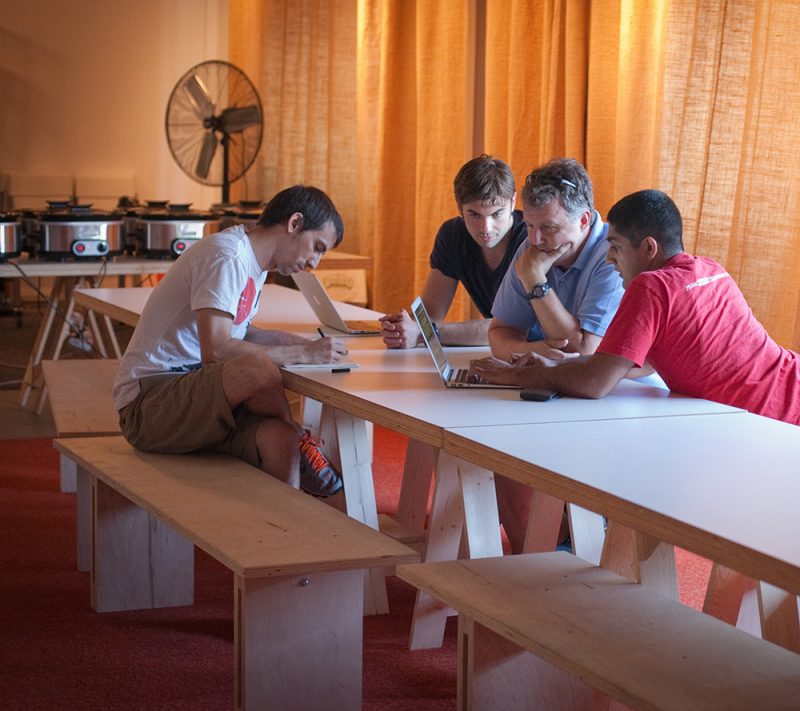 Tech startups; the world is not ready to give up on them yet. Not when there has never been so many opportunities for mentorship, training, investment, and acquisition. Accelerator programmes, incubators, and fellowships dedicated to developing and funding startups are springing up on every corner of the world, creating more pathways for entrepreneurs to thrive and bring to reality their ideas and innovations.
Sri Lanka, too, has been catching up with countries that have witnessed a tech boom over the last five years, with more incubators, hackathons, and contests taking place every now and then. But this catching up is still slow, when compared with that of neighbouring India and Bangladesh, which are taking their future tech entrepreneurs very seriously.
With limited opportunities, and limited capacity within these opportunities, how else can tech startups in Sri Lanka gain the mentoring and funding that is required to make it big? Fortunately, there are many accelerator programmes that support and invest in startups from all over the world, albeit through a highly selective process. Most of these programmes require participants to be in-residence throughout the process, and often require a certain equity in return for all-expenses-paid classes, networking events, demo/pitch days, and so on.
We have rounded up some of the top accelerator programmes in the world, that you could apply to as a tech startup in Sri Lanka.
1. French Tech Ticket
The French Tech Ticket programme is an incredible opportunity for non-French tech entrepreneurs who want to build a startup in France. Startups that are still in the creation or growth phase from all over the world and with two to three founding members are eligible to apply, although applicants are encouraged to be fluent in English. If chosen, you must be ready to live for an entire year in France and work on your venture full-time.
In short, each team receives 45,000 euros in funding (25,000 euros for personal expenses) over a period of one year, a fast-track to a residence permit in France, an acceleration programme that includes mentoring sessions and networking events, as well as demo days with investors and corporate executives, and the opportunity to develop your startup in one of 41 selected incubators in France.
The French Tech Ticket is ideal for those who want to fast-forward to creating a global startup. There are few things more exciting to young entrepreneurs than the chance to live and work in some of the most beautiful and exciting cities in France, and to be connected with influential, successful figures in Europe's startup ecosystem. If this is how you envision your next year, then we say, do it!
Application deadline for season two: September 23, 2016
Alumni include: Yaron J. Schwarz (Tridom), Elina Elek (TimeJoy) and Zakaria Dabone (Bifasor).
2. Fashion Technology Accelerator ‒ Milan
The FTA Milan offers a six-month accelerator programme for tech startups that provide innovative solutions in the fashion, luxury, and retail industries. If selected, there is no fee to be paid for the programme, but the FTA receives a six percent share of the company's capital.
What the FTA offers is a very industry-specific, tailor-made programme for selected startups, with a focus on digital strategy, product and business model optimisation, introductions, business development, and fundraising. Participants also have the chance to meet over 20 international mentors. Another bonus of this programme is that you are able to participate remotely, but are also given desk space and meeting facilities at the FTA office in Milan.
Home to a large and globally recognised apparel manufacturing sector, and with more and more national fashion designers coming out of both local and international fashion schools, Sri Lanka's fashion industry is set to have a promising future. However, unlike in the US, Europe, and some countries in Asia like Singapore, Malaysia, Japan, and Hong Kong, fashion tech remains an underdeveloped segment of the Sri Lankan fashion industry. If you are interested in fashion tech and have a unique, standout idea for a startup, this is a great way to receive access to training and networking that is impossible to attain locally.
Application deadline: September 30, 2016
Some fashion tech companies that FTA Milan already works with: Jewelgram, Wood'd, Askourt, Martin Marino, WARDA and DeoVeritas.
3. Y Combinator
The Y Combinator is one of the most successful and 'prestigious' programmes for founders/CEOs of startups at their very early stages. It is often referred to as the 'gold standard' for startup accelerators and provides seed funding for those who have developed a great venture idea but are seeking investors or acquirers. The programme runs two cycles a year and takes place in Silicon Valley, and is open to startups from all over the world. The only requirement is a visa that allows you to travel to the United States for three months.
The key advantage of attending Y Combinator is that startups have the opportunity to work on fine-tuning their venture ideas to develop a tight business model, which will, in turn, attract investors during the Demo Days and other events that take place during the programme. There is little interference or enforcement, only plenty of valuable advice and insights. It also helps startups deal with investors and acquirers in order to protect the interest of both parties.
Despite the rather simple application process, Y Combinator is a highly-selective programme, simply because it regularly invites heavyweights in the Silicon Valley startup ecosystem to speak at their popular dinner events and provides participants access to a powerful alumni network (just see below). But don't let this discourage you; if you think you have an idea that is truly groundbreaking or has the potential to move and shake the world in which, and the way, we live… so apply!
Application deadline for Winter 2017 cycle: October 4, 2016
Notable alumni: Airbnb, Dropbox, Zenefits, Instacart, Reddit, and Weebly.
4. Plug and Play
Plug And Play is an innovation platform that centres across 22 countries and offers programmes for startups in various field, from fintech to retail to health to IoT (Internet of Things) to media. They also offer a Startup Camp for pre-seed startups. Plug and Play refers to itself as an all-in-one accelerator, coworking space, investor, a space for corporate innovation, and more.
While they do not specify eligibility criteria for applicants, they do welcome applicants from all over the world for a 12-week accelerator programme of the applicant's choice. The application form is simple, and it really is up to the applicant to submit a unique, shining idea that will be noticed by the panel and get back in touch. However, Plug and Play is known to make seed investments  in the companies that take their programmes, and their stage-agnostic for slightly more established companies.
With no explicit promise in terms of what they offer as financial support towards travel and personal expenses, this programme is more suited for startups that have the funds, or hope to fundraise, to cover much of their expenses.
Application deadline: varies for different programmes (see website).
A few notable startups in the Plug and Play community: Dropbox, Soundhound, Zoosk, Pixowl, Swiftly, and NatureBox.
5. gener8tor
gener8or is a recognised silver-tier accelerator programme that also accepts applications from startups worldwide. Only one programme is offered each year, lasting 12 weeks and taking place in a different city in the US each year. It also only invests in five companies per year, which makes it highly competitive, considering the number of applications it receives.
One of the key criteria for applying is that the applicant startup must have a complete team, although the startup itself can be at various stages. They do state that most selected startups are in their post-product/post-revenue stage but also invest in one pre-product/pre-revenue startup each year.
If selected, gener8tor offers $20,000 cash investment in exchange for six to seven percent common stock equity, $70,000 of guaranteed follow-on capital from gener8tor, additional $50,000 of guaranteed follow-on capital for Wisconsin-based companies from the BrightStar Wisconsin Foundation, and access to staff interns, amongst other deals and perks (check out their website for complete information).
Application deadline: Closed. Sign up for notifications when applications for the Madison 2017 programme open, here.
If the idea of travelling and working, or moving entirely, to another part of the world sounds daunting to you, the important thing to remember is that these programmes offer only the very best in mentoring, networking, and funding opportunities. Often working alongside other startups with brilliant ideas, and with top mentors who are recognised in the global startup ecosystem, can only drive you towards performing your best.
6. Startup Istanbul
Based in the historical meeting point for traders from Asia and Europe, Startup Istanbul is an annual tech conference/startup event that has seen over 500 selected startups and 4,000 attendees in the past. Unlike the aforementioned programmes, Startup Istanbul is entirely a networking event, which means startups really need to put their best foot forward in order to stand out and make the right connections. Which is where the Startup Challenge comes in. The best 100 startups are selected to meet the best mentors from the US and Europe, and from this pool, a total of 50 startups are selected to pitch to the jury. A final selection of 15 startups is then chosen to pitch to top investors on the Startup Istanbul stage at the final event.
The only downside is that the programme does not cover the costs of attending, even if you are one of the selected startups. A conference-only ticket costs 75 euros and selected startups are offered a package for 595 euros, which provides access to all networking and mentorship events. This is still a very reasonable fee for the opportunity to mingle and connect with some of the most influential persons in the global startup community. Students are also able to apply for a scholarship, which waivers a part of the fee.
Finalist startups last year: Nims, iGrow, Taskulu, Waveit, and Pockee.
Application deadline: Rolling, no date specified. Startup Istanbul 2016 takes place from 6 to 10 October, so applying soon is recommended.
As mentioned, each of these programmes is highly selective, so make sure you have, besides a great idea, a great pitch and, most importantly, an open mind towards learning, taking the best advice, and gaining new perspectives…
… also important is confidence, in that even if you fail to be selected, there are plenty of other ways to bring to life or grow your startup. It only requires a little creativity and entrepreneurial spirit.
Featured image courtesy Y Combinator