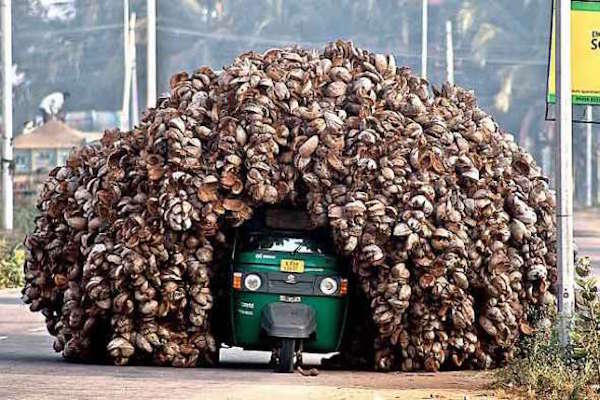 Colombo has seen a lot of delivery startups popping up lately. They are like mushrooms. You see one today, and tomorrow there's a whole bunch clustered around the first. Can someone say Delivery Bubble? Most of these services concentrate in Colombo which is where the demand is, really. With everyone being so busy in the city, and the traffic being so bad, it often helps to have someone else run your errands. It's uncertain how many competing services can run simultaneously, though. There's only so much market share to be had, and only so much funding available. The competition is good, though, which means much better service for customers.
To evaluate just how far the delivery service industry has progressed in Colombo, and with maybe a mild sense of schadenfreude, we decided to pit a few of the more popular services against each other to see how they fared. We were also out of coffee, and writers without coffee can be an ornery bunch.  
We picked four of the more well-known companies that also had low barriers to entry ‒ no deposits and registration costs. We chose a list of random groceries so we could see how well they worked with slightly ambiguous requests. We also really needed that coffee.
The companies we selected, in no particular order, were:
Quickee – Because of their mildly inappropriate name
Speedee – Their name suggests high velocity
NicNac – They have a cool looking app
The Squad – Reminded us of a certain movie
We gave them all the same list of slightly random stuff:
Facial Tissues – 1 box

Dry hand wipes – 1 box

Biscuits – 1 box

Milo – 1 tetra pack

Yoghurt – 1 small cup

Nescafe 3-in-1 – 1 pack (instant, but don't judge)
We then contacted the companies, gave them the orders, and set the timer.
Quickee
Delivery Time: 29 minutes
Delivery charges: Rs. 300
Service: Great
Calling and placing the order at Quickee was really easy. The lady who answered the phone was polite, patient, and took the list down carefully. It was pretty simple and low fuss. She said there was some stuff on the list that was off site so they would have to charge a pickup fee of Rs. 100. The delivery fee was Rs. 200 so the total cost was Rs. 300. In a little less than thirty minutes, a guy arrived on a bike with all the stuff in plastic bags. They didn't give us a bill however, which was strange. When we asked for one, the guy hand-wrote it on a little receipt book and gave it to us. He said that the company was working on the billing.
The stuff was all in order, except for the dry wipes. He had gotten us a cloth hand towel from Arpico. Perhaps there was a slip up when giving him the list of items.
NicNac
Delivery Time: 56 minutes
Delivery charges: Rs. 300
Service: Good
To order stuff on NicNac, you have to use their app. It is a well-designed app and is pretty easy to use to request their services. You just type in your list and let the chatbot know when you want the delivery. Unfortunately, they don't have an app for Android phones which automatically cuts off a large part of their market, which is silly. The app was pretty easy to use, but I don't know how they would handle more complex requests. They called us 15 minutes later to confirm the order.
That was all there was too it ‒ pretty painless. The delivery guy came on his bike with the stuff and a bill and we were done.  
Speedee
Time: 51 minutes
Delivery charges: Rs. 200
Service: Meh
You have to call Speedee to place your orders, and they really have terrible service. The lady who answered the call was bored and unhelpful and after we spent all that time explaining things to her, she said the delivery guy would call us from the supermarket. We had to talk to the chap while he was shopping and describe exactly what we wanted. It was all a bit of a pain.
On the plus side, they were quite fast and had low charges. The delivery guy came with our stuff and a bill from the supermarket and was all smiles. Coincidentally, the NicNac delivery turned up  right after Speedee, and things got a bit awkward. A bit of friendly rivalry going on there.
The Squad
Delivery Time: 45 minutes
Delivery Charges: Rs. 200
Service: Ordinary
The Squad has an Android app that is barely functional. We typed in what we wanted but they called us back so we had to explain everything all over again. They also didn't have an iPhone app.
While their service was a bit lacklustre, they were the only ones to actually get the dry hand wipes we asked for. Everyone else just got kitchen towels or a pack of tissues.
Conclusion
Overall, we were pretty surprised and pleased at the speed and the level of service of these companies. There was a time when you'd be lucky to get your dinner from Quickee in under two hours, but they really seem to have turned things around. Of course, these delivery times would vary  depending on delivery location (we are in the city proper) and on whether or not there is a driver close by. So repeating the experiment would probably get different results. But having all the deliveries arriving in under an hour is excellent news. The increased competition has really upped everyone's game. There still is difficulty in getting exactly what you wanted, especially if it could be ambiguous (types of tissue for example), but I suppose that is the nature of the beast. All four services also use bikes to transport things, so you are limited when it comes to the size of what you want to order.
None of the services provided proper billing information. The delivery guys would bring you the supermarket bill (except for Quickee), but nothing else that indicates the delivery charges. The Squad sent an email as soon as the order was confirmed, but there's no way to keep track of your deliveries. If it's one thing that needs improvement across the board, it's their billing systems.

All four delivery services did the job, but some performed better than others. Quickee was the easiest to talk to over the phone, and NicNac is great if you don't really want to spend too much time explaining things. However, it is quite unfortunate that they only serve iPhone users. There are quite a few delivery services in Colombo, some very general, while others more focused on what they do. We're not sure how long the market can sustain so many competing services. Perhaps one or two companies may rise right to the top, or they will all reach some sort of uneasy equilibrium, but either way, there is a marked increase in the quality of service which is always great news for customers.
Featured image courtesy dailymail.co.uk