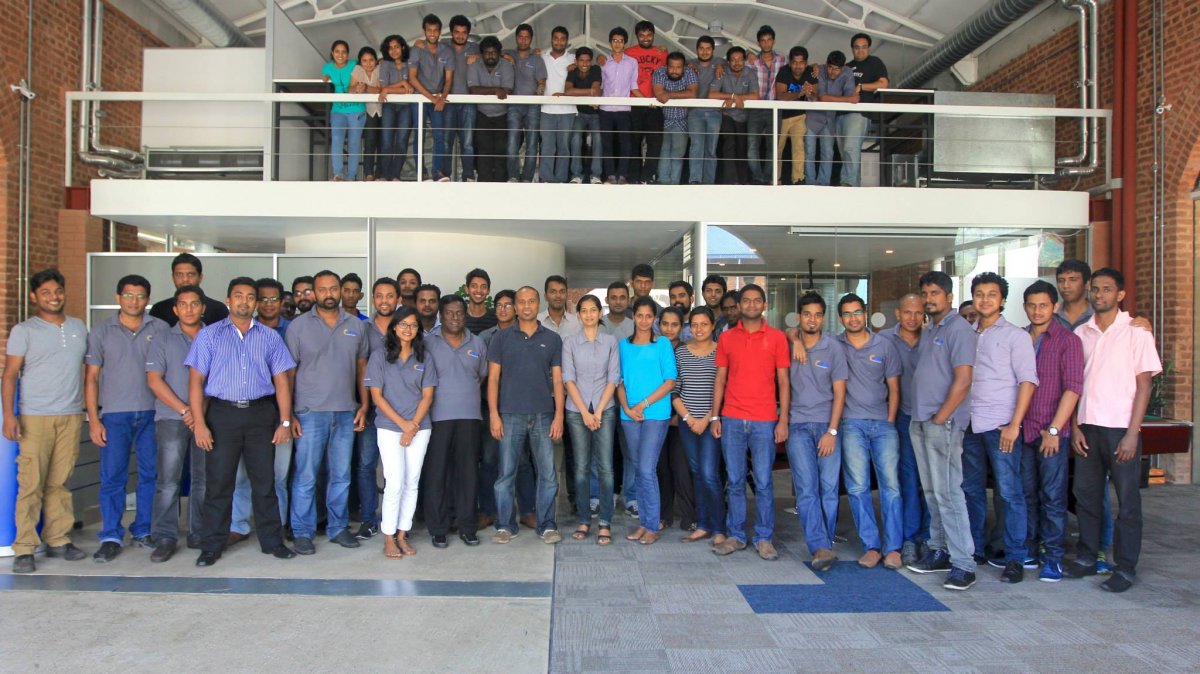 Mangala Karunaratne is a 90's Silicon Valley veteran, and the founder and CEO of the hugely successful boutique software product engineering company, Calcey. Despite 20 plus years in the most fast-moving industry of all time, Karunaratne approaches every day with "the same tenacity" as he did in 'the Valley' back in 1996.
"Tenacity and… coffee", he told Roar Tech in an interview. Karunaratne wakes every morning dreaming of coffee. Even though his house is currently being reconstructed and most of its contents are in storage, one thing remains his trusty coffee machine.
It's a "four-shot cappuccino" and thirty minutes of peace on the veranda at 7 am before the working day begins. Then, no more caffeine for the rest of the day.
That's it: that's his secret!
Thereafter, Karunaratne leads Calcey. Calcey's boutique approach means they are committed to taking a client's specifications and transforming them into a customized piece of software. It means their output is relentlessly unique. Their client roster is international and incredibly diverse, with customers in multiple industries including retail, healthcare, biotechnology, eLearning, networking, telecommunications, and construction.
A high-quality example of their inspirational work, locally, is the goodmarket.global platform which as been specifically designed to take key aspects of the Good Market's business model (curation, discovery and matching making), and scale the products globally by going digital.
Dotcom Boom…and Bust.
Karunaratne may have graduated from California State University in Computer Science back in 1996, but it was during his formative years working in the Dot-Com Boom where he really cut his teeth.
Before the dotcom bubble burst—in an age of fast-track company acquisition—working in the valley was "was the easiest thing in the world" for Karunaratne, even on an expiring student visa. He began software engineering for golfweb.com, which was acquired by CBS Sportsline (now US sports conglomerate, CBS Sports). For a work permit, Karunaratne joined Bay Networks, which was famously acquired by Nortel in 1998, and which grew into a half a trillion dollar company.  Then, between 2000-2002, Nortel saw one of the most dramatic stock crashes in history and became "one of the most spectacular casualties" of the dotcom bust.
"I was jobless", Karunaratne explained, "along with 100,000 other people in the US and Canada".
To add insult to injury, his savings were tied up in the stock market and he lost 90% to it.
Fortunately, Karunaratne had been dabbling in startup ideas alongside his work at Nortel. He founded Calcey in mid-2002 and returned to Sri Lanka. He "burnt" $60,000 "with the intention of combining innovative Silicon Valley culture with the sizable talent pool of highly skilled engineers in Sri Lanka".
Despite the large-scale investment, Karunaratne remained unconvinced of his project.
"I questioned my vision at the time," he confessed. "I didn't know whether I should go back to Silicon Valley and find a job in 'the next big thing'… I had a second interview with Google booked, but I didn't go…"
Then came the tsunami.
Karunaratne put Calcey on hold and committed a good half year to global fundraising for his father's charity, Karuna Trust. His Silicon Valley contacts were a massive help.
Back To Business
"Taking the break really helped me," Karunaratne said.
Previously, he had been pitching digital transformation to local businesses in Colombo and was having trouble convincing them of the global movement to digitalisation.
"It changed the way I wanted to grow the business. I wasn't so desperate anymore. I stopped selling and just focused on relationships. I went back to my trusted network [i.e. his Silicon Valley contacts]."
The first bit of business was a data entry project for Compare Networks, who were unhappy with their outsourced team in India. They told Karunaratne that he needed a team of three to manage the data.
At the time he had no employees on the books. He took the work on regardless and quickly recruited three high school graduates. Karunaratne's wife was to oversee the quality.
"And the client was blown away!" Karunaratne beamed. "They said it was better than anyone in the USA and ordered us to hire ten new engineers."
Clearly, the Sri Lankan talent pool that Karunaratne was so intent on harnessing was the real deal.
Two-Pizza Teams
With Karunaratne focusing on relationship-building as opposed to outwardly selling, Calcey secured a pilot to take the software engineering from Compare Networks' in-house team.
And despite a commitment to the "two-pizza team" ethos, they grew the team to 20.
The quirky term was coined by Amazon founder, Jeff Bezos, who had a singular way of gauging the best team-size philosophy. According to Bezos, an optimally-functioning team should be able to dine on two pizzas only; an opinion shared by Karunaratne, who operates Calcey on "lean and mean project teams of 4-8 people".
In short, if a team needs more than two pizzas, the team is too big!
Two Pizza Team research indicates that this is more than just food for thought. Keeping it close-knit makes the line of communication more efficient. And with big teams, there is always the chance of members getting lost in the crowd and coasting through. Bezos says that a team of 6-7 is the optimum size.
It's a system that Calcey actively put into place.
A recent client, PayPal needed a digital dashboard that would consolidate a range of performance metrics to provide real-time, 360-degree view of the company's health. Paypal estimated the project the to take up to three months. Calcey scheduled a "two-pizza team" to take full ownership of the project, including handling all of the global communications and transactions of Paypal's properly global reach.
They delivered the project in 6 weeks.
Play Time Philosophy
Complimenting the "lean and mean" team sizes and hard working ethos is what some tech startups would term a "responsibility driven culture", or what Karunaratne has rebranded as "play time philosophy".
The reception space at the front of the Calcey office is an adult playground. A pool table, a widescreen plasma screen, a vinyl record player (with Led Zeppelin II on the turntable), and a climbing wall (yes, they have a climbing wall!), reflects the uber-modern, fun approach to work.
"We tend to have flexitime. I mean, people don't play pool in the morning. But people and come and go… It works for us."
Calcey's remarkable office space is perfectly housed in TRACE Expert City, a project close to Karunaratne's heart. Among a team of hugely influential figures including Mano Sekaram and Harsha Subasinghe, Karunaratne was instrumental in developing and pitching the plans of TRACE Expert City: a groundbreaking development project converting the derelict Tripoli Market Square into a purpose-made innovation park.
"We wanted to help heal the country", Karunaratne said on the TRACE Expert City post-war development.
Where To Next?
Now, at almost 100 employees, Calcey is starting to outgrow its impressive home. That said, recruiting outstanding talent is the biggest challenge they face.
The question remains, however: if they continue to grow, won't they stop being a boutique software engineering company?
The answer is a firm "no". And the reason is Calcey's ability to say "no".
Karunaratne explains that size doesn't define whether they are a boutique or not. . Instead, boutique reflects a team that is not afraid to "disagree and commit", in a constructive way. Of course, he is referring to the one-size-fits-all solution models that many fast-growing software firms have to adopt to cope with their client list. And Sri Lanka's notorious problem with saying "no".
At Calcey, they stay true to their mantra of adapting to their client's needs and producing unique, innovative solutions.
That, says Karunaratne, will never change.
Cover image courtesy: Calcey
Editor's note: A previous version of this piece incorrectly stated that Mangala went to the University of California instead of the California State University.