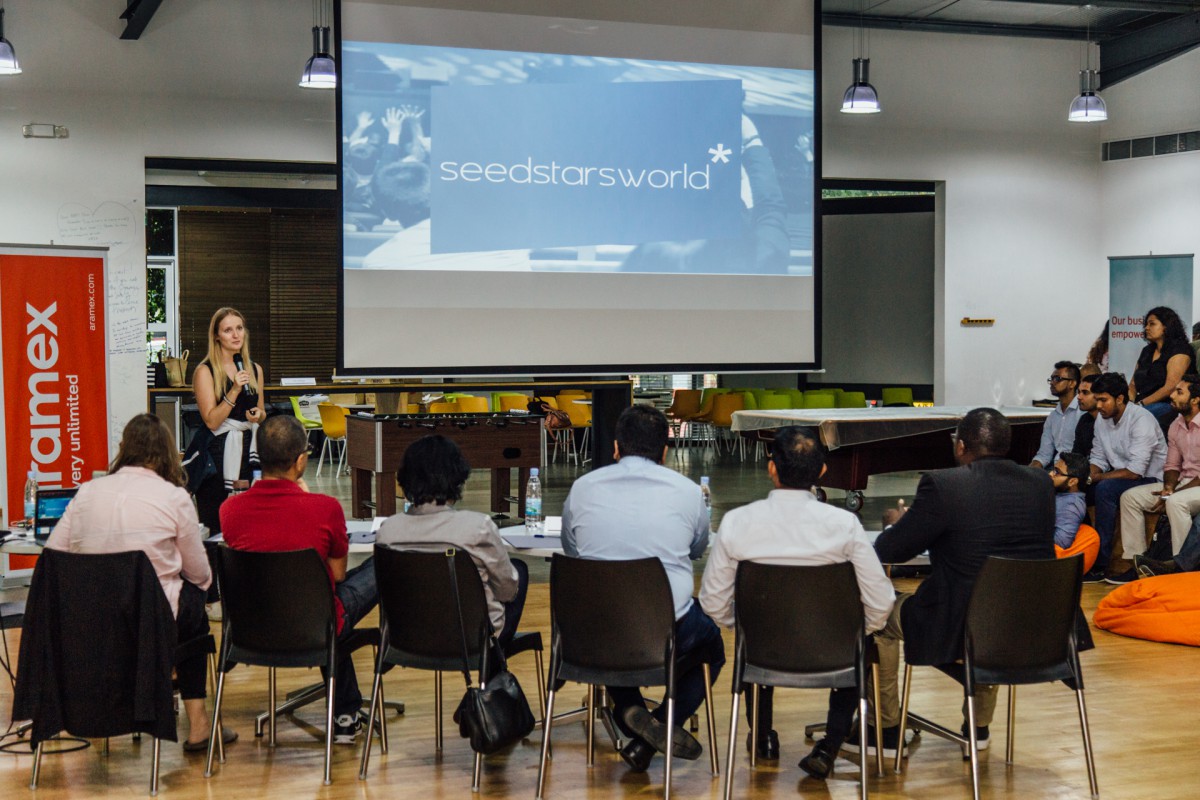 If you've been following the startup scene, then you know it's quite a busy period. One of the biggest startup competitions, Seedstars, recently held it's pitching event at the The Hive.
If you're not quite sure what Seedstars is all about, then check out our previous article on how Seedstars works and what their mission is when it comes to startups.
Eight startups pitched for the opportunity to head to Seedstars Regional and Global summits, with the potential of winning one million dollars in funding. This year saw a mix of startups that, if you follow our startup bundles, most of you will already be familiar with, with a few new names added to the mix.
This Year's Startups
Each startup had the opportunity to pitch to the panel of judges, which was followed by a question and answer session by the same judging panel.
Alakazam
Most startups and even large companies tend to market themselves without gaining the right insights into what all those numbers add up to, if their strategy is truly effective, or if it is just a perception. That's where Alakazam comes in: their goal is to utilise deep learning using a Messenger Bot, and use all the data gathered about your audiences to provide you/your team with the right insights.
The growth in machine learning, and the availability of big data has changed the game. No longer are these type of solutions based on numbers you have to import via a spreadsheet, as the likes of Alakazam analyse actual meaningful data. It is a bit niche-focused in that its main goal is to help drive conversions; so for companies that may not necessarily be in the business of selling products, the utilisation of it could be less effective.
Direct Pay
We've covered Direct Pay on our startup bundle recently. It's one of the more exciting startups around, as they are looking to address the desperate need for a cashless and cardless payment system. However, Direct Pay's pitch to investors is that it isn't just thinking about one solution: they know different businesses need different methods of accepting payments, and therefore offer a broader spectrum of solutions.
Of course, the major problem for any payment systems is often the red tape they have to go through in getting approval from the banks and the government. Sri Lanka has not had the best time when it comes to online payment solutions, so Direct Pay will face plenty of hurdles when it comes to actually being able to implement their solution.
Mogo Super
You may have read about them on our startup bundle back in March. While Mogo Super is not technically an e-commerce startup, it is built on a similar platform where they've made their focus consumable goods. It's main pitch is that it will deliver all goods ordered within 24 hours, is eco-friendly and focuses on wholesale than retail.
Mogo Super are still at a startup stage, and while their revenue is probably higher than most startups around, they are also going up against the age old supermarkets: so conversions can run dry after the initial honeymoon phase. With Sri Lanka still not offering the best online payment solutions and unfriendly taxes, startups that rely on online transactions to function can quite easily falter, but Mogo Super is hoping that their solution is the way forward.
BotFactory
The second startup to utilise bot technology, BotFactory's (we covered them on our last startup bundle) goal is to provide startups and large corporates, the chance to reduce resources needed to manage customer service/support by utilising the latest advancements in chatbots.
The great thing about BotFactory is it has simplified the process of scripting a Messenger Bot. Solutions similar to this can often feel overwhelming, as they throw out tech jargon and scare off a large portion of potential customers from the get go. BotFactory also offers insights into your interactions, so you can always go back and tweak your bot if your customers are running into roadblocks. It's a neat and nifty solution, and one that they're hoping more Sri Lankan companies adopt given the often slow response most of us face when dealing with customer support.
BlueLotus 360
Next up was BlueLotus 360, whose ERP system focuses on large, tried and tested industries such as construction, manufacturing, trading and distribution.
Often startups that build products that are for large industries pit themselves up against already established products, and a user base that is often very resistant to change. That hasn't stopped them from pushing forward with a product that comes with a modern design, and the ability to find insights in these data-filled industries that still tend to rely too much on an Excel Spreadsheet.
Jendo
Healthtech/Medtech startups are slowly coming into the fold in Sri Lanka. It's one of the biggest startup sectors, and while just jumping into it is easier said than done, the likes of Jendo are hoping to drive change by helping the reduction of cardiovascular disease—which, according to Jendo, is one of the biggest causes of death globally.
They aim to prevent cardiovascular diseases by providing a system that helps in early detection. The device analyses certain health related metrics in roughly the space of 5 minutes, and uses this data with a proprietary algorithm to provide the user a level of customised advice in order for them to best prevent cardiovascular disease. It can all feel quite high tech, so getting through to the everyday person will prove tricky, but it's great to see startups that are looking to make an active change using technology for the better.
GradChat
Most of you in the startup scene would have probably heard of GradChat by now. They've taken the concept of products like Yammer and Slack, and made their focus universities and colleges. Again, it's not doing anything out of the ordinary, but it's looking to fix an issue that still exists to this day—and as any campus-goer would have noticed, the solutions used for communication at universities big and small are often dated and disjointed.
They've already received a solid backing, but piercing the market they're targeting can be tricky, as is potentially running an instance of their product when catering to potentially 1000s to 100,000s of users. SaaS solutions such as this often run into issues of having massive maintenance and running costs, as servers and data storage become more expensive, and their pricing plan isn't viable enough to cover it. The selling point here will be that they have set their attention to a particular customer base than try and just complete with the likes of Slack.
Omentra
The last startup that took to stage was Omentra, who claim to be Sri Lanka's largest B2b e-commerce platform. What does that all mean? Well, it's basically for businesses to be able to compare prices on products and services, get quotations and other general information relating to procurement. Similar to BlueLotus 360, their market is perhaps more upper-end than startups themselves or even SMEs.
Having an online solution for this is definitely welcome, as businesses can save hours on calls, emails and follow up on procurement. The question is, will they be able to convert businesses that have already established connections?. The customer base here will likely be businesses that are either not satisfied with its current procurement process/providers or don't already have one in place. It's also a very resource intensive business model on Omentra's end, as they have to handle both businesses and providers, and ensure everything works like clockwork if their service is to be deemed valuable.
The Winners
After a break where the judges to convened and for the audience networked, the winners were announced.
Third place went to BlueLotus 360 ERP solution, and in 2nd place came AI based startup Alakazam. The winners of the night and the lucky startup that now gets to go to the Regional and Global Seedstars summit was Jendo, whose focus on using technology for change in the lifestyle and health of Sri Lankans proved to have all the ingredients the judges were looking for.
Feature-image: Nazly Ahmed